Live! From beautiful Pine Beach New Jersey: Welcome to the world's most popular metal finishing website
topic 54699
Need a low maintenance finish to keep galvanized corrugated roofing shiny
March 26, 2010
I'm making a solar water heating panel on a 10' X 24' shed roof to warm my swimming pool and hopefully extend the useful season. I will use sheets of corrugated roofing material running parallel with the length of the angled roof to serve as troughs to run 1000 ft of 1/2" black irrigation tubing. The troughs will help keep the tubing in place and also, to some extent provide some parabolic reflection around more of the tubing diameter to increase efficiency.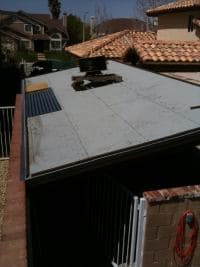 I want to keep the galvanized corrugated roofing material shiny so it will continue to reflect as much of the sun's rays on and around the tubing as possible. I've thought of spraying it with a light oil, or painting it with some clear coat or using a tire shine product on it. It is important that the solution be cheap, low maintenance and easy to maintain.

Another poster presented a similar problem. He was making solar stoves in Africa. The answer to paint the surface white was not useful for the same reason in my application.
John Gillissen
Homeowner doing it myself. - Quartz Hill, California, U.S.A.


If you have a question in mind which seems off topic, please Search the Site