topic 4605
Spots on acid zinc plated parts
(2000)
Q. Black spots appears on our barrel acid zinc plated parts, can anyone help us on this matter?
Process:
1.muriatic acid pickling
2.rinse
3.rinse
4.electrocleaning (5 mins)
5.rinse
6.barrel acid zinc plating (20 mins)
7.rinse
8.centrifugal dryer
Thank you for your time
andrew kaw
- manila, philippines
---
(2000)
A. This sounds like a classic case of iron contamination. See "Improving Your Chloride Zinc Plating Operation". Regards,
Ted Mooney, P.E.
finishing.com
Pine Beach, New Jersey
---
(2000)
A. Dear Andrew,
Firstly (a) do read the article Mr Mooney has suggested. Meanwhile if after you treat the bath for iron and the problem still persists then (b) try reducing the Voltage. If efficiency drops, then increase anode area.
If the reduced voltage has helped without any problems, then (c), sigh with relief. If not then (D)check the Barrel rpm which may be too low. Increase the barrel rpm between 14 to 16 rpm whatever suits the hole size and current with giving your parts black spots.
If all the above efforts fail, then do the opposite of everything above and charge more for the black spots without giving them away for free!
Khozem Vahaanwala
Saify Ind
Bangalore, Karnataka, India
---
---
July 7, 2013

-- this entry appended to this thread by editor in lieu of spawning a duplicative thread
Q. Hi experts,
I'm running acid zinc barrel plating and currently facing the barrel holes mark on my plated parts.
I suspect this problem is caused by the barrel rotation speed! Is it true?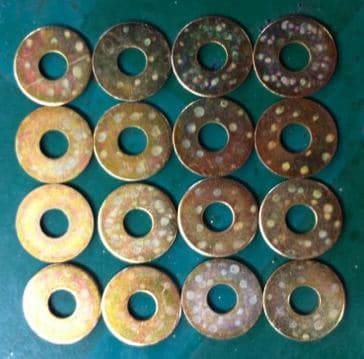 Lovely thanks for help.
Sng Horng
- Penang
---
July 2013
A. Hi Sng. We appended your question to a similar thread. This looks like a classic case of iron contamination in your acid zinc plating tank, not a problem caused by the rotation speed. Good luck.
Regards,
Ted Mooney, P.E.
finishing.com
Pine Beach, New Jersey
---
July 22, 2013
A. Black marks in barrel plating of acidic zinc are a results of too high divalent iron in the solution.

You have to oxidise the iron (by hydrogen peroxide or air) and filter the sludge.
Sara Michaeli
chemical process supplier
Tel-Aviv, Israel


This public forum has 60,000 threads. If you have a question in mind which seems off topic to this thread, you might prefer to Search the Site