topic 31095
Stopping aluminium window frame corrosion
(2004)
Q. I would like to find a way to stop spot corrosion of my powder painted aluminium window frames. The corrosion is occurring at spots on the sills, often near the cement between the bricks. The bricks are a limestone type. The corrosion has been taking place over a number of years and is still current.
Christine Corcoran
homeowner - Bunbury, W.A, Australia
---
(2004)
A. Lime from mortar is extremely aggressive towards aluminum. Frequent repainting may be the only practical solution, I'm afraid.
Ted Mooney, P.E. RET
finishing.com
Pine Beach, New Jersey
---
October 28, 2013
-- this entry appended to this thread by editor in lieu of spawning a duplicative thread
Q. After 13 years of enduring the local conditions, my aluminum window sills are starting to corrode along the bottom and side plates. The bottom sill sits on brickwork with lime in the mortar, and little pockets of grey corrosion power have erupted through the top surface of the aluminum sill.

What can I do to stop the aluminum corrosion/ What can I paint it with to protect the illumination sills in future.

Any advice is appreciated.
Graham Spencer
Home owner - Port Kennedy, Western Australia
---
November 2013
A. Hi Graham. Aluminum readily dissolves in the alkalinity of mortar, cement, and concrete. The best you can do is clean it as well as practical, and then paint it well. There are primers designed for use on aluminum =>
Regards,
Ted Mooney, P.E. RET
finishing.com
Pine Beach, New Jersey
---
November 10, 2013
Q. Ted, Thanks for your response. Can you follow-up with a suggestion of a good Aluminium primer to use before repainting, as suggested.

Cheers Graham.
Graham Spencer
- Port Kennedy, WA. Australia
---
November 2013
A. Hi Graham. Maybe you have Javascript disabled? My previous response already linked to a primer for aluminum on Amazon.
Regards,
Ted Mooney, P.E. RET
finishing.com
Pine Beach, New Jersey
---
October 3, 2015
Q. Ted,

Thanks for your advice. I have cleaned, physically removed the obvious corrosion, coated with a corrosion inhibitor and finally painted with a spray can. Despite the window frames being relatively close to a saltwater pool, which generates chlorine to add to the mix on the aluminium, the repair appears to be holding the corrosion at bay. However other window sills around and down the side of the house are also starting to corrode. I am applying the same treatment to these sills and that appears to be working, although the sills are stating to look like "Swiss Cheese" as I take chunks of corroded aluminium out before treating and painting.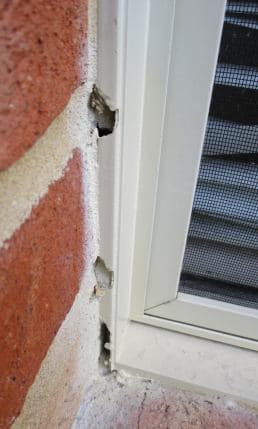 Cheers

Graham.

PS: My Java script was/is on but just couldn't get the recommended paint to open.


Graham Spencer
[returning]
- Port Kennedy, Perth Western Australia
---
October 2015
A. Hi again Graham. Wow! I've seen corrosion like that on aluminum outboard motors on saltwater boats, but I've never seen such aggressive corrosion of aluminum caused by mortar :-(
Best of luck in dealing with it, but it looks bad! The link was to aluminum primer [linked by editor to product info at Amazon]; and I've checked it on three different computers with three different browsers and a smart phone. If anyone else is having difficulty with it, we'd like to hear, but my guess is you've installed some "ad blocker software" that prevents you seeing the links to the product and its reviews on Amazon ... or maybe Amazon is chopping off your access because there's a different site serving Australia? Good luck.
Regards,
Ted Mooney, P.E. RET
finishing.com
Pine Beach, New Jersey
Striving to live "Aloha"
---
---
January 20, 2017
Q. What is the white powdery substance that is creeping in beneath the window frame. Could it be the rock salt causing the corrosion? Any ice melters that you recommend to avoid corrosion?
David Mark
- Toronto Ont Canada
---
February 5, 2017
A. Hi David,
Yes, it could be the rock salt. One could try priming and painting the problem areas with high quality products. Be sure to use an appropriate primer considering the target material. Keep the snow shovel handy.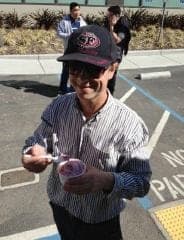 Blake Kneedler
Feather Hollow Eng.
Stockton, California


This public forum has 60,000 threads. If your question seems off topic to this thread, you might prefer to Search the Site