topic 26203, p. 2
Electricity from fruit (cont'd)
---
1 2
A discussion started in 2003 & continuing through 2017.
---
(2006)
Q. Orange battery: does an orange produce enough electricity to light up a LED?
Daniel W
[last name deleted for privacy by Editor]
- St.Peters, Missouri
---
---
---
(2006)
Q. Does anyone know why pH levels don't effect the voltage produced? (11th grade, as stated before ;))

I have tried to research this in many places but I am unable to come up with an answer. For my experiment, I took pH readings on several different fruits: lemon, lime, kiwi, grapefruit,and orange. The pH levels varied from 2.4-3.5, but all of the voltages emitted were .8 volts. Any answer would be greatly appreciated, thank you.
Jeff K
[last name deleted for privacy by Editor]
student - Milwaukee, Wisconsin
---
---
---
(2006)
Q. I am also doing an experiment using a potato as a conductor and I was wondering if the size of the potato will effect the length of time it will power a clock. Does anyone know?
Xaijah N
[last name deleted for privacy by Editor]
- Prescott, Arizona
---
---
---
January 12, 2009
Q. Hi. My name is Wendy and I'm helping my son work on his 5th grade science project. He is trying to determine which fruit or vegetable produces the greatest electrical charge. He understands that the fruit or vegetable acts as the battery in his experiment by using a copper penny and zinc nail to make a complete circuit. However during testing to determine how many micro-amps are produced when a penny and a zinc nail are inserted into a lemon and potato, the potato produces a much larger charge but, won't sustain the charge like the lemon does. We get readings of about 150 micro-amps with the lemon and 235 with the potato but, the potato keeps losing it's voltage and discharges quickly. We have inserted both the copper and zinc one inch apart from each other on both the potato and lemon during the test. Can you help us understand why the potato won't sustain it's charge like the lemon does? Does it have something to do with how the conductive electrolyte differs in the potato to make it decrease it's power so quickly? My son wants to say that the potato creates a larger electrical charge than a lemon but, all the experiments we've looked at on line always point towards the lemon or citric acid fruit.

We appreciate your time and consideration.
Wendy S
[last name deleted for privacy by Editor]
Mother of 5th grade science student - Crozier, Virginia
---
---
January 21, 2009
Q. Re: Wendy's letter, I understand from all I have read that all three components make up the battery, but what makes the potato voltage greater than the lemon and as she asked, why does the potato battery lose its charge faster? We are working on the same project for the science fair and I keep reading that the potato puts out more voltage but I can't find out why?
Joe G
[last name deleted for privacy by Editor]
- Mt. Orab, Ohio
---
---
---
January 27, 2009
Q. I'm doing fruit batteries as my project, and I powered up a calculator, with 1.42 v. However, whenever I try to power up my clock, with all of my fruits (5.65 v. altogether) it doesn't power up. Whenever I test, or put the test leads on the clips from the fruits, when its on the clock, it only says 0.52, can you help ?
Jacob T
[last name deleted for privacy by Editor]
- Northridge, California
---
---
---
March 18, 2009
Q. My 4th grader is doing a project to determine which fruit (apple, lemon, grapefruit, or banana) will conduct the most electricity. We used a digital multimeter (set to vDC) to measure the voltage across the fruits between one zinc and one copper strip inserted about 1" apart. We found that the apple consistently had the highest readings. We had expected the citrus fruits, due to the high acidic content, to be the best conductors. Perhaps these were just some very juicy apples, but shouldn't the acids be better conductors than the alkalines? My son has written his conclusion that alkalines are better conductors and I'm questioning if this is problematic. Please advise any suggestions.
gwen syzdek
- Houston, Texas
---
---
---
June 6, 2009
Q. On fruits and vegetable my daughter has to make a graph of her findings and its her first time using a analog multimeter and we are confused
Amber O
[last name deleted for privacy by Editor]
student - Brooklyn, New York
---
June 7, 2009
Q. I'm doing a science project for 6th grade and I wanna know if you know why my potato powered a clock longer than my lemon but the opposite for my friend?
Kimberly M
[last name deleted for privacy by Editor]
Student - Beverly Hills, California
---
October 27, 2009
Q. Hi, I am Jeri and I am a tenth grader doing my science fair project also on using fruits to conduct electricity. My proposal paper is due soon but I am confused about something. My narrowing question or purpose of conducting my experiment is to find out if the different acidity levels in the various citrus fruits-lemon, orange, grapefruit, and lime effect the voltage of electricity in a circuit to light an LED light? But my question is, is experimenting on different fruits already the dependent variables? I would think they were all controlled variables and in order to make just one dependent variable in my experiment I would need to just conduct the experiment on lemons (controlled variable in the experiment) and then for the dependent variable in some way add more lemon juice to the lemon. By using a dependent variable I would get the results to truly answer my question. If so how would I be able to add more juice to my lemons? Using a syringe maybe? I appreciate any help and hope I have not worded the question funny, or in a complicated matter. Thanks.
jeri R
[last name deleted for privacy by Editor]
student - Lutz, Florida
---
November 11, 2009
Q. Thanks in advance. My daughter is in 5th grade and doing a science project on the electric charge and resistance in fruits and veggies. The problem is, we were under the impression that all we needed for the experiment was the fruits & veggies and multimeter. We were able to measure the electric resistance; however, we didn't get a single reading for the electric charge....are we missing something? Please help!
Candis Jackson
parent of student - Chicago, Illinois
---
---
---
November 12, 2009
Q. Can I hook up my whole garden in series to power my house?

What happens to someone that eats the vegetables after they are done conducting electricity?
Dan Pond
- Vancouver, BC, Canada
---
---
---
December 7, 2009
Q. Hey

I'm a class 12 student and I'm doing a project on fruit cells proving to be alternatives for Leclanche cell..
I've compared the emf of various fruit cells (the fruit juice acting as the electrolyte in this case) and successfully got fair enough values of the emf
My queries are
1. I need to know the pH of the different fruit juices I used which are
a)pineapple juice
b)mixed fruit juice
c)guava juice
d)litchi juice
e)orange juice
f)mango juice
(I couldn't find a pH meter and it is difficult to look for it in 2 days!)
( I tried the pH strip but all I got is a pink colour on it!
...In all the juices)

2. I also wasn't able to find out what major acids do these fruit juices contain and how much is the acid concentration in them
(The internet couldn't provide this information :-()

Please help me !
Sanskriti N
[last name deleted for privacy by Editor]
- New Delhi, India
---
---
December 28, 2009
Q. Hi my name is Victoria. If I wanted to do the same experiment, what type of electrode should I use?
Victoria C
[last name deleted for privacy by Editor]
6th grader - Brooklyn, New York
---
December 29, 2009
Q. Hi my name is judy. in the circuit, could you use a different fruit, for example a red delicious apple or the granny smith apple.
judy x
[last name deleted for privacy by Editor]
4th grader - Boston, Massachusetts
---
---
---
December 30, 2009
Q. Hello, I'm Bailey and I am doing a science project on the electricity of fruits and vegetables. I am writing a research paper with back up information. I know that fruits do not produce electricity but they provide the ions. If the acid in citrus fruits provides ions, what provides the ions in cauliflower? I have little time so please answer fast.
P.S. I'm in 6th grade.

Thanks a bunch:-)
Bailey H
[last name deleted for privacy by Editor]
student - OKC, Oklahoma
---
January 13, 2010
Q. Can you use other food like strawberries?
Lauren F
[last name deleted for privacy by Editor]
- Crown point, Indiana
---
---
February 12, 2010
Q. My son is doing a science fair project to answer the question "how much electricity do different foods produce?". He used a galvanized zinc and a steel nail, inserted closely together into various fruits, vegetables (and peanut butter), then used a voltmeter to measure the volts produced.

He did 5 tests of each food and got average readings of 0.46 for an orange, 0.37 for for a potato, 0.2 for the peanut butter. These seem low compared to what I've read in the posts above. What do you think is going on? And is he asking the right question? He's in grade 6.
Ray LeBlanc
- Saint John, NB, Canada
---
---
February 14, 2010
Q. I am in eighth grade and I am doing a science fair project about fruit producing electricity, but I do not have a zinc or copper electrode, but I do have a battery tester, will that help me at all with the experiment?
Dasser Silver
- miami beach, Florida
---
---
March 10, 2010
! Hi.

Just wanted to say I found this site by accident. I think this it is superb and I only wish that the interwebs had been around thirty-five years ago when I was doing this type of stuff at school. I might have gotten somewhere instead of banging against a brick wall and failing the final exam.

Seriously good work, and thank you so much for enabling me to finally - at age 49! - understand the principles behind the lemon battery!
Darren Lynch
- Basingstoke, Hampshire, England
---
---
March 14, 2010
Q. Hello I am doing this project on how to charge electronics with fruits and vegetables and I don't have a clue on the tools or items I need. also I don't even know how to start it or any steps.
Ramon J.
student - San Francisco, California
---
---
September 23, 2010
Q. I'm currently writing some guides for people to try their own scientific experiments at home and school. What I am looking for is a source of very low voltage digital clock displays and other digital display units which can be provided with the kits for example the Lemon Battery. I can find them as parts in other items but I cannot find a supplier of the parts themselves. I only need a few to make the guides and provide the photos, does anyone know of a retailer in the UK who can provide what I need at affordable prices.

I need to show the electricity produces from these experiments in a clear to understand way and LED's are a bit plain I need to build something which the children can enjoy and a clock or text display would be far more interesting but I need the parts.

Alex Scargall
renewable energy education - Hull, Humberside, UK
---
---
October 6, 2010
Q. I actually having an experiment which is producing electricity from tomato and it was successful but the problem is I didn't know the acids that are present in tomato, can you please give me the answer. Thank you and god bless.

Jun Carlo L
[last name deleted for privacy by Editor]
student - Surigao del sur, Philippines
---
---
January 10, 2011
Q. I would like to create enough electrical power to power a cell phone for a 1 min phone call. If I connect the fruit in series with a copper and zinc nail can I increase the voltage of the fruit battery?
Melanie W
[last name deleted for privacy by Editor]
5th grade student- with parent permission - Beaumont, California, USA
---
---
February 16, 2011
Q. I need to conduct electricity using a lemon for a science fair. What can I use instead of zinc. I am a 7 grader. Any help would be highly appreciated.
Akansh B
student - Roorkee, India
---
---
March 12, 2011
Q. Mr. Trevor Crichton made a comment about using a potato to power a clock and said that when the potato shrivels up it would stop working. My question is, "What if the potato is planted with the electrodes still in would it continue to make electricity?"
Bill Smith
- Pikeville Kentucky USA
---
---
May 22, 2011
! Thank you so much for all of the information on this website! It is really helpful! I'm also doing a science project on conducting electricity with fruit and I'm going to test the pH to see if that affects it. My only question is why would the acidity make a difference. Thanks again!

Noa
9th Grade
Noa E.
[last name deleted for privacy by Editor]
- Pittsburgh, Pennsylvania, USA
---
September 15, 2011
Q. I'm in 8th grade and I'm doing a science project and I need to know who discovered that electricity can travel through a fruit. Thanks.
Tanner L
[last name deleted for privacy by Editor]
student - Chula Vista, California
---
---
October 8, 2011
Q. Hi, I'm doing the fruit and vegetable battery project and I am using a lot of fruit. I am using a coin for copper and a dime or nail for zinc. My light bulb is 6 volts and is really, really, small. There is no negative or positive thing for it so I don't know how to connect it. I really need some help. I have the alligator clips and some red wires.
Maham G.
[last name deleted for privacy by Editor]
- Houston, Texas, U.S.A.
---
January 17, 2012
Q. Hi,

My name is Annette. I am an 8th grader in middle school, and I am working on a science project called the "Discovery Project". Basically, you come up with a standard experiment that follows the scientific method that you come up by yourself and perform on your own. Students need to find an expert in their field to help them with their field to make sure that the experiment will work, and that the experiment will work smoothly, provide guidance, and explain things that did NOT work. My scientific question is "How does the type of fruit affect the amount of voltage it can produce? My experiment is based on this experiment here: www.how-things-work-science-projects.com/lemon-battery.html#lemon_battery. I need an expert, so if any of you would be willing to help, thank you very much! I will need an email address back somehow.

Thank you! Reply soon, please.
Annette.
Annette G.
[last name deleted for privacy by Editor]
Student - Issaquah, Washington
----
Ed. note: Asking strangers on the internet to contact you can be dangerous. Annette. Please give us your teacher's e-mail address or your parent's e-mail address and we can post that.
---
April 29, 2012
Q. The metal used for electrodes must be different? Does the battery work if the same metal is used for both electrodes?
ruby l
[last name deleted for privacy by Editor]
- england
---
---
April 24, 2013
Q. If I use stainless steel as electrodes, will it still conduct electricity?
Does juice play any role in production of electricity?
What is electrical conductivity?
Is this have any relation with juice conductivity?
Yatharath

[last name deleted for privacy by Editor]
- Ludhiana, Punjab, India
---
---
---
March 11, 2014
Q. Is there possibility for a cabbage to produce electricity?
Kioria Njoroge
student - Nairobi,Kenya
---
---
November 16, 2014
Q. Hi, I would like to ask to how to find the resistance offered by fruits using potentiometer? Please reply at earliest.
Nehal Ambat
- new delhi,india
---
January 18, 2015
Q. Can you detect electric charge in fruits and vegetables? If yes, which vegetable or fruit has the highest charge? I am a 7th grader and I need help with this ASAP please
Tiana C
[last name deleted for privacy by Editor]
- Toronto,Ontario,Canada
---
---
January 26, 2015
Q. Good day sir,
I conducted an experiment at school where I used various food extracts as electrolytes (potato juice, lemon juice, lentil water, rice water, etc.)
I put these in a beaker and used TWO copper electrodes and connected a voltmeter with it. AND I got varying EMFs of the cell for different extracts. Can you please explain the logic behind this?
Thank you,
Vidhi G
[last name deleted for privacy by Editor]
Student - Delhi, India
---
January 29, 2015
Q. Hi there,
I am doing an investigation on which fruits would work best to generate the highest voltage and I was wondering just how voltage is generated within a fruit cell, if the fruit's pH is a factor to consider or if it is a chemical reaction with copper and zinc electrodes?
Robin M
[last name deleted for privacy by Editor]
- likoni, mombasa, kenya
---
February 2, 2015
Q. I was wondering, out of these three items, which is the best producer of electricity? The items I have are a potato, a lemon, and an orange.
Sincerely, Cameron

P.S. i need a response ASAP because this for my science fair project

Cameron C
[last name deleted for privacy by Editor]
- madison heights, virginia
---
---
March 2, 2015
Q. I am 9 years old and in the fourth grade. I read different sites and saw the experiment work at my cousin's science fair, yet when I tried to create a similar experiment I was unsuccessful. What went wrong? I used a lemon with a copper penny and zinc washer and got no reading from multimeter, I used a different lemon with 15 gauge copper wire and zinc nail still no reading and the third lemon I used a paper clip and 18 gauge coper wire and again no reading. (even tried rolling lemon before experiment with lemon #2). My Digital Multimeter works because it read AA battery at 3.62 mhz. I'm frustrated -- what am I doing wrong? Thanks you for your help.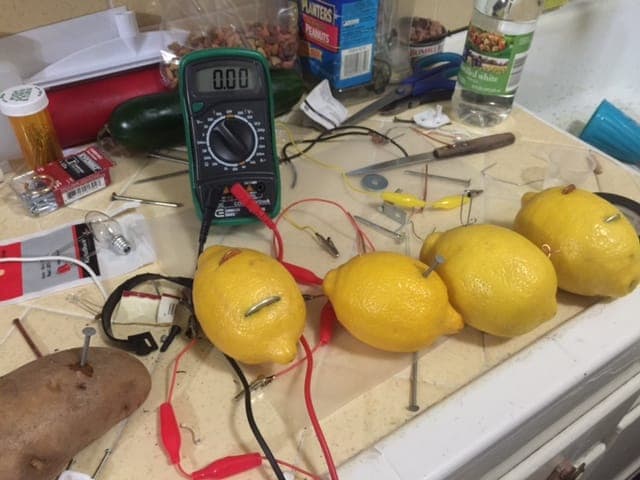 Adrian Alvarado
- San Pedro, California United States
---
---
May 11, 2015
Q. Hi:)

I did an experiment and found that limes, apples, grapefruit, mangoes and plums all conducted energy better than lemons and oranges, which I expected would conduct more since lemons are what everyone uses for their projects. I've done some research but everyone seems to have different opinions on the topic. What do you think makes some fruits conduct more energy than others?

Thanks a lot
Sophia Allan
- nyc, New York, U.S.A
---
May 29, 2015
Q. Hi there. Regarding that project I had a similar one. Just that am in advanced level. We planned to charge a phone using the fruits. Is it possible? Need advice on how to do it.
Steve Paul
- New-York. Usa
---
---
July 7, 2015
Q. Hi,

My son (12) is doing a year 8 (not sure what that is in other countries) holiday science project. We are running a small digital clock from various produce and liquid, for example a Kumara (sweet potato), bread, water, etc. using copper and zinc electrodes attached to wires from clock to two of each item and a white wire with a copper and zinc electrode running to the opposite. One of the things he used which we found that did not run the clock but cannot find a reason why from Google is butter. Are you able to give us the reason why please? I was wondering if butter in fact acted as an insulator rather than a conductor. Another one we found was salt (two small cups). Thanks,
Sherryn Quate
- New Zealand
---
---
October 15, 2015
Q. Actually, I have four questions:
1). What does zinc look like?
2). Do I need a high watt battery to power this circuit, and how many do I need
3). Can I also use an unripe orange?
4). And is it a 60 watt bulb light I will use to the circuit or just a smaller one?
Ignatius Princess
- Lagos,Nigeria
---
---
January 4, 2016
Q. How does the amount of acidity in a fruit affect the amount of electricity it can produce?

Iliyan Kajani
- Atlanta, Georgia, U.S.A.
---
---
January 12, 2016
My 5th grade son is conducting an experiment where he wants to find out if changing the state of the potato will influence its electrical output.

I want to make sure that he is conducting the experiment correctly -- Would appreciate your help.

He tested a potato battery made up of 3 yukon gold potatoes cut in halves and was able to light a 2 Volt small LED light.

He now wants to boil 3 potatoes and test these to see if the voltage is higher when the potato is boiled,

He then wants to place 3 potatoes in salt water (1 tablespoon of salt dissolved in 1 cup of water) and test the voltage

Finally he will place the 3 potatoes (cut in half) on salt for a day and test the voltage.

HE is hoping that by changing the state of the electrodes he will produce a larger flow path and therefore allow more electrical output to generate when using the potato.

His hypothesis is that the potatoes placed directly on salt will give the most power as it will increase the electrodes the most.

Is he on the right path? Is he stating his question correctly?

Thank you for any help with this


Paola Preble
- Fernandina Beach, Florida, USA
---
---
February 10, 2016
Q. Hello, I'm creating electricity in my 7th period class. We are trying to create electricity from an apple, orange, banana, and a potato. I was wondering if you can actually do this and does it actually light up an LED light?
emili quam
- devils lake North Dakota
---
---
March 6, 2016
Q. Hello!!
So my 6 year old is participating in his first Science fair! We both decided to do a Digital Fruit Clock! (He got a "Lemon Clock" kit for Xmas complete with two copper and Zinc rods, red wire, Black Wire, white wire, and a digital clock) We started to do experimenting on fruits and NON fruits. The clock worked with an Avocado, Lemon, Banana, and a pear. The Clock did NOT work with Peanut butter, Butter, and a chocolate chip cookie. We were trying to find things it WOULD NOT work with and found that water works, milk works even BREAD! Why Bread? In conclusion we need to figure out WHY it works for fruit as opposed to butter, Chocolate chip cookie, and peanut butter. What is it that the Milk, water, bread and fruit have in common that it would make the clock work but NOT the butter, Peanut butter, and cookie... PLEASE HELP!!!
Kimberly Long
- Seattle, Washington
---
---
March 15, 2016
Q. Hi, I have a science fair project at school. And I chose "Which combination of vegetable and fruit has the highest voltage?" And it's like a different thing to do here.
Brokson Kevin
- Mandalay, Myanmar
---
April 5, 2016
Q. Hi, Please help me a year 6 student get an answer for why energy is increased in voltage if more fruits are used?

khushi bajaria
- mombasa,ganjoni,kenya.
---
April 14, 2016
Q. Can you make a banana battery?
Sharnujan Sivanethura
- Toronto, Ontario, Canada
---
May 31, 2016
A. Using any fruit with a high acid content and 2 Dissimilar metals will generate electric current. Peanut butter is not terribly acidic so you won't get much if any electricity. You can build a simple "Voltaic Pile" (named after Alessandro Volta. Also where we derive the name "Volt" from). All you need are some silver coins and copper coins, some vinegar and blotting paper. Simply cut some squares of the blotting paper slightly larger than the coins and moisten them with the vinegar. Place a copper coin on the table, put a piece of the blotting paper on top then put a silver coin on top of that. Keep repeating the process making sure to alternate the coins. When you have your desired "stack height", touch your multimeter probes on the top and bottom coins and be amazed! (hopefully)

Chuck, Melbourne Australia
Chuck Solide
Tube Bending, Powder coating and Metal Fabrication - Thomastown, Victoria, Australia
---

It's okay to build the stack high enough that you're amazed; but don't build it so high that you're shocked :-)
Regards,
Ted Mooney, P.E. RET
finishing.com
Pine Beach, New Jersey
Striving to live "Aloha"
---
---
July 3, 2016
Q. Hello Ted,
I've seen many reports online of a boiled potato producing 10x more electricity when used in these typical zinc-copper "fruit batteries" than a raw potato, but these reports seem to all be reiterations of the same news report from 2010 about the Hebrew University of Jerusalem. I can't find anyone else actually doing an experiment using a raw and a boiled potato and documenting it online (outside of the recent question this year from Paola here on this thread, but her child's results weren't posted). Here is an example of this finding: http://www.smithsonianmag.com/innovation/a-potato-battery-can-light-up-a-room-for-over-a-month-180948260

Based on all of the wonderful information you've provided here, I have my doubts that this will make a difference -- certainly that much of one, especially since you've pointed out that there is a maximum which can be produced using zinc and copper as electrodes. Even in ideal conditions. Unfortunately, I don't have time or resources to create the experiment myself, as I'm just doing research for a paper (we don't even have pennies in this country).

Can you please tell me if you think it's possible to produce exponentially more voltage in the potato battery setup by using a boiled one? How can that texture make a difference? Cheers in advance!


Jemima Brown
- Katoomba, NSW, Australia
---
---
August 9, 2016
Q. I'm doing a project for the equivalent of a science fair. I'm thinking about doing something with fruit conductivity, but one question has piqued my interest. Why must zinc and copper be used to make a fruit part of an electrical circuit?

thanks in advance,
Edward, a year seven sudent.
Edward Meade
- Sydney, New South Wales, Australia
---
January 5, 2017
Q. Hey, How can i measure the moisture content of a fruit by passing an electric current through it? And how much current should be applied.
Emmanuel Mwadime
- manila, philippines
---
---
September 12, 2017
! I'm making a science protect about what kind of vegetable produces the most power.
david hardcore
- colorado
---
1 2
---


This public forum has 60,000 threads. If you have a question in mind which seems off topic to this thread, you might prefer to Search the Site