topic 2563
GALVANIZE+WET PAINT VS. ZINC PLATING+POWDER COAT
(1999)
We are developing a new product to be used beside roadways which will be exposed to road salt spray in the winter months.
The product will be fabricated from mild steel and we are considering 2 types of finishes.
OPTION 1 Hot Dipped Galvanized followed by a brush blast then a wet coat of paint.
Option 2 Zinc plating followed by a Powder Coat paint finish.
What would the difference in durability be if used in this environment.
Thanks
Tom White
---
(1999)
Hot dip is a lot thicker than zinc plate, so you have a better coating, based on the thickness increasing the mechanical damage resistance.
Powder coatings can be formulated for nearly any set of conditions. My thought is that it is better for most outdoor applications, especially roadside.
With no other constraints, I would go with plan 3, hot dip plus powder coat.
James Watts
- Navarre, Florida
---
(1999)
Dear Tom
The best way to compare those process is by taking some numbers of panels of the two process, scratch them with X scratch and to put them inside Salt Spray Cabinet till failure. The failure is when the scratch is wider than 2 millimeters from the scratch. This might happen between 300 to 1000 hours . This test is obligatory in any case for predicting the quality of the process you will choose.
Comparison between the two processes shows that the Hot Dip Galvanized process is more expensive than the Zinc Plating Process; this factor might be considered too especially when dealing with railway .
Let me suggest you much cheaper process and it's only Zinc Phosphate process and then powder coat the same way you want to do to Zinc Plated process . If you will test this process in the Salt spray cabinet you will be surprised to find out approximately same results as the processes you mentioned but with much less cost.
I hope it will help you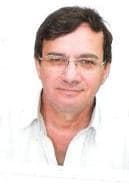 Yehuda Blau
YB Plating Engineering and Quality - Haifa Israel
---
May 30, 2009
Hi, Yehuda. Thanks for taking the time for such a detailed response. However, the fact that zinc phosphate may match galvanizing in a salt spray cabinet does not demonstrate equivalent corrosion protection by the two systems -- rather, it demonstrates the often-made point that salt spray testing should be used only as a process control tool, never as an indicator of anticipated life :-)
Galvanized zinc in real life relies upon the formation of corrosion resistant carbonate compounds that do not form in a salt spray cabinet. In the real world, as we can see from high voltage transmission towers around the world, galvanized zinc components will still be performing their job decades after phosphatized components have returned to dust :-)
Regards,
Ted Mooney, P.E. RET
finishing.com
Pine Beach, New Jersey


This public forum has 60,000 threads. If you have a question in mind which seems off topic to this thread, you might prefer to Search the Site