topic 18056
Cleaning bronze grave markers
(2002)
Q. I am trying to find a cleaner for American Legion grave markers that have turned almost black from the weather.
Gilbert T
[last name deleted for privacy by Editor]
- Dudley, Massachusetts
---
(2004)
Q. My mother's grave marker is made of copper, it looks kind of bad from weather, water etc. Can you tell me if Wright's Copper Cream [linked by editor to product info at Amazon] is ok to use? It is tarnished from wind, rain, weather, etc.
Louis Russell
- Boise, Idaho
---
(2004)
Q. I am trying to refinish my brother's bronze name-marker on his grave. It has had a coat of some type of paint put on it in the past and I've used Acetone [linked by editor to product info at Amazon] to remove most of that ... still trying to get it all cleaned off. I want to know how to get the dark glossy color back to the finish. Do I paint this again with another type of paint or is there a special finish I can use to achieve this?
KEN WILES
TROOPER - DELAND, FLORIDA
---
(2006)
Q. I would like to refinish or clean my parents' bronze grave marker. It is almost 30 years old. The cemetery office claims there's no product available in Hawaii.
Ellen Yamamura
- Haiku, Hawaii
---
(2007)
Q. What do you use to clean bronze cemetery markers. I am told at the funeral home, nothing will clean it ,has to be refinished. Very expensive! Hope someone can give me a method. Markers are over 30 years old. Thanks for any help.
Jeannie Boring
- Houston, Texas
---
May 28, 2008
Q. We have a bronze grave marker for our son. It is 5 years old. It has some sort of corrosion on it that looks like cement and is not the sort of corrosion described in the on-line info I have read. This is very distressing and we can't figure out what to clean it with. Can some one give me some help?
Carol Norton
consumer - Summerfield, Florida
Ed. note: There are a lot of questions without answers on this thread, but perhaps it's because the responders have wearied? This question is repetitive of previously asked and answered questions, so you might give a look to:
Letter 21436 "Removing oxidation from bronze",
Letter 22020 "Cleaning a military bronze cemetery plaque".
---
May 7, 2009
A. These bronze markers CAN be refinished so the lettering is bright and the background is restored to its original brown color, by shipping them back to the manufacturer, or many monument companies also offer the same service. Cost will run $150 to $200 for a single 2x1 foot marker. My cemetery offers the service in Danvers, MA

You can CLEAN them with any bronze cleaner, but do NOT use a steel brush
David P. McKenna
- Danvers, Massachusetts
---
January 3, 2010
A. There is a local company that refinishes bronze markers if you get a hold of someone in the headstone field they can help you.
Gregg Smith
- Emmett, Idaho
---
August 23, 2010
A. I WORK AT A CEMETERY, BEEN IN THIS BUSINESS 19 YEARS. MY COMPANY REFINISHES GRAVE MARKERS ALL THE TIME. I HAVE SEEN SOME OF THE OLDEST MARKERS LOOK BETTER THAN NEW WHEN DONE CORRECTLY! IT IS A TIME CONSUMING PROCESS IT IS BETTER TO LET SOMEONE WHO KNOWS WHAT THEY ARE DOING REFINISH YOUR MARKER. IT IS ONLY A FRACTION OF THE COST FOR A NEW ONE AND WILL LOOK AS GOOD IF NOT BETTER THAN NEW.
Steven Samples




- Athens, Georgia
---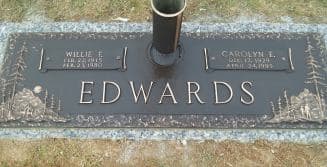 October 19, 2013
A. There is all sorts of info on cleaning bronze in-ground markers. Some say it is difficult and others give wrong info. The markers are NEVER so bad we cannot make them look like new and so can you. We clean and restore these markers daily. Some of our customers are older seniors and cannot take care of their markers. We advertise in our area "we clean" or will help you perform the task yourself. We only want the cemeteries to restore their honor to the past family lying in rest. It is the right thing to do.
Lucy Cook
gravestone cleaning - Youngstown, Florida, USA
----
Ed. note: Lucy offers some detailed advise about how to do-it-yourself on the previously mentioned Letter 21436.
---
April 21, 2014
A. In regards to cleaning bronze plaques/markers that have been worn down by years of weather related issues...try using Brasso [linked by editor to product info at Amazon], a product that can be found virtually anywhere, and apply liberally. Let it dry and wipe down with a non-abrasive cloth. You may have to do this several times but eventually you will restore the beauty back to its normal state and your "next of kin" will once again rest in peace! I hope this helps and comforts your thoughts!
Chris Stumler
- Swansea, Massachusetts USA


This public forum has 60,000 threads. If you have a question in mind which seems off topic to this thread, you might prefer to Search the Site