topic 14995, page 4
Excessive Iron in Swimming Pool Water, page 4
---
---
Editor's summary: Readers are welcome to read this entire long thread, but dozens of users found themselves able to easily get from brown rusty water to a sparkling clear pool with simple home built filters ranging from a couple of white socks to a pair of 5-gallon buckets with a small sump pump in one and the stuffing from a couple of old pillows in the other.
---
June 26, 2011
We have an Intex easy set 15' round pool. When we first bought it we didn't have any problems with the color or cleaning. Then we moved closer to the beach and our ground water is closer with more metals and sulfur in the well. Two years ago we set up the pool for the kids and the water upon filling started turning green. It stayed that way although all the tests done said it was safe. Eventually we got frustrated algae started becoming a major problem and it seemed no matter what we did it just got worse. So we drained it cleaned the pool and put it away. This year the kids (teenagers) said they wanted it back up. Of course within minutes of being full it was green. I don't know if it was the chemicals or what. Like everyone else on the board we have a major metal problem. So last night I went searching for a solution online and found this site. You all are awesome. this am we started changing the filter out and put socks in the intake and out-take. After 1/2 hour my husband checked the intake sock and it was brown so he cleaned it and put it back. Whoever thought of that is a God send. I hate the condition of our well water and we have a water system for the house. Wish the water outlet for the pool was part of it, lol. Thank you all for your suggestions, will let you know what happens. Have a great weekend.
Debby Hampton
- Milford, Delaware, USA
---
July 1, 2011
I am also having a lot of issues with rust/iron in my water, I have an INTEX 18 X 48 pop-up pool. I am currently using the socks and towel method it is catching a lot of iron/rust but still not 100 percent just yet. Also a great absorbent thing I tried on my INTEX paper cartridge filter is a white baby diaper cloth very absorbent! I have the low end vacuum that came with the pool but my problem with this is that it attaches to my garden hose, so in return I am putting more well water/iron water right back in the pool!!! is there another way to use that vacuum ?? Also my water is more green today and less brown now what do I put in it to help clear it up more chlorine? any ideas? Thanks!! :)
Robin Ansley
HomeOwner - Belle Center, Ohio, United States
---
July 2, 2011
We have a pool at our weekend place that we visit every other weekend. It's a 15 x 48 Intex pool. When we arrived back yesterday, all the rust settled to the bottom and the pool water was clear. We brought up an old DE filter that we had stored in our shed from our pool (that we don't use anymore) at our primary home; we hooked it up to the Intex pool. Before we turned it on we brushed the bottom of the pool to loosen up all the rust from the bottom. We then ran the filter for about 4 hours, until we went to bed. This a.m. the rust again settled to the bottom, but 3/4 of it was gone. We repeated the process again this a.m. and have the filter running presently. The water is now nearly 100% clear, just slightly cloudy, you can see to the bottom. I know not everyone has this option, but just thought I'd share what we did. This was my hubby's idea. The DE powder/filter obviously did the job. Once all the rust has been eliminated we will reconnect the filter that came with the pool. I wonder if there's a manufacturer that makes a smaller DE filter, for the smaller Intex pools; there should be should, the need is definitely there. Good luck.
Sue Carol
- Marshalls Creek, Pennsylvania, USA
---
July 9, 2011
I was having the same issue as all of you. The sock/towel thing was working, but not very fast, so I started taking 5 gallon buckets of water out and testing other solutions. For those of you who like instant gratification the way I do, here is the solution. Iron Out. Originally, I was skeptical like many of you because of the chemicals involved. Then, I came across the post about the chemicals being the same as in the PH lowering chemical. I'll be darned, he's right. So, I tested it in the bucket. Clear water in 30 seconds. I put about 3 lbs into my 2000 gallon pool (12' x 30''). Within 5 minutes, the water was crystal clear!! As an added bonus, my PH and alkalinity are also now dead on, both were high before the Iron Out. I swam in the pool with my girls (1 and 6) just minutes after adding the iron out, and no ill effects. Iron Out is now a permanent part of my suite of pool chemicals. I hope this helps someone who is considering using but is skeptical like I was.
James Ravnikar
- Bemidji, Minnesota, USA
---
July 18, 2011
Thank you all so much for this forum.
I'm a first time pool user. My hubby and son bought me an above ground pool for my Birthday in June. I didn't get to swim in my pool on my Birthday because of my pool looking like chocolate milk. So in desperation I googled my pool problems and I found this site. And thank goodness I did otherwise I'd be bald from pulling all my hair out in frustration!!!
I did the white sock thing, and the pillow stuffing thing and they worked perfectly. We ended up using about 2 pillows, 4 socks, and a body pillow. But by doing so, the pool (12 ft X 36 ins) ended up beautifully clear in just a few days.
So because of the excellent help and advice I got from this site, I thought I'd pay in kind and tell you what I found works beautifully for the pool filters. We were going through about 3 a week, so after about 3 weeks I soaked them in a bucket overnight. I rinsed them off and they were as good as new.
The product I used is a toilet cleaner called "The Works". I buy about 4 bottles at a time from 'The Dollar Tree' for only a $1 each. The smell is nasty, so don`t get too close to the soaking bucket!!!
After I rinse them off and reuse them, I pour the water I've soaked the filters in down the toilet. It keeps it sparkling clean. A word of advice, don't pour the bucket of the chemicals down into a stainless steel sink - it will take the finish off.
I have even put the pool filters in the dishwasher after I rinsed the chemicals off, and they come out practically like new.
I love my pool, I use it almost every day weather permitting. I've lost about 15 pounds in weight already and have a fantastic tan from sunbathing on my rubber raft in the pool. And living in WV, the views are magnificent from my pool. It's nature at its most perfect.
Thanks again for the help and advice.
Wendy, West Virginia.
Wendy Bee
- Oak Hill, West Virginia USA
---
July 19, 2011
Hi, Wendy. Thanks for "paying in kind" by sharing your tips.
But I think what everybody would most like to hear from you is how to lose 15 pounds by lying on a raft sunbathing :-)
Regards,
Ted Mooney, P.E.
finishing.com
Pine Beach, New Jersey
---
July 19, 2011
Hi Ted. I lost the 15 pounds by lots of swimming. I know a 12 ft X 36 in pool isn`t all that large to swim in, but I got creative. I'm only 5 ft tall, so the pool seemed large to me lol.
I spend a lot of time in the pool. Mostly sunbathing on my raft in the afternoons reading a book. In the early mornings and evenings I would swim moving my arms and legs constantly. Another benefit of that is that my insomnia is nearly gone now. Plus being in the pool so long I'm not in the fridge/pantry looking for snacks lol.

I also lost weight by picking blackberries on my property, and on my neighbor's driveway walking quite a distance every day. So what I've lost in body weight, I've made up for in blackberries. There are over 15 pounds of blackberries in my freezer right now lol.

Wendy Bee
- Oak Hill, West Virginia USA
---
July 19, 2011
Heres what worked for me. Try at your own risk.

I took a five gallon bucket that had a pour spout in the lid. I Removed the pour spout cap off the lid so I could pull up the spout hidden below. I then removed the entire lid from the bucket being careful not to damage it.

The spout is flexible and and I needed to clamp my output hose to the spout so I placed a plastic fitting that was nearly the same outside diameter as the inside diameter of the pour spout. Any fitting that fits tight into the spout should work. I then put about 10-15 holes 3/4" around the bottom sides and bottom of the bucket.

I then placed took a pillow and removed the pillow covering exposing the polyfill that was inside. I then stuffed the polyfill into the bottom of bucket.

Now I placed the lid on the bucket and snapped it into place. Then took my output hose and slid over my bucket lid spout and clamped into place. This is where the fitting comes in that I placed inside the spout. It gives a hard surface to clamp the hose and spout together with.

I then hung the bucket over the side of my pool and turned in my pump. Mine is 8,800 gallons and in 8 hours it was very clear and I swam in it. Prior to swimming in it we made sure the water was pH and chemically balanced. We also got in and vacuumed it well.

Later that day I removed the bucket carefully avoiding tipping the bucket from how it was laying in the water. By the way while laying in the pool mine kinda laid a little tilted. Never straight up. It had a good amount of water in it but never full submerged mire than 2/3.

After removing the bucket I removed lid and changed out the polyfill with fresh material. I then put the lid back in and out it back in the pool.

I Always clean the skimmer filter every few hours and watched my bucket closely to make sure the lid wasn't bulging from pressure. Monitor your water pH and chlorine levels.

My pool water was crystal clear in 24 hours.
Rich McCafferty
- Oden, Arkansas, USA
---
July 21, 2011
We had the same problem..brown yukky water ...this forum is full of great advice & very helpful information....we did the sock thing over the water exiting the skimmer in the pool and we did the sump pump thing...we got the kind that you just hook a hose to ...we hooked one end of the hose to the sump pump and the other end to a garden hose (pre)filter it just screws right on the other end of the hose.....tossed it all in the water & hoped it worked...I can see the bottom of the pool now ! we removed the hose pre filter and cleaned it out....lots & lots of yuk...hooked it back up to do another cycle...best 25 bucks I ever spent! found the pre filter at the local pool/spa store.....the sump pump is doing all the work...sucks the water in one end and out the other threw the prefilter....still cleaning and changing filter but not as often...and it's speeding up the process ...
Tina McCap
- Akron, Ohio
---
July 23, 2011
A HUGE thank you to everyone who has posted on this site! We tried everything for our brown water, eventually making our own filter like suggested. We had to modify it some, we did not have a 5 gallon bucket so used a 5 gallon tote. When we first tried it, I only put it in the pool for a few hours at a time. I now realize you NEED to leave the pump and homemade filter in the pool! We have left it going pretty much nonstop for 3 days (you have to rinse it out periodically, which is a huge pain). 3 days ago I could see about 5 inches deep in our 48 in pool. I can now see the bottom and the water is almost clear!!! I have not seen the bottom of our pool since we put it up(about a month!).
Nina E.
[last name deleted for privacy by Editor]
- Waverly, Minnesota
---
July 25, 2011
Update: Back in June 2009 I posted to this site about my home made pillow stuffing and socks filter to clear up my Intex pool. Well, last year we decided to buy a sand filter from a pool supplies catalog - based in Chicago, I think. We've never looked back. Pool cleared up within 24 hours and this year works like a charm. Clear,inviting water. We need to backwash the filter about once a week else it starts sending back the dirty water. But we love, love love the sand filter. We also got some solar heating and the pool is mega mega fun for all.
Saya Cranda
- Minneapolis Minnesota USA
---
July 27, 2011
I will try the sock method for my small "pop-up" pool filled with well water. I plan on removing the (apparently) worthless filter from the pump and attaching a sock/polyfill filter on the outlet. This way, the cheap pump will at least keep from running dry due to a blinded filter. If that seems too slow, I will rig a sump pump/bucket like others have mentioned. The best thing about this method, in my unprofessional (but educated)opinion, is that the kids can use the pool even if it looks like weak tea as long as pH and chlorine are in spec. I am pretty sure that a little bit of iron never hurt anybody. Mechanical methods seem the best way to go here. Chemical methods don't really do anything with the iron other than to keep it in a clear solution. Best case with chemicals is a long-term battle keeping the iron in the preferred oxidation state along with proper pH and chlorine levels. Mechanical methods allow you to actually remove the iron. Anybody have a nice, safe flocculant to help things along? Adjusting my well water for pH and chlorine resulted in a VERY fine iron particle size that will be difficult to filter.
Eric Neal
- Wichita, Kansas, USA
---
July 31, 2011
Our well had high iron when tested in 2001 so we added just a Sear's high capacity water softener with "Red Out" salt pellets. For regular household use, the softener cycles once every four calendar days. First we filled our Intek pool from the well directly. After shocking, it had the red brown sediment in the bottom that the filter would not collect. So we emptied the pool and began filling it again from the cold water outlet to the washing machine in the laundry room. The softener will pump water for at least one hour before the recharge tonight signal comes on. Then you have to let the softener recharge for two hours. Thus in an 8 hour day, we can only pump for 2 to 3 hours. It takes three to four days to fill our 15 foot x 42 inch Intek pool. 3800 gallons. Most other pool owners in our area who do not have indoor water softeners have added sand filters to their pool systems.
We gave an 11 year old friend a pool for the summer. We did not know that his grandmother's outside faucets have rusty water. When we shocked the pool, it turned red brown. After reading all the four pages in this discussion thread, we did the following. We removed the filter from the 1600 gph. We run it with no filter. We took a wire hanging plant basket and attached it to the inside of the pool just under the water return pipe. Then we placed a regular common cotton dish towel in the wire basket. The dish towel is catching the rust. It will take a while to clear the whole pool, but it is working. The 11 year old boy can change and clean out the dish towel as needed. The Intek pump cannot over heat or get clogged up this way.
Once the pool is clean, we will return the skimmer and smaller 1000 gph pump with filter to replace the 1600 gph pump. Intek pumps do not filter out algae particles very well so we add Super Blue agent that makes them stick together so the Intek pumps can capture them in the filter. All the ideas for socks with pillow stuffing, sounds like it works well. We needed a system that an 11 year old boy could handle on his own. We could not make something that is a pain to wash out. So far the wire basket/cotton dish towel system is working. It will take time, but that is good for the 11 year old. He will learn patience.
Joanne Schifini
- Sprague River, Oregon
---
August 2, 2011
I looked on here for answers to my brown water problem and found the answer....I used the sock method to get all the iron out...It took me 6 days to to get the water clear...Thanks for all the advice.....
Joe G
[last name deleted for privacy by Editor]
- Lebanon, Indiana
---
September 21, 2011
TOWEL FILTER WORKS GREAT !!!
We have a 12'x30' in-ground pool using well water that is full of ferrite(iron). For 1 year we had beautiful crystal clear blue water and didn't even know that we had a problem until one day I inadvertently increased the Alkalinity and the iron came out of solution. ARRRRRGG help !! Every time after that I added chlorine or pool shock (which are both very alkaline) the pool "rust" got WORSE! After reading this forum and getting filter ideas, I simply stuffed a towel into the basket in the secondary skimmer right before the pump. After brushing all the "rust" down to the drains at the bottom of the pool and waiting several hours , the pool began to clear. The white towel had turned brown ! In 1 day the pool was almost blue and in 2 days it was crystal clear blue again !
From now on I will filter the well water before it goes in the pool and keep the alkalinity low. I would advise DO NOT use chemicals to get rid of the rust as it will only hide the problem...... THANK YOU FORUM !!
WC Bellenger
- Cape Coral , Florida
---
March 16, 2012
I had the same problem for starting my pool. It is a 24 x 52 aboveground. After 2 years of clarifying and vacuuming all the time, I found out that if I use hydrogen peroxide (98 cents a bottle), I would use 3 bags of shock and then use 3 bottles of peroxide and water would be clear in less than an hour usually. You can find out more by looking up peroxide anywhere on the internet
Butch Roberts
- Lubbock, Texas, USA
---
April 24, 2012
We bought an Intex 16' x 48" metal frame pool for the kids for my daughters birthday. Filled with well water and added shock, the water was browner than the bayou. I managed to get it crystal clear in 5 days. This is what I did. First I raised the pH and added more chlorine. It made it worse but that was my intention. Then I placed a sock around the skimmer basket. I took another sock and stuffed it with teddy bear stuffing and placed another sock over that one, I placed that sock over the water output inside the pool. I took two more socks and cut the foot off I placed both of those over the cartridge filter. I ran the pump continuously. Cleaning the socks every few hours. I vacuumed the pool with the hose attached to the pump. I then took about 25 vitamin C tablets and threw them into the pool and placed about 25 more in the skimmer basket. I continued to clean the socks every few hours, on day four I added some more vitamin c tablets. On day 5 the water was sparkling blue. I vacuumed sediment off the bottom. Shocked it again with socks still in place and put in algae remover. It's been two weeks and the water is still perfect, I vacuum once a week run the pump every 4 hours and balance the pH and chlorine as needed. No more rust or brown water. When I have to add water I stick the hose inside a sock filled with teddy bear stuffing before putting it into the pool. No need for harsh and expensive Metal Out chemical, just socks, your regular pool chlorine, vitamin C and a little work and you have a beautiful pool to enjoy all summer. I didn't even buy a bigger pump just the cheap one that came with the pool, although I will be getting a sand filter cause it filters the smaller particles better. Hope this helps.
Laura Collins
- New Iberia, Louisiana, USA
---
May 7, 2012
I have a post above, in 2009.

The last few years we used city water; this year we're back to well water. We put 2 carbon filters on the water hose before it went into the pool. We don't have the brown dark tea water as before. It's yellow with bits of floating iron and a floating oily substance. It's just about half full and not high enough to pump and filter yet so I'm still waiting for the chemicals to sink and vacuum. Hopefully, I keep it updated.
brittney shaw
- ratcliff arksnsas
---
May 9, 2012
Q. I have this same problem with the iron. My pool slowly would get iron tinged the last few years when I upped my alk, ph and chlorine upon opening. It would eventually bleach out and I could see the iron in the backwash. This year has been awful. I used the stain out product but it didn't stay in suspension and redeposited in my liner and stairs. I have a lined 16.6 X 35.5 grecian pool. The second treatment I added a chemical to keep it in suspension and added DE to my sand filter to catch the suspended iron. The pool cleared up and looked great. As soon as I upped the ph and chlorine again, it started turning. I have put the white towels in my skimmer and stuffed white socks over my jets and they are catching some iron, I am having my sand replaced later this week, I noticed my backwash shows no signs of iron and my sand is 11 years old. It has worked great until recently. Backwash would be brown with iron in the past.
My question, should I keep cranking the chlorine and balance my pool and try to oxidize this stuff and catch it with rags and new sand, or should I get the chlorine back to zero and retreat the water, get it in suspension and drain it? Or will the new sand adequately filter it out?

Thank you.
David Valentine
- Scottsboro, Alabama USA
---
May 14, 2012
Q. I have an in ground pool and I have well water. About 40,000 gallons. the pool has stainless steel sides and concrete(?) bottom. The well water has discolored the sides, rust stains, near the water tap. Also, the lights are calcified or scaled. Can I use Iron Out or Oxiclean with steel? I cleaned the steel with white vinegar and they turned a bit white. The rust stains are still there and in the returns. What can I use to get the iron out of my pool which is now empty, getting the bottom painted?
kari izu
- bloomfield hills, Michigan
---
May 29, 2012
A. I am going to try and post some pictures to help everyone understand what's going and how it works. We have well water which is VERY high in iron and manganese, smells like crap and when its used to fill a pool, looks like it smells. I have fought this for three years with my INTEX 18x52" 6200 gallon pool and want to tell everyone the basics of what to do and what not to do. 1.Super chlorinate the pool so your FREE chlorine is in the mid to high range. This takes a lot more than the instructions will say, but it is necessary to oxidize the iron into rust so you can filter. Your pH and alkalinity may be high, ours always is, so you will need a pH- to get it into the "OK" range. It has been my experience that it takes 3-5 x's the amount of super shock to get a free chlorine level at initial filling.
2.Use a sock filled with batting material like pillow stuffing,(crew socks work best, white) and attach to the outflow valve with a rubber band if necessary. 3. Wrap some white washcloths around your filter and secure the washcloths with three rubber bands. one on each end and one in the middle. it will take two washcloths end to end with some overlap to reach around the filter. 4.place some washcloths in the strainer basket loosely or some batting material. Washcloths are easier to rinse clean though. Clean these off at least 3 times a day if you can, the rust will rinse of very easy. 5. In about 3 days you should be able to swim in it, it will be an aqua-green instead of murky brown-green, and in 5 days it should be totally clear. Don't loose hope, and don't spend a bunch of money on "clarifier's" and "rust cleaners" they don't do anything but create a polymer crap that leaves a Grey blue film on your filter that wont rinse out. Plus its a lot of money for nothing. I will see if I can get some pics of the setup for everyone to see. This will work. Use all three points of attack on this rust and it speeds up the process greatly.
Fred Keezer
- Dike, Iowa
---
June 5, 2012
A. I have iron-bearing well water at my home. I purchased a 16' x 32' Intex Ultra Frame pool. The pool came with a sand filter and I am using a saltwater chlorine generator. When I first filled the pool, the water was clear; but after running the chlorine generator for 1 cycle the water had a yellow tint which caused the blue bottom of the pool to appear green. I am happy to say that the Intex sand filter does a great job of removing the precipitated iron from the pool. After running the filter for a day, I had to backwash it because it was clogged up with so much iron. The backwash water that came out of the filter was so brown it looked like root beer. Within 3 days the water was clean enough for swimming.
I can't believe all of the responses that I read with people adding chemicals to the water to get rid of the visible iron. In my opinion the only way to get rid of iron from a swimming pool is to chlorinate the water and filter out the iron particles. If you live on iron-bearing water and don't have a sand filter, go buy one. They cost less than $200 and it might end up saving you money in the long haul. The filtration sand is supposed to last at least five years and a 50 lb bag is around $5 per bag, but those paper filters only last a few weeks before needing to be changed and they each cost about $5.
Barry Schoenike
- Belleville, Wisconsin, USA
---
June 11, 2012
A. I have the worst iron water in the country! Forget buying all the extra chemicals. What you need is a sand filter ... period. The little paper filters that come with the Intex pools just are not made for water with iron in it. You need to spend the extra $400 dollars to get a sand filter ... trust me!
Overnight your water will clear up! Yes, using a flocculant for clumping the metal will help but only if you have a sand filter.
I have a 13'x 48" Intex above ground pool and it uses the sand filter ... beautiful water!
Jon Boshea
- Dayton, Minnesota, USA
---
June 11, 2012
! Just wanted to say thanks for the sock idea. I put a sock over the filter inside the pump and a sock over the out take(where the clean water pumps into the pool). I changed the socks 3 times and in 24 hours my pool is almost Crystal clear. Used a rubber band to hold in place.
Janet Stockman
- Merrill, Wisconsin
---
June 13, 2012
! First off, I want to give a sincere, big Thank-You to all of you who contributed to the "poop soup green/brown" colored water in your pool after being filled with well water. If it weren't for all of you, I probably would have taken my quick set 15' by 3 1/2 ' deep ring pool down and said the heck with it. This is what I did and it only took 9 days of faithful homemade filter and T-shirt sleeve covered cartridge changes to get my water crystal clear! :D I took a 2 liter pop bottle and drilled 15-1/4" holes in the bottom of that bottle. I then stuffed it with stuffing from a pillow, (I no longer was using) up to the bottom of the bottle neck. Then I cut a foot and half section of garden hose from the female end. (you want the female end to use) I put the cut end inside the bottle and used Gorilla Tape (better than duct tape) to keep the hose from coming out of the bottle. I then took the female end of the hose and put it into the clean water return. The bottle will sink to the bottom of the pool and that's o.k. The filter cartridge that came with the pool isn't very good at keeping the iron/rust from re-entering the pool, so what I did was cut the sleeve off from a white T-shirt, slid that over the filter cartridge and put a rubber band at the top, middle, and bottom to keep the sleeve on the cartridge. The first 4 days, I changed the pop bottle filter and the cartridge every 2 hours. The next 5 days, I changed the cartridge & pop bottle filter 3 times a day. When I changed them, I rinsed the sleeve, cartridge and pop bottle right away. Run water into the pop bottle until it runs clear, then it's good to go for the next filtering round. It's nice to have an extra filter cartridge, extra t-shirt sleeve and stuffed pop bottle ready to go. Don't forget to keep the balance of the water in check. The water in my pool was VERY bad, but patience, determination, and 9 days later, my pool is 100% crystal clear!! and ready!! Pool & Tiki bar is open, come on over for a dip! Good-Luck to all who are in the same situation I and many of us had been in. Hope this works for any of you suffering with nasty water situation.
Sharon Stambaugh
- Pittsford, Michigan, USA
---
June 25, 2012
! Love living in the country but a pool filled with orange well water is quite the turn off to the kids. Read the suggestions and wanted to go chemical free to start. Tried the white towel trick, which worked, but the best solution...was to run the pump 24/7 and change the filter frequently (every couple of hours if able). In just 3 1/2 days we now have "see the bottom of the pool" clear water with no chemicals. Couldn't believe it. Patience is key.
Karen Moore
- Columbia City, Indiana, USA
---
June 25, 2012
! HI!
I stumbled across this forum via a Google search of how to fix the brown rusty water in our brand new 15' above-ground Intex pool. I nearly wept with joy when I found these responses and I wanted to send out a HUGE THANK YOU to Karen Snyder - Canton, Ohio (and her husband) for their brilliant idea of the sump pump pillow filter! We've been running it for 24 hours now and our murky brown water (compliments of high iron from our well that we filled the pool with, plus this newbie's addition of chlorine shock) has turned crystal clear blue - with NO CHEMICALS! So THANK YOU THANK YOU THANK YOU!!

I am posting pictures -- we documented the process!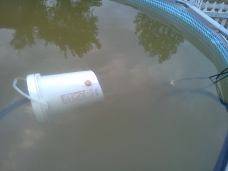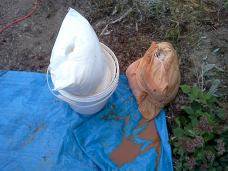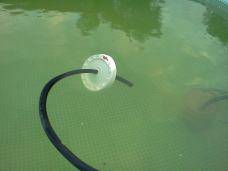 At start (9 PM), and changing the filter next morning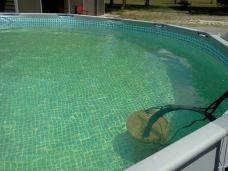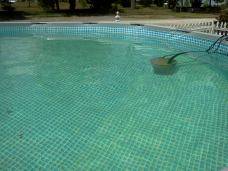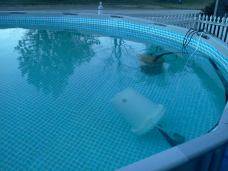 About 15 hours later, 18 hours later, and 24 hours & 3 pillow filters later
Thank you all for all your feedback! It gave me hope when I was despairing (and my husband was ready to throw the pool away!)
What we did:
two five gallon buckets, both with 1 1/2 inch holes drilled in the bottom of both sides
Put a working sump pump in one and drill a hole in the top of the bucket for the hose
Put a pillow in the other and drill a hole for the other end of the hose to go thru (we had to rig up a way for the floater to stay up in the sump pump bucket so it would continuously run, but a few zip ties did the trick) Plugged the sump pump in and 24 hours later, we have a clean pool!
Thank you again!!
Jenna Bradford
- Alvada, Ohio
---
June 28, 2012
! Just want to thank those with the sock/towel solution to the rust. It truly works, started the process just over two hours ago and already the pool is clearing up and I have rinsed out the socks twice. Wow! Love a cheap and easy solution. thanks again.
Amy Dough
- Outer Banks, North Carolina, USA
---
June 30, 2012
Q. I want to know where I can buy these chemicals "iron out" and "super quest" and others please?
Ahmed sami
- Cairo, Egypt
---
July 1, 2012
! This thread has saved another pool - albeit a tiny, cheap pool... Several years ago I bought a 14'x42" pop-up pool on clearance at Big 5. It sat in the garage until a few days ago when we finally leveled a spot for it. It took 7 hours to fill from my well (We have no other choice, as we are in rural farmland with no pool services less than an hour away.)

Got the infamous "POOP SOUP" as soon as I chlorinated. So glad I found this site before I tried chemical warfare. Despite what everyone has said here, I was skeptical that socks and batting could cure a problem as bad as mine. Our water softener guy told us we had the highest iron content he had EVER seen. We have to set it at 50-60 grains to make it drinkable in the house. Even the guy at the independent testing lab raised an eyebrow.

Well, after 24 hours it's now a clear green and I can see the bottom of my pool again. Since I only spent $200 on the pool and filter, and because we have a painfully short pool season, there was no way I could justify spending more money on a new filter or accessories to help the process. (We were seriously thinking of just draining it and throwing it away.) But, I did it all with stuff I already had around the house.

I found that my puny little pump couldn't keep up with a washcloth on the intake + t-shirt around the filter + sock over the outflow. I also found it difficult and time consuming to attach the sock around the outflow (It's deeper in the pool than it should be). I ended up just taking the filter out all together, using the washcloth over the intake, and a sock filled with pillow fluff over the outflow.

For the outflow: I found a vacuum cleaner accessory extension tube from my old Oreck minivac, stuffed the batting-filled sock on the end and zip tied it in tightly in place. (The battling had to be packed tightly enough so the tube didn't slide through it.) The other end of the tube slid snugly right into the outflow hole from the inside of the pool! So much easier to prep and insert. Overnight I stuffed an old pillowcase full of batting and zip tied it around the tube because the smaller sock filled up with rust too quickly and I didn't want to get up every few hours to prevent the excess rust from spewing back into the pool. (Gather up all the loose bits of fabric and make sure the batting is balled tight so that the tube doesn't slide right through the batting...)

(The whole time I made sure my pH was in balance and my chlorine was normal to high - to keep the rust out of solution and thereby filterable.)

Total cost? A couple of old pillows, several old white washcloths, a bunch of old white tube socks, two old white pillowcases, and a packet of zip ties. I could see drilling holes in the vacuum cleaner tube to make it filter more efficiently through the batting, but I wanted to still be able to use them with the vacuum later :)
D Brunstad
- Deary, Idaho, USA
---
July 14, 2012
Q. I need HELP!! We filled our above ground pool and the water was green. We put Metal Out in and waited two hours. We then put in chlorine tabs in along with the algicide and the shock. Our water turned brown we were told to put in a whole bottle of Metal Out and it would help. It's NOT!! I would really like to know what to do PLEASE!!
Crystal Wingert
- Buhler, Kansas United States
---
September 11, 2012
Q. CLEANED MY 16-32 FOOT POOL. BY ACCIDENT I USED MULTIPURPOSE OXIDIZER -- NOW THE WATER IS SOUPY BROWN. SHOCKED IT SEVERAL TIMES AND STILL THE SAME, HELP ME.
Silvia
[last name deleted for privacy by Editor]
- VAN BUREN, Arkansas
---
July 15, 2012
A. Hi Crystal. Hi Silvia
The basic thrust of this thread is that you have to filter the brown rust out of the water, and that it isn't expensive or difficult, but may take a couple of days.
Regards,
Ted Mooney, P.E.
finishing.com
Pine Beach, New Jersey
---
July 17, 2012

The little home made pump with the fiber is awesome. We spent over $50.00 just on Metal Out and some other stuff. I found this homemade filter system on line and in two days we could see the bottom of the pool, third day completely clear.
This is a must try, also I added white socks to water inlet; it helped also.
jody roney
- burgaw North Carolina
---
August 16, 2012
A. After two years of battling iron from my well in my pool, I have come to the conclusion that it is best to allow the iron to oxidize (turn red) and then remove by filtering. Trying to keep the iron in solution can be done, but it requires adding and replenishing goop into the pool all summer, causing balance/SWG issues. I now only add salt (SWG system), HCl (pH down), Bleach (as shock), filtration, and a bit of patience to my pool. Clarifiers/flocculants/metal sequestering agents present problems for both my pool and my pocketbook. My rust-red pool runs clear after about 3-5 days of filtering and is crystal clean after 7-10 days. As long as my pool is in balance and free chlorine is stable, I allow my kids to swim. Iron is not hazardous to health as far as I can tell, so there is no reason why the kiddos need to wait two weeks while our pool clears from weak iced-tea to crystal clear. Socks/towels certainly speed the iron removal process, but don't expect results overnight. As long as my pool does not "eat" chlorine, I feel comfortable that green/red water is safe to use for swimming.
Eric Neal
- Wichita, Kansas, USA
---
May 21, 2013
A. I have well water that has a high iron level and when we filled our pool the water was very yellow so I added 1 bag of Morton water softener salt to the pool and ran the filter for 24 hours straight cleaning the filter every 4 hours and we have crystal clear water now. I did have to vacuum the bottom of the pool for a small amour of iron that had settled. This is the easiest way with no gadget.
Jenn Holley.
- Newark, Ohio, USA
---
June 9, 2013
A. I got our pool fairly clean and a little cloudy until I added shock and chlorine and it went brown. We are on a well and the brown-green is caused by all the iron in the water. I took everyone's advice but nothing seems to work. I have resorted to using socks to filter the water from the hose and putting socks in the filter basket and large pieces of cotton batting I found in a dog bed. I also covered the input water with three towels. It really absorbs a lot of rust and should be cleaned within a few hours but I believe this is the process I will stay with and see what I get in a few days.
Howard Bailey
- Shallotte, North Carolina, United States
---
June 12, 2013

Thanks for all the posts, they were very helpful. I made a bag out of window screen and stuffed it with pillow stuffing (took one off my bed LOL) and attached it to a sump pump as shown in some other post with a bucket. 24 hours later our pool is crystal clear. No chemicals used at all. Thanks again.

Greg
Greg Tompkins
- Callahan, Florida
---
June 22, 2013

My man fashioned a filter out of a bucket with a lid, drilled holes, stuffed with fiber fill, attached with a hose to the pump and strapped with tie downs to the above ground pool ladder. Amazing results! One stuffing change after about 12 hours, ran it overnight again and amazingly clear water! So excited to swim in what was once a swamp!
Laura mcneir
- Galt, California
---
July 14, 2013
A. I am one to do lots of research and found these postings very helpful. I am also one to try something for a extended period of time before I post results or opinions. The sock and stuffing idea works to an extent but can also burn out your Intex pump.

I have an Intex sand and sun metal frame pool, 13 foot round and 3.6 feet deep. I bought it years ago. This is the third time I was able to use this pool and the first time using it with well water. The sock and stuffing idea worked to an extent. I attached it to the return hose outlet and changed it every two hours. It really helped clean up the water. However, I still had a problem with iron in the water as I found out because my pH, hardness, etc., is out of whack and my chlorine was ate up in a day. My water got cloudy and nothing I did would help it until I upped the chlorine and put the sock back on. Then I put the sock and stuffing on again but this time let stay on overnight for two nights.....my pump burned out. I had to go out and buy a new pump.

I believe and will try next summer, that having a better pump than the Intex kind, a better filter than the Intex kind, and maybe trying the bucket and stuffing idea (maybe reduce strain on the pump a little) might have a better out come than the sock idea. I am really happy to find this site though. I read through all the postings and it has all been helpful. I couldn't find this information anywhere.
D. Porter
- Oakwood, Ohio, USA
---
July 23, 2013
A. We filled our 11,000 above ground pool with water from the hose after replacing our liner. The water turned brown like coffee after we added chorine. After reading this forum we concocted a solution that worked really well. We added fluffy pillow stuffing to a white tube sock and stuffed it in our filter basket. We wrung it out and sprayed it off every two hours then four hours, six hours and so on until the water was sparkling clean. Initially, the sock was almost red / rust color after just a few hours and then it became less and less. This took us about two days, but no additional chemicals were needed with really great results! We did have to keep adding chlorine - perhaps this adhoc filter also removed chorine in addition to iron. We've now purchased a filter for our garden hose and have this sock filter as a back up. Good luck!
K Watson
- St. Paul, Minnesota
---
April 29, 2014
Q. My Intex 18x48 is brown! I have been using a white sock over my filter. I put pillow stuffing in the basket leading the water out of the pool. I also put a white sock with pillow stuffing on the valve with the water going into the pool. I change all three of them twice a day, that's when I'm home. I haven't been running my salt water system just the regular filter. It's been about 3 days and my pool is still brown. How long will it take? Should I run the saltwater system too?
Thanks
Tami Leonard
- Lafayette, Louisiana
---
---
June 3, 2014
Q. I am using artesian water to fill my pool. The water turns brown. What do I need to do to fix this problem because I am wasting a lot of money and it still turns brown
Melanie Corkern
- Poplarville Mississippi
---
June 2014
A. Hi Melanie. That's what this extremely long 4-page thread is all about :-)
But to summarize, here's the deal: your artesian water has iron dissolved in it that is not normally visible to you. When you chlorinate the pool or otherwise treat it, the acidic conditions that allowed the iron to be dissolved can no longer exist, and the iron cannot stay dissolved; rather it precipitates as extremely fine iron/rust particles that won't settle, and which make the water brown.
Aside from using water that doesn't have iron in it, your only two options are to chelate/complex the iron with something similar to iron out (with variable success), or to solve the problem by filtering out the iron. Good luck.
Regards,
Ted Mooney, P.E.
finishing.com
Pine Beach, New Jersey
---
June 4, 2014
A. One solution is to install a greensand filter on the well water. Another is to add Calgon crystals to the water. The polyphosphate will chelate the iron.
Lyle Kirman
consultant - Cleveland, Ohio
---
June 8, 2014
A. After shocking our pool and it turning dark brown. Listening to 50 people tell me what to do. I bought Metal Out for $13 bucks. Overnight, pool went from dark brown (couldn't see the bottom) to clean with a green tint. Also my husband got into the pool a hour after I added Metal Out and it didn't hurt him at all. Hope this helps someone.
Crystal Smith
- Hamburg Arkansas USA
---
June 25, 2014
A. We had the problem with brown pool water when we added chlorine and shock. All the chemicals have turned the pool brown.
A man gave us some ALUMINUM SULFATE. We put it in yesterday and all the brown is in the bottom of the pool now. We are going to vacuum the bottom and let it run out of the pool. I put some water in a cut and it is clear finally...

ALUMINUM SULFATE is the answer!
Darla Smithson
- Meridian, Mississippi USA
---
June 2014

Hi Darla. Aluminum sulphate may not always be THE answer, but apparently it can be a great answer as you have discovered, and I'm amazed that no one (including me) had mentioned it earlier. Most water treatment plants use aluminum sulphate. The aluminum goes into solution, driving the iron out of solution. Thanks!
Regards,
Ted Mooney, P.E.
finishing.com
Pine Beach, New Jersey
---
July 9, 2014
Q. This post was wonderful and a huge help. We are 24 hours in and the water is blue again, but cloudy. How long before I re-introduce chlorine? Also, is there an easy way to remove the stains in the hose going from the pump to pool or will that not be a problem? I did add algae-prevent yesterday; all my levels are normal and fc is zero. Thank you!
Dawn Grimes
- Brunswick maine
---
July 27, 2014

I was skeptical on how this was going to work. Thank y'all so much!! I had beautiful lime green water in my Intex 22x52 pool. The pool place kept telling me all my levels were correct (after adding all kinds of chemicals) and I went out and bought the Intex sand pump thinking it was circulation. I found this website (thank you) and tried a sock in the filter basket and a towel over the return. The next morning I had beautiful blue water!! Thank you!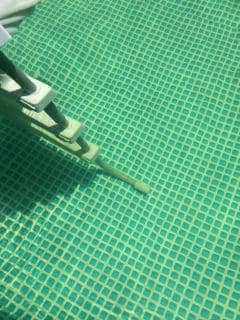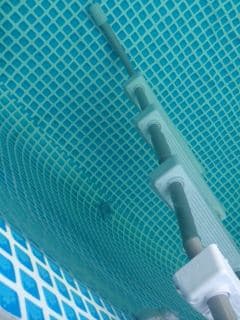 Amanda Little
- Hornbeck, Louisiana
---
August 15, 2014
Well I read and read these responses and decided to try the sock idea on our new 18 x48 Intex pool. I put polyfil in an old sock and put it over the outlet and it worked. Got pretty gross with iron in about 3 hours so I took a second polyfil sock and put it in the filter chamber and with washing the filter out every 2 to 3 hours we can see the bottom of the pool. Think we worked our brand new pump to death, but got the iron out the water.
amy genzel
- caldwell, Texas
---
August 12, 2014
! I have had several nightmares with the iron-laden well water while filling our pool. I have tried the all of the techniques. Homemade filter, oxy-clean, iron-out (messes with chlorine level), etc. Even used the neighbor's water for two summers. The only answer that worked for me is a sand filter. Crystal clear and done right the first time. No more sadness and frustration. Yay!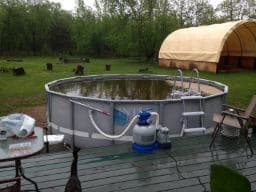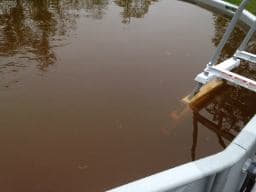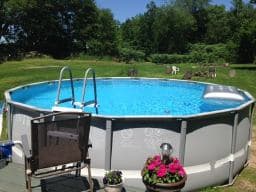 There is an answer. Yes, not the cheapest solution, but one that works the first time. :)
Theresa Rogers
- Zimmerman, Minnesota
---
October 21, 2014
A. I had green pool water after filling my pool. I found this website with suggestions about using cotton to clear the water. I put cotton inside 2 socks and put that over part where the water goes back into pool from pump. I also took some thick cotton burp cloths rolled them up, put 2 long tube socks over then and attached that to a hose connected to a sump pump. I let that run for 2 days and frequently rinsed the cotton filters out and put them back to keep filtering. In 2 days my pool got clear.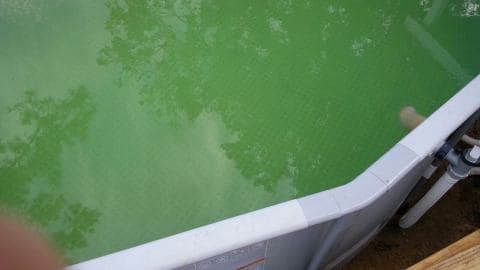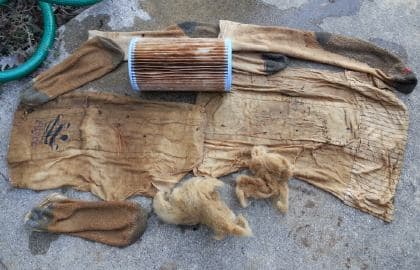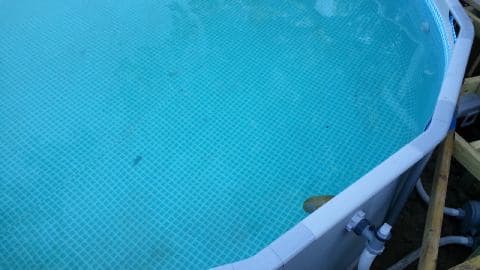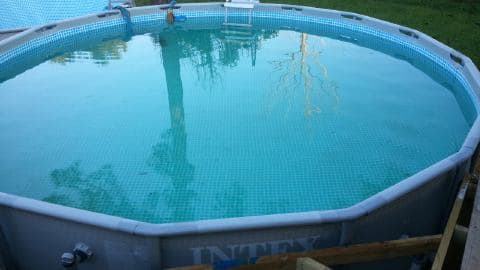 leslie ford
- bridge city, texas USA
---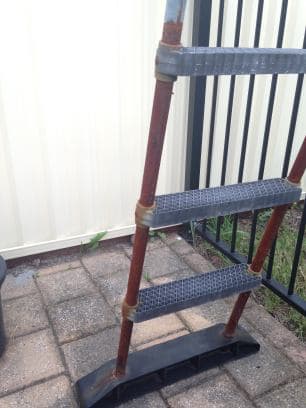 January 1, 2015
A story of not thinking...

Rusting A frame pool steps ...
and a few hours of use by the family with the steps in the pool,
then some maintenance afterwards (by me)...
Equals ...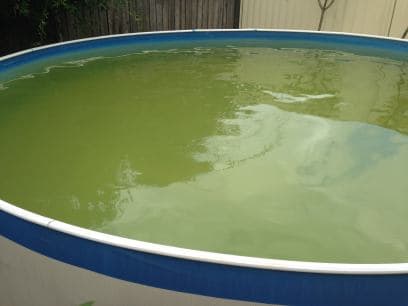 Well, after a few moments of "What the hell happened?", I thought through my steps and remembered that the water went a shade of dark yellow after I put the chlorine in.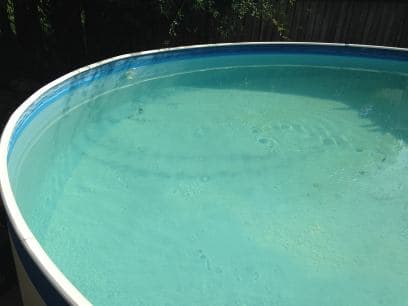 Off went the light bulb in my head and I shook my head while looking at the pool steps.

I found this forum and after reading this post, well I had my silver lining ...
A few T-Shirts and many filter changes and wash-outs over the last few days ...
We have come back to a more usual pool colour :-)

Thanks again to those that have shared their stories and their ideas. I might have resorted to a dump of the water and started again (Not a fun thought!).
Jason Taranto
- Sydney, N.S.W Australia
---
May 9, 2015
Q. Just filled my Intex 16 x 48. The water looked yellow while filling. I added 100 lbs of salt to about 4800 GLS. I have a salt/chlorine generator. The pool is full and the water looks "greenish"... But the cartridge filter next to the pump (one unit) is brown to dark brown. I have washed it clean 2 times now in one day. (Water in the pool does NOT look brown....but greenish tint ! Do I need " Iron Out" or shocking with a product called...Green to Blue or both?
Louis Botta
- Mobile, Alabama
---
June 2015
A. Hi Louis. I don't have a pool and don't know much about it, but looking at all these sequences of pictures of successful iron filtration, it seems that light green is the last step before achieving blue :-)
Regards,
Ted Mooney, P.E. RET
finishing.com
Pine Beach, New Jersey
Striving to live "Aloha"
---
June 2, 2015

I was also having trouble with rusty water. Yesterday I hung a towel in front of the discharge of my pump. I used some mason jars full of water to weight down the end and zip ties to fasten it to the pool. I let it run for 24hrs and I cannot believe the difference! The towel is completely saturated with rust and my pool is way clearer! I just rinsed the towel off and am going to let it run for another day. Way easy fix! I am so glad I stumbled across this thread before spending a bunch of money trying to solve this problem.
Marc Wagner
- Crookston Minnesota USA
---
June 8, 2015
Q. The sock method has worked really well at getting out the iron! Now what? The water color is pale lemonade and all the sediment has been removed. Do I shock now? I'm so afraid it will turn brown again. There's lots of info about getting to this point, but nothing about what to do next. Thanks to all - great forum! Waiting to hear!
boo brogden
- North Carolina, usa
---
July 2, 2015
Q. I was wondering how long do you wait after using iron out on your pool?
carin foster
- newburgh, New York usa
---
---
July 14, 2015
! Salt water pools aren't that much different from chlorine sanitized pool. The salt itself doesn't sanitize anything, thus the need for a salt-chlorine generator. The generators ionize the NaCl (table salt/pool salt) into free available chlorine ions. Adding a chlorine tablet will not cause problems but it is not recommended and I wouldn't use that pool store anymore. Also, if you shock your pool and it turns brown that is iron and do not shock your pool anymore, shock is used for oxidation and does not remove anything from the water and will further promote the brown color due to the oxidation of iron ions and transitional elements as ions have color. If you shock your pool and it turns a light green, that is copper and again do not shock your pool again until copper is removed. To remove iron, copper or calcium use a metal remover. At the pool store I work at we use the companies Proteam and Haviland. They sell metal removers labeled Proteam Metal Magic and Haviland's is Rust-n-scale. A lot of the time metals are referred to as minerals and they are the same thing so a mineral remover is the same as a metal remover. On a further note, Muriatic acid (Hydrochloric acid) is used to lower your pH but it will as well slightly raise chlorine levels but do not use it to raise chlorine levels; Sodium Carbonate (Soda Ash) is used to raise your pH and it is not the same as sodium bicarbonate (baking soda); Sodium Bicarbonate (baking Soda) is used for increasing your alkalinity level which is a measurement of the ability of a substance to be neutralized by an acid, so it creates a buffer solution so that when it rains, there's a lot of people in the pool or there's debris in the pool it doesn't easily and rapidly change the pH and chlorine is pH dependent; Hardness levels are increased by calcium chloride; stabilizer is cyanuric acid and is usually bound to chlorine in chlorine tablets but can also be bought, sold and added to a pool alone and stabilizer is used to prevent the evaporation of chlorine by the suns rays. High stabilizer levels can cause problems and the only way to decrease levels is through dilution. High stabilizer levels around 100+ ppm can start to inhibit chlorines ability to sanitize. Too much stabilizer becomes counterintuitive in slowing down the time it takes for chlorine to kill bacteria and algae. I am from upstate NY and stabilizer levels being around 20 ppm is fine and I never tell people to add it because the tablets and shock we sell has chlorine bound to triazinetrione (cyanuric acid) anyways and we don't get so much sun in this area that stabilizer levels are too important, also my pool store doesn't sell people stuff they don't need. I am also a chemistry major at the University At Buffalo
mark horgan
- buffalo, New York, usa
---
September 1, 2015
Q. I'm sorry but I have a question. I have a 8 ft round 3 ft deep pool. It does not have a filter. We have well water with salt softener. How can I get the orange rusty color out?! I have also noticed sediment on the bottom that just mixes right back into the water when I get in it. PLEASE HELP!!! Not much summer time left. Thank you !
Andrea Mensch
- Indiana USA
---
August 2015
A. Hi Andrea. You can probably find a tiny submersible pump cheap and drop it into the sediment at the bottom of your pool. Balance an old plastic bucket on a 2 x 4 at the rim of your pool; cut a piece of old garden hose to run from the pump to the bottom of the plastic bucket. Fill the bucket with old rags to act as your filter media. Put a hole near the top of the bucket, or just tilt it, so the water runs back into the pool.
It will be a rather tepid filter, but better than no filter. Good luck.
Regards,
Ted Mooney, P.E. RET
finishing.com
Pine Beach, New Jersey
Striving to live "Aloha"
---
---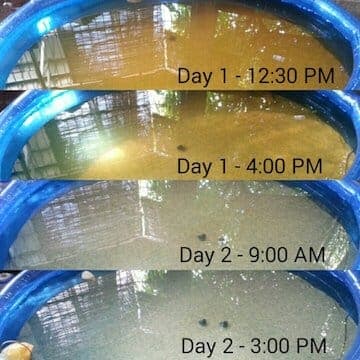 April 9, 2016

This forum is a life saver! We have a tiny 8 x 2.5 inflatable pool, we filled it with water, added plain household bleach and the water instantly turned brown. As per the suggestions in this thread, we filled a 1 gallon bottle with polyfiber, drilled holes at the bottom of the bottle and attached the bottle to the end of the hose of the pump where the water goes back into the pool. Our pump is an old 330 gallon per hour one and goes on and off so we were not sure if a bottle would make any difference, after just a couple of hours, the water started to change color. We turned the pump off after about 3 or 4 hours and just turned it on the next day. Our old and flimsy pump was on for just about 6 hours in total and the water became crystal clear. We have added more water and bleach after a couple days, the water turned a bit yellowish (hardly noticeable) so we ran the pump again for a few hours and the water is clear again. We spent nothing as we already had bleach, the used bottle, and polyfiber that my sister uses to make stuffed toys.
Rebecca Bloom
- San Pedro, Laguna, Philippines
---
---
May 18, 2016
I opened my pool for the summer after having a tarp on it all winter and to my surprise it was dark green. The tarp must of had a hole because last summer the pool was clear after removing the tarp. I immediately got to work using a 4 cotton socks (inside each other). This is my 2nd or 3rd summer using cotton to clear my green water. I know it works.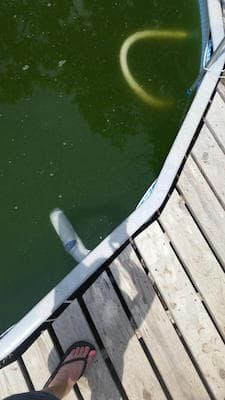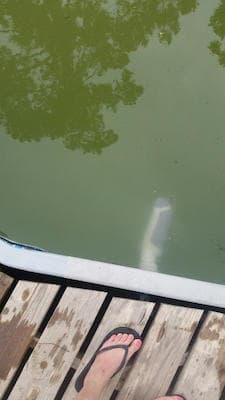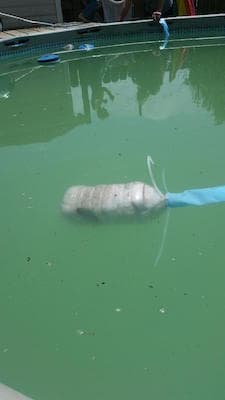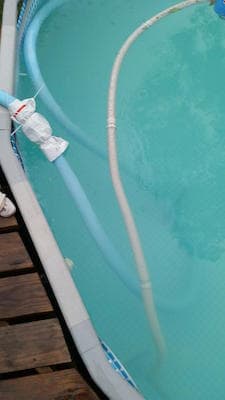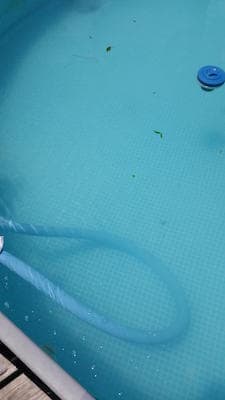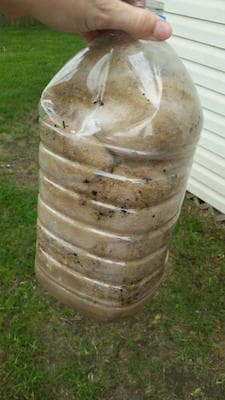 After 2 days of a cotton sock I didn't see much improvement. The algae was eating away all the shock I kept adding to the pool. So I got me a jug out and filled it super full with cotton. Attached it to the backwash hose and tossed it in the pool. I turned the pump on 'waste' but it was really just filtering the water back into the pool. After 48 hours of cotton jug (changing it twice a day) there was great improvement and it was almost clear... a little cloudy. After day 3 and 4 of cotton jug it is now perfectly clear. I will be using the cotton jug all summer long because it cleans better than our sand filter which we bought last summer because everyone recommended it and said it works great. What a waste of money.
leslie ford
- bridge city, texas USA
---
---
May 19, 2016
Q. I have above-ground pool, approx. 5,000 gallons, with blue liner and use well water to fill the pool. Instead of brown water, mine appears green and slightly cloudy where I can't see the bottom clearly. Would this still be iron or copper and treated the same as the brown water issue? Thanks for any help you can offer!
Loretta Slack
- Black Mountain, North Carolina USA
---
May 2016
A. Hi Loretta. As I look at the photos of progress here as people move from brown water to clear blue, green and cloudy seems to be along that path. Certainly the color and cloudiness it should be filterable.
Regards,
Ted Mooney, P.E. RET
finishing.com
Pine Beach, New Jersey
Striving to live "Aloha"
---
May 28, 2016
In regards to the battle with brown well water from iron after chlorination / shocking. I have had the same issues & was sick of fighting with paper filters towels socks and other makeshift fixes... seemed like a never ending battle! Finally got victory in a simple and quick way. Purchased a 100$ Intex 2100 Sand Filter from on Rollback from WallyWorld and in only 18 hours my pool is crystal clear! (side note: my pool is a 9' x 18' 4,000 gal Coleman). When I backwashed the gunk out of the filter, it pumped out an estimated 20 gallons of coffee looking iron ladened water. Thanks for all the other solutions on the thread love the creativity!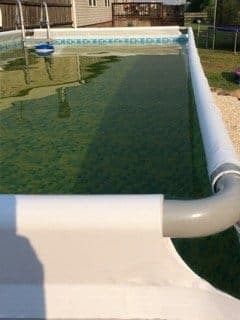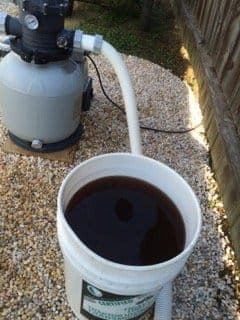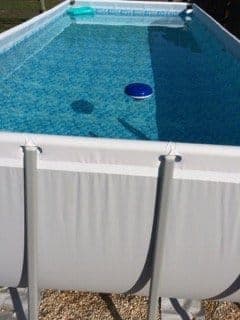 Kyle Garner
- Central North Carolina USA
---
---
June 4, 2016

Q. Did any of you see any staining on your pool walls because of the iron/rusty water sitting in the pool for days?

Tracy Woodbury




- McLeod, North Dakota





---

June 2016

Hi Tracy. We have other threads on removing rust stains from bathtubs with peroxide (start with letter 8229) if that might help. Otherwise, his thread is painfully long, so please get to your point quickly :-)

Are you suffering a rust stain? Selling a rust stain remover? Is your pool vinyl, tile, or gunite? Tried to remove it? Good luck.

Regards,

Ted Mooney, P.E. RET

finishing.com

Pine Beach, New Jersey

Striving to live "Aloha"
---
June 26, 2016
! My traditional Provençal fountain is filled from well water, and this year laden with iron as the water table is high and a seam must have been tapped. Came across this brilliant resource and started with the sequestration agent - result! Instead of embarrassingly dirty brown water it turned milky white.
But despite the double sock layer over the outlets I didn't make much progress in getting from milky to clear and had to give up three days later when things started going wrong with the electrics. And the paint finish on the fountain floor has deteriorated enormously, whether from the original iron-laden water or the sequestration, I don't know. I'm starting again, lucky it's just a fountain, but still a lot of water to waste.
If you have submerged lighting, watch out that the chemical combination doesn't interfere with your wiring.
Phillipa Suarez
- Provence, France
---
July 15, 2016

We have a 15 ft. above ground pool. We filled it with well water. It turned very green overnight. Next day we shocked it with chlorine. it turn a deep orange/ brown. I searched everywhere for 35% hydrogen peroxide. Could not find it anywhere in my town. I bought 5 bottles of 3% hydrogen peroxide from the dollar store. Dumped it in my pool and it instantly turned crystal clear. 12 days later and still crystal clear. Hydrogen peroxide test strips have been ordered and are on their way. Just saying.
T Fennel
- vancouver canada
---
July 2016
Hi T. 35% is no longer readily available to consumers because of DOT shipping restrictions for hazardous products, but it is a very strong chemical, with hazards. I think you were much better off with the lesser hazards of the 'consumer strength' 3% stuff :-)
The reactions between peroxide and iron are very complex (strangely, since H2O2 sounds so very simple -- but look up Fenton's Reagent) and I confess that I do not actually understand them all. I'm surprised that peroxide can make iron disappear, and would not have expected it, but your experience is your experience, and many people have removed rust stains from bathtubs with it.
Regards,
Ted Mooney, P.E. RET
finishing.com
Pine Beach, New Jersey
Striving to live "Aloha"
---
July 28, 2016
Q. As with most of us here, my well water didn't play well with chlorine. Using two sump pumps and the homemade, poly fill filter the water is now beautiful. I am, however, reluctant to do anything towards sanitizing as that's how the problem started. My chlorine level shows nil right now.

What do we well-water people do to sanitize our pools?
Scott Rush
- Orange, Texas USA
---
A. Hi Scott. I don't think there is any real problem with chlorinating well water except for getting the iron out. Chlorination raises the pH to the point where iron precipitates out as a rust. After you chlorinate your pH will probably rise, and you may have to re-filter, but I don't think it's an endless loop :-)
Regards,
Ted Mooney, P.E. RET
finishing.com
Pine Beach, New Jersey
Striving to live "Aloha"
---
August 1, 2016

As many others have said, this has been a VERY helpful site, spanning about fourteen years of conversation. Thanks to everyone who has contributed to this thread.
We just filled a 18' x 48" above-ground plastic pool with our own well water, and I thought I was being so smart running the hose through a sediment filter, which should have removed a large percentage of the iron. But maybe it was in solution, which would have made the filter ineffective. It has worked in previous years.
I haven't inspected it yet, but I suspect I installed the filter element incorrectly this time.
It was quite a surprise to see our tea-brown water after adding chlorine to our pool via the pump and filter. You folks over the years have explained very nicely what happened and what to do about it. I could take after it with something that would simply put the iron back in solution and out of sight, or I could use one of your methods to remove it and the source of the problem. I choose the latter. Thanks for suggesting so many practical ways to filter the water and thus remove the iron particles. My wife has a whole bag of work socks I've worn the toes out of and which she was going to darn. A few of those should make nice filters, as long as I tie the "holey" toes closed.
I'll also try the milk-jug filter some of you described but using an empty windshield-washer-fluid jug, of which we have plenty.
Judging by conversation on this site, I'll be surprised if we don't have a pristine swimming pool in less than a week.
Thanks ever so much!
Waldo Libby
- Vassalboro, Maine, USA
---
August 2, 2016
Q. I turned my pool water green by adding household bleach :/
I have been reading about people putting socks in their two intakes and that working. I stuff a rolled up sick in each Intake and twisted the covers back on. BUT this stopped the piece that water flows back into the pool from pushing any water out. What did I do wrong? I have two round pieces that suck water in and a big round one that pushes it back out. I am a new pool owner with zero knowledge in the area. Please help
Kaley Roberts
- Enosburg falls Vermont usa
---
August 2016
A. Hi Kaley. Bleach is very highly alkaline. When you add it to a pool whose water has dissolved iron in it, the iron can no longer stay dissolved, but precipitates out as tiny rust particles, so the water turns green or brown. I don't understand exactly where you are stuffing two socks that is completely stopping the water flow, but I would question whether two socks can capture enough iron to turn your pool from green to blue in a reasonable time anyway.
Regards,
Ted Mooney, P.E. RET
finishing.com
Pine Beach, New Jersey
Striving to live "Aloha"
---
September 6, 2016

I used the polyester-in-a-bucket idea. If I could meet and hug the person that thought of this, I would. I am absolutely amazed. I have a 24'x52" above ground Intex pool. After chlorine, my water turned BROWN. I couldn't see the bottom. I was about to drain it when I stumbled across this page. I used polyester stuffing from an old pillow and poked holes with my screwdriver (widened them by inserting scissors and spinning) into the plastic storage bin (with lid). I used my vacuum hose to run water from the filter to the container. I disturbed the bottom every 30 minutes or so and rinsed the pool filter. The polyester in the bin was solid brown after the second day so I rinsed it and started again. After 3 days of running it during the day, I AM SHOCKED. No chemicals, no money spent and a pool that I'm not afraid to get in. It's almost clear. THANK YOU!!
M. Carver
- Slidell Louisiana USA
---
September 17, 2016
A. In my 15x22 pool I added 6 bottles hydrogen peroxide I got a big box store for 88 cents apiece, initially. Pool was crystal clear within hours. Periodically I've added 2 or 3 bottles when it started looking any color other than clear. It's been a miracle!
Tiffany Claire
- Uncasville, Connecticut USA
---
---
February 28, 2017
Q. Good day. I have read most of the posts on this thread and have a question. Most of the chat deals with pools already filled. I have a white plaster, built-in pool and have pristine blue water. I would like to top-up the pool using borehole water but was advised against it. I was told it would discolor my pool walls and I would not get the stains out. Do you have any advice on filtering the borehole water from iron content or any other metal content before it gets to the pool. Thanks
Zarier Fredericks
- Cape Town, South Africa
---
May 4, 2017
A. Thank Y'all for this thread and apparently my water is stupid. I have tried the jug, the towel, the sock methods and nothing is happening. I went against my better judgement and said I will go the pool route and added more chemical to it. NEVER ADD MORE CHEMICAL YOU END UP WITH A BROWN GUNK AND WASTED MONEY!
Then as I was searching I found this product on AMAZON. A filter for your hose, ARE YOU KIDDING ME? REALLY! Totally upset especially after I have already sunk iron out, oxi clean, and a whole lot of other crap in there.
By the way emptied out the pool and completely started over with the 16.00 filter attached to my hose on refill. PH balance is amazing, added 2 tbs of iron out inside my pump, and a coffee filter to the part that sucks on the side of the filter, and BAM CRYSTAL CLEAR BLUE WATER WITH ABSOLUTELY NO PH problems. Shock it once a week and let the chlorine floater float freely. No green, no brown, no mint colors just crystal clear blue water.
Adding iron out directly to the pool only masks the problem, adding chemicals makes it worse. Filter the water, test the PH, and add a chlorine floater with two 3-in tablets and twice a week check them. I change the coffee filter every time I change my filter which is around every 2 weeks if needed. I also add another 2 tbs of iron out. Really, do not waste your money on stupid pool chemicals. Pool/Spa filter from Amazon, small coffee filters and super iron out from WalMart, I promise if you have stubborn, hard, mineral full, swamp fed well water, this is all you need. Ensure that you are testing your PH regularly as that will eat your liner. I wish I knew all this months ago because it has been nothing but a pain in my rear.
Brandi Leon
- Ludowici, Georgia USA
---
May 2017

I think Zarier can benefit from your suggestion of filtering the water on the way in, Brandi.
Regards,
Ted Mooney, P.E. RET
finishing.com
Pine Beach, New Jersey
Striving to live "Aloha"
---
May 31, 2017

Purchased an Intex Pool last year and received spring water first year with no issues. This year had water delivered to fill the pool and ended up being well water. As soon as I shocked the pool, ended up with poopsoup!! Thanks to this forum, I knew I wasn't alone! I had my water tested and came back with high levels of copper and iron. I used a solution called Stain Remover by Regal and it worked. The next day I had clear water and the iron was sitting at the bottom of my pool. I vacuumed today and will probably have to repeat couple of times but very pleased with results. I was completely overwhelmed but hope this helps with those that feel the same as I did!
Pia Driscoll
- New Brunswick, Canada
---
June 6, 2017
I had the SAME stupid problem living out in the country! After playing with socks and pillow stuffing for a week I finally said enough and went and got a sand filter and a bottle of Metal Magic. We went from a soupy brown to a nice lovely green in under 24 hours. I am going to let it filter for a full 48 hours before I shock and add chlorine to take care of the green!
M Broome
- Sandersville, Mississippi, USA
---
---
June 30, 2017
Q. I really feel like a fool. I had 13,000 gallons of water delivered for our above ground pool. Looked pretty clear. Added shock and turned on the sand filter and within 15 minutes the water was brown. I wanted to cry. Now we are trying to get the water clear. I'm going to try the towel and socks. I'm going to take some of the water to the pool store tomorrow. This is my first pool and I'm so discouraged.
Pam Taylor
- Lafayette, Indiana
---
June 2017
A. Hi Pam. The water had iron in it, which was dissolved and consequently invisible as long as the pH was low. But you can't keep the pH low in use. When you shocked it and raised the pH, the iron precipitated. This is normal. I think your sand filter ought to be able to remove the brown color. Give it a couple of days before you despair :-)
Regards,
Ted Mooney, P.E. RET
finishing.com
Pine Beach, New Jersey
Striving to live "Aloha"
---
July 23, 2017
Thanks, very informative thread! I ran across this Youtube video which gives simple clear instructions on building a "bucket filter".

Steve Narova
- North Port, Florida USA
---
July 27, 2017
Q. Could you not run your garden hose thru the bucket with pillow stuffing and avoid the problem before it starts? Mine is not even half full and I noticed the green tint from our well water. I was thinking i could drain it and refill thru the filter bucket without messing with the pump.. Thoughts on this guys?
KEVIN MEERS
- SAINT CLOUD, Minnesota
---
August 2017
A. Hi Kevin. The thing is that iron dissolves into the water (and is invisible) at low pH because acid dissolves iron. But when you chlorinate, raising the pH -- which you must do -- causes that formerly invisible iron to precipitate out as a green/brown rust.
You can probably filter out some of the green on the way in, but even if it is clear going in, it will become green/brown when you chlorinate.
Regards,
Ted Mooney, P.E. RET
finishing.com
Pine Beach, New Jersey
Striving to live "Aloha"
---
---
August 25, 2017
! Just built a 14 x 28 in ground pool, filled it with well water and put in 1 lb of shock. Water immediately turned dark brown and filled the entire pool. Took a water sample to 2 different pool companies and neither one found any iron in the sample! I did an in home test and found >3 ppm of iron. Waited a day until the shock was gone and added a sequester to concentrate the iron. My wife went to the dollar store and bought 6 hand towels and dacron fiber used for stuffing pillows. I cut the dacron to fit the skimmer basket and added 2 hand towels and started the pump. I changed the material in the skimmer basket every 3 hours the first day and rinsed it out in the sink. The following day I also took out the cartridge filter and washed it with water and replaced it. By the 2nd day the water was mostly green and cloudy instead of a dark tea color. Almost all iron was gone by the 3rd day but I continued to change the skimmer material until the white cloths stayed white. Then had the water retested and added recommended chemicals. Also bought a filter for the end of the hose so that I could eliminate more iron in the water when I needed to add pool water. Filter cost $35 on Amazon. What I learned: not all tests will indicate iron, if it reacts with shock and turns brown it is iron, materials to clean the water are cheap and effective, a hose filter is a good investment and we now use chlorine bleach and no shock.
Rich Miller
- HAMPSTEAD, Maryland USA
---


This public forum has 60,000 threads. If you have a question in mind which seems off topic to this thread, you might prefer to Search the Site