topic 10694
Heating mild steel to bronze color
I would like to know the exact temperature that mild steel turns bronze/copper color. Also the temp it turns blue.
Randy Stewart
- Mulberry, Kansas, USA
---
Polish a surface on each of several pieces of mild steel, then heat them to various temperatures and see what temperatures give you the colors you want. The temperature range 200C to 300C would be a good range to cover for a start.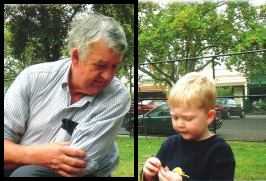 Bill Reynolds
consultant metallurgist
Ballarat, Victoria, Australia
We sadly relate the news that Bill passed away on Jan. 29, 2010.


This public forum has 60,000 threads. If you have a question in mind which seems off topic to this thread, you might prefer to Search the Site