topic 10283
Gold plating over stainless
I need to plate gold over a stainless steel housing for solderability and cosmetic purposes. What is the recommended thickness of gold and do I need an interlayer plating for adhesion or migration reasons. If so, what options do I have and what thicknesses should the interlayer be. I can not use nickel due to high losses in RF applications.
Rob McCulley
- Salisbury, Maryland, USA
---
You might try a product from Enthone called "Aurobond TCL". It is designed for plating a gold strike over stainless steel. We use it on stainless steel for decorative plating strikes. You then could follow it with a thicker layer of gold in the 1.5 micron neighborhood. That way you can avoid nickel altogether.
Good Luck!
David Vinson
Metal Arts Specialties - Leonard, Michigan
---
If you want to plate gold on stainless steel you can plate directly by OneStepGold, you can get from Gold Touch Inc., but you have to use brush plating system.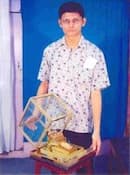 Dipen Pattni
jeweler/goldsmith - Dar-Es-Salaam, Tanzania


This public forum has 60,000 threads. If you have a question in mind which seems off topic to this thread, you might prefer to Search the Site