topic 10135
BGA VOID (cavity)
PCB has copper pads with OSP coating. Using Water soluble paste BGA's solder good with first side reflow. BGA's first side have sizable voids (cavity) when the second side is reflowed. BGA's do not exhibit voids until the second side is reflowed. X-RAY shows this situation.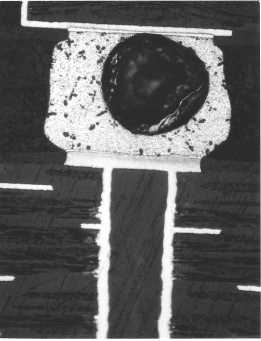 Click on image to enlarge
Tried the following as I suspected out-gassing:
1. Baked PCB @ 175 degress F. for 15 hours - did not help as as many voids were seen after second reflow or side # 2.
2. Baked PCB @ 125 degrees C. for four hours, vacuumed sealed for 15 hours - did help some but, voids still noted on second side post reflow.
3. Baked BGA's 125 degree C. for 84 hours with voids still noted when second side reflowed.
4. Erased solder pads with OSP side# 1 and side# 2. BGA's looked good post reflow. Second side reflow BGA's looked very good. Did not want to stop there so I reflowed the board twice more with BGA solder voids everywhere.
Conclusion: Baking @ 125 degree C helped, erasing OSP coating helped more through the second side reflow. Do not believe the problem is solved!
Have any of you seen this problem? Your corrective action or process control has been what?
Dan Jennings
- Carmel, Indiana, USA


If you have a question in mind which seems off topic, please Search the Site