topic 647
Aluminum castings darken a few weeks after blasting
(1996)
Have a condition where aluminum 380 alloy castings are deburred with a zinc shotblast media. after 2-3 weeks castings are becoming darker in shade and customer is concerned. Does anyone have a explanation for this condition?
Greg Utterback
light metal products
---
(1996)
Wouldn't this be normal, Greg? With the exception of gold (and other precious metals), I don't think I can think of any metal that doesn't tarnish.
Ted Mooney, P.E. RET
finishing.com
Pine Beach, New Jersey
---
(1996)
My nonscientific guess is that you are leaving a very thin film of zinc on the part which will be moderately bright at first and then will darken like aged galvanizing. I would not be surprised if there was a chemical reaction going on because they are fairly far apart on the EMF chart (if I remember correctly). The attack on the aluminum most likely will depend on its environment. I would doubt if you could determine if it was zinc with spot testing. A friend or vendor with a SEM or XRF could tell you very rapidly if it was. I hope one of the scientific folks can answer question of effect on the base aluminum other than being ugly.
James Watts
- Navarre, Florida
---
(1996)
These castings, because they are being left unfinished, are oxidizing. They should be anodized .
David A. Kraft
- Long Island City, New York
---
Greg
For my opinion you can solve the problem with two options:
A. Don't make your blast with such reactive shot like zinc , you can use some more inert media like glass or even sand.
B. Do passivation treatment after blasting . I know that this is slightly difficult but if you want more detail about such process I can help you.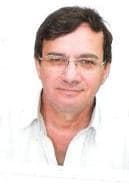 Yehuda Blau
YB Plating Engineering and Quality - Haifa Israel
---
(1999)
WHEN YOU ARE BLASTING WITH ZINC YOU CREATE A SMALL REACTION BETWEEN THE ALLOYS. 380 ALUM. IS NOT TOO HAPPY WITH ZINC INTERACTION, MUCH LIKE TOO LONG OF A QUENCH TIME. THERE IS NO HELP W/ZINC! YOU SHOULD REALLY TRY WALNUT SHELLS! CHEAP AND HIGHLY EFFECTIVE, OR TRY MEDIA BLAST!
Mark Floyd
gmti lester division former itt automotive


This public forum has 60,000 threads. If you have a question in mind which seems off topic to this thread, you might prefer to Search the Site