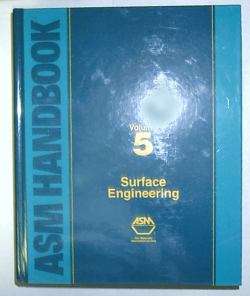 Available for review and on-site research at the Joseph Mazia Memorial Research Library housed at finishing.com in Brick, New Jersey
A Review by Ted Mooney:
This is one of our "must have" books, and covers at least two subjects to greater depth than other books we are familiar with, namely some of the science of how plating solutions work (for example, what generic chemicals function as nickel plating carriers, primary brighteners and secondary brighteners, and how they work), and pretreatment of metals other than steel and aluminum, such as the refractory metals.
This edition replaces ASM Metals Handbook, 9th Edition, Vol. 5,
, and offers coverage of some new topics, including electroless plating and testing of coatings, without appearing to have lost any of the content that made its predecessor great.