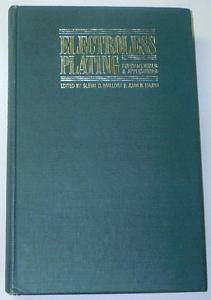 Available for review and on-site research at the Joseph Mazia Memorial Research Library housed at finishing.com in Brick, New Jersey.
A Review by Ted Mooney:
1990, hardcover, 538 pages.
Glenn Mallory was V.P. of R&D for Electroless Nickel at Allied-Kelite and, to those who had the privilege to know him, was "the godfather" of electroless nickel. Dr. Juan Hajdu has 30+ years with Enthone, culminating in his position as VP of Technology.
This volume includes not only chapters by the editors, but contributions from two dozen of the luminaries of this industry. Chapters include fundamentals, composition, troubleshooting, properties, equipment, testing, surface prep., engineering and electronics applications, alloys, and composites.
The work is not restricted to electroless nickel, but also includes chapters on electroless copper, plating on plastics, electroless gold, electroless platinum, electroless silver, and electroless cobalt.