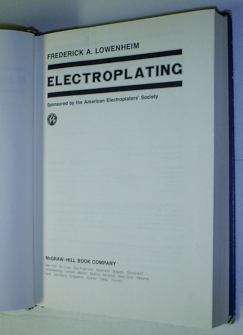 Available for review and on-site research at the Joseph Mazia Memorial Research Library housed at finishing.com in Brick, New Jersey.
A Review by Ted Mooney:
1978, hardcover, 594 pages.
The tutorial "classic" about electroplating, sponsored by the American Electroplaters Society. Covers electroplating principles and practice from the "what and why" through preparation and plating. Also includes coverage of electroless plating, immersion plating, plating of non conductors, electroforming, conversion coatings, and anodizing of aluminum. Approximately 100 pages devoted to specifications, testing, control & analysis, waste treatment / recovery, QA, and references.
If you cannot afford a hands-on course in electroplating, this book is about the next best thing. Although slightly old (1978), the subjects it addresses have not changed much.