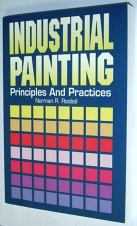 A Review by Ted Mooney:
1st edition, 1994, softcover, 297 pages.
Very down to earth treatment on industrial painting with approx. 120 illustrations. Covers cleaning, conversion coatings, low-solids, high-solids and waterborne coatings, 6 chapters on how paint is applied, powder coating, conveyors, robots, and spray booths. Includes chapters on painting plastics, curing, testing, defects, and stripping.
---
1st edition available for review and on-site research at the Joseph Mazia Memorial Research Library housed at finishing.com in Brick, New Jersey.