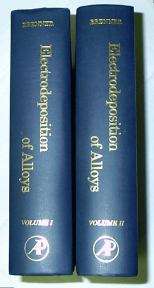 Available for review and on-site research at the Joseph Mazia Memorial Research Library housed at finishing.com in Brick, New Jersey.
A Review by Ted Mooney:
1963, hardcover, 2 volumes, 713 pages & 656 pages. Reprinted
*
1991
The one and only encyclopedia of alloy plating ever compiled, it was the work of 15 years.
Unlike many other electroplating books, these are true reference books: examining in fine detail almost every report or piece of data regarding the plating of most imaginable alloys.
* The volumes illustrated at left, while having fine covers, are actually reprints--and apparently based on photocopy machine technology rather than a printing press. In other words many pages are somewhat faint and grey-ish, with letters washed out. They are fully intelligible, but hard on the eyes, and work to read.
In my case this was further aggravated by some of the pages being bound out of order, but I don't know if all copies or just my copy is bound out of order.
Do yourself the favor of buying a used original copy if you can find one in preference to the 1991 reprint.