Ra surface finish conversion chart
+
Q. I am looking for a conversion chart from English to metric for Ra surface finish values.
Danforth M
- Battle Creek, Michigan
---
+
A. One (1) microinch equals 0.025 micrometer.
Bill B
- Raleigh, North Carolina
---
(2001)

A. Danforth,

Here is a copy of the table that we use for stainless steel surface finishes in the pharmaceutical industry. This is included on a fact sheet of useful information for process engineering. If you want a copy, please send me an email, and I will reply with a copy for you.

Surface Finish of Stainless Steel, Ra vs US & UK Grit size.


US Grit   UK Grit   Ra    Ra 
ref       Ref.      µm    µ inch
          120       3     125
          180       2      85
80                  1.65   70
          240       1.50   50
          320       0.75   30
180                 0.62   25
240                 0.45   18
          500       0.40   15
320                 0.25   10

Andrew Provan
Bovis Lend Lease Pharmaceutical - Manchester, UK



Profilometer

---
+++++++
Q. Andrew,

Thanks for posting the chart. Can you tell us the source of this chart. Also, what about stainless steel mirror surfaces that has a Ra of 1 (ONE) microinch? What are the corresponding US Grit and UK Grit numbers?

Thanks,
Michael Liu Taylor


specialty stainless steel distributor
Dallas, Texas
---
(2007)

Excellent! I am still getting one or two enquiries every week on this, despite this posting being some 6 years old.
Please continue to send me emails, and I will respond with either a PDF version of this chart and other useful information...or if you would like a plastic laminated version, let me know your address, and I will put it in the post for you.
Cheers
Andrew
Andrew Provan
Bovis Lend Lease Pharmaceutical - Manchester
---
Ed. note: Potential advertisers might take a hint :-)
---
March 31, 2008

Q. I would like to know the equivalent finish of root of 32

Gaurav Dodia




Production Engineer - Pune, Maharashtra, India





---

March 31, 2008

A. Hi, Gaurav. It's not exactly a square root sign, it's a finish mark sign, which looks half like a check mark and half like a square root symbol. Lacking any other notes it probably means 32 microinch RMS, I think. You could consult a drafting standards book like French's Engineering Drawing for a fuller understanding of this kind of drafting note if interested. Good luck.

Regards,




Ted Mooney, P.E. RET




finishing.com




Pine Beach, New Jersey

---

April 1, 2008

Q. Hello,
Thanks for the chart, it really got me rolling with one of my current projects.
Do you have any information regarding the difference between valley's in steel = x Ra versus peaks on the surface = x Ra?
thanks

Dan Sperfslage




- West Bend Wisconsin




---
December 9, 2008
Q. Does someone have a chart of Ra32=US grit?
thanks
Dow Young
- Garland, Texas
---
December 10, 2008
A. Hi, Dow. The approximate answer is already on the page. Ra25 = U.S. Grit 180 and Ra70 = U.S. Grit 80. You can interpolate to a reasonably close number I think. Good luck.
Regards,



Ted Mooney, P.E. RET




finishing.com




Pine Beach, New Jersey
---
March 20, 2009
Q. Hi

I'm looking for an example of a 100 grit (number 3) finish for stainless steel. Can someone upload a picture and draw some equivalent for me?

Thanks,
Angela
Angela Hsueh
- Los Angeles, California
---
August 4, 2010
A. Hi, Angela
Surface finishes are 3-dimensional, so a picture will not do much good. Rather, you can buy a "comparator"; this is a small piece of sheet metal looking something like a bingo board, finished with 100 grit, and with other grit sizes above and below for comparison.

Good luck.

Regards,



Ted Mooney, P.E. RET




finishing.com




Pine Beach, New Jersey
---
September 22, 2010
Q. I am working on quoting a machining part that is currently being made in Europe.
The problem is the print info. is all in another language. There is a symbol for a microfinish that the line goes up and then straight right and under the line there is Rz 25.I have been looking all over the internet with no success. Does anyone have any ideas on what it means or where else to look.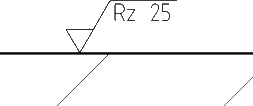 Tim Robbins
Estimator -
Jackson, Michigan USA
---
January 16, 2011
A. Hello Tim,

Have you already found the information about Rz parameter?
This one is typical for old designs based on GOST 2789-73 "Surface roughness. Parameters and characteristics".
Following this standard, Rz is the height of roughness by ten points. On a base length one can find 5 profile maximums (highest lugs) and 5 profile minimums (deepest cavities). Rz is 1/5 of the sum of these.
There are following correlations between Ra and Rz depending on the processing method:
for turning: Rz = 5Ra;
for grinding: Rz = 5.5Ra;
for polishing: Rz = 4Ra.
Vitaly Minchenya
-
Ilmenau, Germany
---
February 28, 2012
Q. What is the surface roughness achieved by using 320 and 400 grit abrasive belts on steel and chrome?
Amol Nanavati
-
India
---
June 27, 2013
Q. What is 35RA polish finish for stainless steel T-316 ss?
Alex Roman
- Corona, California
---
---
November 14, 2013
December 17, 2013
Second Request
Q. I am trying to achieve a 32 surface finish on aluminum 6061-T6 block. Can you tell me what sandpaper grit I should use (I'll do it by hand).
Todd Wilson
- San Diego, California
---
December 19, 2013
A. Before anyone can answer your question, we need to know what you are starting with. Most mill stock metals are finished to between 32-36 RMS, so unless you did some machining, you are already there.
AF Kenton




Nova Finishing Sytems Inc. - Hatboro, Pennsylvania
---
December 20, 2013
Q. The raw aluminum extrusion gets an angled saw cut.
Todd Wilson
- San Diego, California, USA
---
December 25, 2013
A. Hmmm. Saw cut could be very rough; therefore, that is still not enough info to give you a one step correction. My guess is that you might want to start out with a 60 grit belt. You will end up with either an 80-90. Maybe 120 as the finest.
AF Kenton




Nova Finishing Sytems Inc. - Hatboro, Pennsylvania