Need to restore brown patina on copper sink
June 24, 2012
Q. I have read many posts re patination of copper and can't find an answer. I purchased a double wall copper vessel sink (on sale) where the outside was very degraded and filthy from several years in a warehouse. I cleaned it with soap & water and a gentle wax and that didn't help as there were major spots in the finish. The manufacturer said I would need to strip it down to shiny copper to re-antique to the beautiful glow like the photo attached.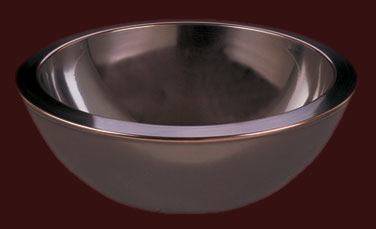 Unfortunately they sent me the "bronze" packet with liver of sulphur rocks and everything tells me that will produce a black finish. What chemicals (safe would be my preference) can I immerse the sink in to achieve the beautiful antique brownish finish of the attached photo - that's the actual sink with finish as it should look. My new bathroom begs for this final touch. The sink is all clean and just needs that antiquing for final install. Thanks.
Sandy Rhines
- Kailua, Hawaii, USA
---
June 26, 2012
A. Liver of sulfur will produce a light brown - dark brown - black color depending on the concentration, immersion time and temperature,

Try this:

Make sure your sink is absolutely, spotlessly clean, and while still set from cleaning, apply the liver of sulfur by swab, spray or immersion. As soon as you see the first signs of color, rinse the LOS off. If not dark enough, reapply LOS, and quickly rinse again, repeat until you get the shade of brown you want, then rinse thoroughly, dry, and coat with a good quality clear acrylic lacquer.

If you go too far with color, gently remove a little with wet 0000 steel wool, then rinse, dry and lacquer.
Jeffrey Holmes, CEF




- Spartanburg, South Carolina