Delayed Inconsistencies In Browning Brass with JAX Brown
June 4, 2012
Q. My name is Torrey Bievenour and I work for a decorative lighting company that specializes in high-end architectural and commercial fixtures. We do a number of decorative finishes, but are not very well versed in chemical treatments.

We have been using JAX Brown
to darken brass for 5+ years now to achieve a dark antique look. As far as we can tell from our records, we have always worked with brass 360 and 260 alloys. In the past month, we have started to experience a very strange occurrence where the browning seems to be inconsistent across the surface of the material. However, it doesn't occur immediately, but seems to develop over time (12-48 hours).

Close-up photos seem to show the problem developing along the grain lines, but it is hard to say.
From a plate that seems fully degraded: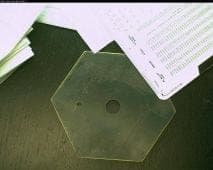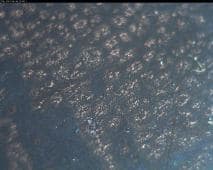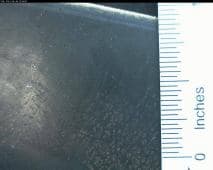 (Click photos for higher resolution)
From a new plate that seems early in the degradation process: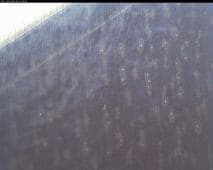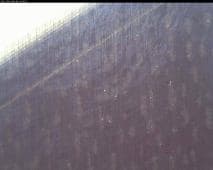 (Click photos for higher resolution)
The process that we've been using up until this point has been pretty simple. The cut plates (260 Alloy) or milled parts (360 Alloy) were taken, then a light grain was put in by machine, then scotch-brited, then the blackener was applied, then the blackener was washed off, then the parts were dried, then a bowling alley wax was applied to protect the surface.
We have never paid a lot of attention to the process because we haven't had problems in the past, so it hasn't been tightly controlled. As a result, it is harder to pinpoint what might have changed. We've come up with a number of possible theories as to what might be going wrong, but haven't been able to verify any of them. These include:
- Alloy has impurities (or is not what we think)
- Chemical has changed
- Graining of the metal has introduced foreign materials to the surface

Any suggestions for things to test or ways to search out a cause would be much appreciated.



Thanks in advance,
Torrey Bievenour
Decorative Lighting Designer -
Ronkonkoma, New York, USA