How to polish and protect a copper table
September 16, 2010
Greetings;

I have a copper coffee table that has consumed enormous amounts of my time trying to keep it polished - I've attached a photo for your reference. In the past I 'cleaned' it with vinegar/water/salt solution which removed the tarnish but didn't last long; I was polishing it every weekend! At one point several years ago, I cleaned/polished it fairly well (to me) then applied "Incralac" as a protective covering. This seemed to work well but I hit a mid-life crisis, and put the table and the rest of my belongings in storage. Now the table need refinishing again and I'm looking for new answers; convinced there are better ways to to this than my last attempts. I still have the bottle of Incralac but am not sure it's still good as it has gone through very cold and very hot temps in storage. I tried 0000 grade steel wool on a very small corner just out of curiosity and it gave me a wonderful finish, but not sure I should do this to the whole table; and then there's still the question of how to protect the finish so I don't have to do this every weekend - yes, it tarnishes that fast! please help! I'd like to put it back in my living room and use/admire it!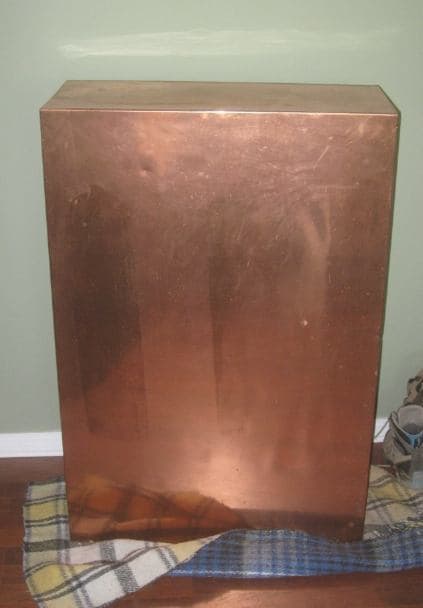 Thanks so much in advance

Kelly
Kelly Goocher
just a person with a nice table! -
Lancaster, California USA
---
September 23, 2010
Wow - is there really no one on this forum that can help me with this? Where else do I go?

Please give me some ideas!

Thanks

Kelly
Kelly Goocher
-
Lancaster, California, USA
---
September 24, 2010
Hi, Kelly.

Nobody can tell you that your Incralac dregs are still good after years of very hot and cold temperatures; they're probably not. But unlacquered copper does lose its shine in a week, and copper/brass lacquer of this sort is the best way to protect shiny copper, so buy some more :-)

There is no accounting for taste, so it's neither right nor wrong to steel wool the table -- although someone who has done it will hopefully come along and comment on technique. But a full bright look doesn't come from the tiny scratches that steel wool implies, it comes from power buffing with soft buffs and very fine polishing abrasives. Many people just use Mother's Mag and Aluminum polish for that though. The alternative is to go for a more "natural" oxidized look because it's much less work than keeping it shiny. We have dozens of threads on line covering that idea; please search the site for "oil rubbed bronze". Copper can also be patinated with vinegar and salt water, ammonia, liver of sulphur, proprietary copper patina solutions, etc., so you can search with those terms. It's not so much that people are unwilling to answer; it's more that these are subjects that have already been covered pretty expansively and you may need to find a thread that is intriguing, and follow up on the approaches that you find most interesting. Good luck.

Regards,



Ted Mooney, P.E. RET




finishing.com




Pine Beach, New Jersey
---
September 27, 2010
Thanks for your reply Ted. I'll do some looking - I prefer the shiny copper look. I tried '0000' steel wool on a small corner and didn't see any scratches - much to my surprise. But I will defer to your expertise that they are likely if I continue on a larger area. I could do the buffing route - maybe - just want it to look nice. Can't find a place to buy more incralac - any ideas? The co. I bought the first bottle from seems to no longer exist.

Anyway - thanks for your reply

Kelly
Kelly Goocher
-
Lancaster, California, USA
---
October 4, 2010




Hi, again.

I don't know offhand where to get that particular brand of lacquer, but G.J. Nikolas is a major supplier of lacquer, and you can get brass lacquer by the spray can from Amazon =>

Good luck and Regards,




Ted Mooney, P.E. RET




finishing.com




Pine Beach, New Jersey
---
October 2, 2010
Well I was not going to say anything as you sounded kind of do-it-your-self but if you are willing to spend a bit of money take it down to a automobile body shop and get them to take it to the required shine and then give it a couple coats of good clear coat epoxy paint. The paint will last as long as the paint job on your car providing you treat your table the same way you treat your car. Most likely it will never have to be done again in your lifetime and you will have a lifetime of nice copper shine with no elbow grease ever again!
Rod Henrickson
gunsmith
Edmonton, Alberta, Canada
---
October 4, 2010
Hi, Ron.

I think this is very good advice and that the finish will last a very long time indoors. Thanks.

But if Kelly were actually to treat it like a car, the finish would not last long at all outdoors in the alternating freezing and blistering environment, full of salt. Just because cars have a clearcoat as the top layer of their finish does not mean that the underlying layers of galvanneal, phosphatization, electrocoating, and paint were not essential to the performance and corrosion resistance :-)
"It's not the paint, it's the coating system".
Regards,



Ted Mooney, P.E. RET




finishing.com




Pine Beach, New Jersey
---
October 18, 2010
The problem with spray on coatings is when the coatings start to go bad or are chipped or scratched. I recommend Carnuba wax which lasts for quite a long time and can easily be touched up or removed.
Robin Thede
metal finishing -
Toronto, Ontario, Canada
---
May 3, 2011
We have cleaned our outdoor copper table with vinegar and salt, lemon juice and salt,rinsed and unrinsed. The instant it gets wet again it turns black and mottled -- not the look we are going for. Is there anything we can use to either keep it shiny or get a greenish patina rather than a black one?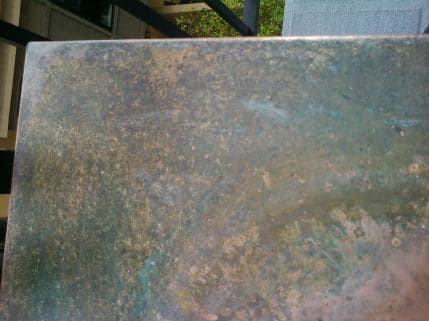 Jane Hedberg
hobbyist -
seattle, Washington, USA