Aging wash tubs to make light fixtures
August 31, 2010
I would like to buy 3 new wash tub and distress them to look like this...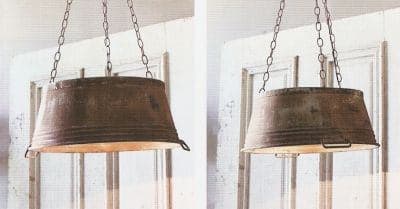 Any thoughts on how to achieve this look?

Thanks in advance!

Sidney
Sidney Roche
hobbyist -
Mt. View, California
---
September 13, 2010
Well this might sound silly but lightly sandblast the galvanizing off of them, throw rocks at them and leave them in the back yard in the sun and rain for six months and that will pretty much do it!
Rod Henrickson
gunsmith
Edmonton, Alberta, Canada
---
October 7, 2010
Thank you for your input! What do you think muriatic acid would do to the finish?
Sidney Roche
-
Mt. View
---
October 7, 2010
Hi, Sidney. Muriatic acid is dangerous stuff, but it will remove the galvanizing almost instantly and leave the underlying steel very prone to rapid rusting if that is what you are seeking.

Regards,



Ted Mooney, P.E. RET




finishing.com




Brick, New Jersey
---
October 10, 2010
Try next solution:200 gms iron(III) chloride/ 1 lit water.You can make your own iron chloride,simply dissolve some old nails or some rusty iron scrap in muriatic acid. Or you can oil (very very sparingly) your object with linseed oil (or any other edible oil or fat) and then heat your object to 200-400 C temperature(slowly). Hope it helps and good luck!
Goran Budija
-
Zagreb, Croatia
---
October 13, 2010
Iron dissolves in hydrochloric acid (muriatic) to form ferrous (II) chloride. Ferric (III) chloride is usually made by the action of chlorine gas on hot iron. Not a hobby procedure!

Goran's method would probably work but it is the residual acid doing the etching
Geoff Smith




Hampshire, England
---
October 15, 2010
If you are really interested for colouring zinc(or tin) plated iron at next webpage you can download(free-=$) small handbook on colouring an cyanide free plating of metals: http://attachments.wetpaintserv.us/TfuRNJ_GLYiy-a_0jvIMxA483937
Goran Budija
-
Zagreb, Croatia