The finishing.com Hotline: Serious Education ... plus the most fun you can have in metal finishing. Ted Mooney, Webmaster


Stainless Steel Pretreatments before Powder Coating
April 10, 2009
Q. We are about to powder coat some stainless steel sheets of which will be 4 x 10 and range from a little less than 1/2" to 5/8" thick. What is the recommended way[s] to pretreat these panels. These panels will be used on an exterior of a building.
John Kentile
Salesman - Ashland, Virginia
---
April 23, 2009
A. Where to begin? I've been a powder coat process engineer for 20 years and I find this question to be absolutely incredible unless you are only talking about a panel or two. "Break" the surface tension of the stainless with an abrasive so that the powder has something to stick to then spray away.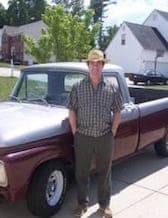 Sheldon Taylor
supply chain electronics
Wake Forest, North Carolina
---
C'mon Sheldon, after deducting coffee breaks & lunch periods you've probably only spent 30,000 hours in powder coating. You really can't summarize everything you've learned in a paragraph or two? :-)
Regards,
Ted Mooney, P.E. RET
finishing.com
Pine Beach, New Jersey
---
April 23, 2009
A. As SS is one of the most difficult to obtain adhesion with PC, evaluate a product called "TWO Pack Etch Primer". The acid content will help with adhesion and the anti corrosive pigment content with weathering. Purchase from your local Auto supply stores or local auto body shop.
Terry Hickling
Birmingham, United Kingdom
---
---
April 25, 2009
Q. Terry, do you think etch primers can withstand temperatures as high as 180 - 220 degrees. Will the bonding be the same and will it pass the impact test and bend test? Kindly reply, I am anxious to know this.
Shankar Omprakash Khandelwal
- Coimbatore
---
April 29, 2009
A. You can either air-dry or bake the primer at 180-200 °C. This primer was originally formulated by the US Navy in 1940's and is a universally recognised formula. It has excellent adhesion to most metals and therefore improves the adhesion properties of most following coatings, liquid and powder, with the additional benefit of preventing some corrosion creep. However, it use has declined (but as far as I am aware not banned) due to the fact that it contains chromate pigments and an environmentally non-friendly solvent blend of low flash solvents. If you do wish to evaluate this material make sure you purchase the two pack variety and only apply a very thin coat (but still wet) otherwise you may lose adhesion. As with any new process you must carry out trials to satisfy you and your client that the system meets all requirements... maybe include the additional process suggest by Sheldon.
Terry Hickling
Birmingham, United Kingdom
---
July 2, 2009
A. Because of high flexibility and surface tension, coating on stainless steel is often avoided, Stainless steel generally is aesthetically pleasing so I wonder why anybody would want to coat it, And if somebody wants to coat it any way why not go in for Mild steel (Ms steel) which is generally 5-6x times cheaper (or even aluminum) rather than stainless steel...Why do you think its called STAIN-LESS steel
Karan B
- Bangalore India
---
July 7, 2009
Hi Karan, I would guess that Stainless Steel (SS) is powder coated because the client wants a more aesthetic feel to the item than that produced by SS. Maybe they also understand that if/when the to coating becomes damaged then the SS substrate will remain STAIN-LESS. Unfortunately, if/when powder coated Mild steel (Ms steel) items if/are damaged then the Ms steel substrate will become affected, this is called RUST (Iron oxide). Maybe that is why it is called Mild steel, it only has MILD resistance to attack from the elements :-)
Terry Hickling
Birmingham, United Kingdom
---
September 17, 2009
A. We have occasionally over passivated/etched 304 stainless in our passivating tanks prior to powder coating.
Cliff Kusch
electropolishing shop - North Vancouver, British Columbia, Canada
---
---
February 5, 2013
Q. Hi,
I would like to know if there is a recommendation for cleaning parts before applying powder coating. We have 2 types of material that we are applying powder to, one is aluminum substrate with chem film applied on it. The other one is a 303 Stainless steel with a passivate process before powder. What do you recommend for cleaning or treating these parts before powder coating?
Carlos Retamoza
Engineer - Tijuana, B.C. Mexico
---
February 20, 2013
A. To meaningfully assist you any one of us would require more detail.
A chem film on Aluminium is not particularly enlightening as to the process?
303 is not a particularly spectacular performer in the corrosion stakes.
What performances are you looking for?
Please advise.
Regards,
Bill
William Doherty
trainer - Soldiers Pt., Australia
---
February 20, 2013
A. Hi William. Chem-film is a colloquial term sometimes used over here for (Mil-DTL-5541) Chromate Conversion Coating of Aluminum.
Regards,
Ted Mooney, P.E. RET
finishing.com
Pine Beach, New Jersey
---
March 9, 2013
A. I feel sure this response will draw critics but note that no-one else has contributed to your enquiry to date so I advance my modest advice:
With Aluminium there has been no significant advance over a true chromate conversion coating of which I am aware especially withe regard to "self healing properties".
With your passivated Stainless although it is an inferior corrosion resistant grade of Stainless you are face with a quandary.
Is the Powder grade you intend to apply a sufficient Corrosion Barrier? if so blast the passivate off, provide a key and apply the powder.
If not, leave the passivate on and apply the lower grade powder.
Hope this helps,
Regards,
Bill
William Doherty
trainer - Soldiers Pt., Australia
---
March 11, 2013
A. I'm a passivation guy, not a powder coating guy, but I have had the question put to me a few times, and I suspect that powder coating on stainless has more to do with the surface finish (roughness) than it does whether or not the part has been passivated. As such, if there are adhesion problems, I would see if a sandblasting/bead blasting operation improves the situation. If yes, they should move the passivation step to after the blasting or just skip it, since passivating before blasting is pointless.

Ray Kremer
Stellar Solutions, Inc.
McHenry, Illinois