The finishing.com Hotline -- Serious Education ... plus the most fun you can have in metal finishing
Cleaning ID of copper waveguide
September 2, 2008
I work at a small R&D company that is currently doing work on a particle accelerator. We make our own waveguide (WR62) components since most of what we do requires unique assemblies. All of our parts have flanges brazed onto them, and subsequently are left with a hefty layer of scale/oxide. Normally, we just have a local job-shop clean them, presumably with an alkaline dip. However, in order to improve the turn around time on these parts, I am trying to find a way for us to get the ID clean in-house. Ideally, it wouldn't require much in the way of special equipment or handling beyond the capabilities of a basic laboratory. So far, my best approach would be to use Hydrochloric acid to etch off the scale, but I don't know if that would be effective on really heavy scale.

Can anyone recommend a particular method that would work for our needs?
Josiah Hartzell
Researcher - L.A, California, USA
---
September 3, 2008
Hi,

Suggest the following sequence:

1) If there is any flux on or around the brazed joints remove this first. Very hot water is effective with many fluxes. If your parts will withstand the thermal shock, put them in the water while they are still hot.

2) Remove the black oxide in 10% v/v sulfuric acid at 60C (140F).

3) Chemically brighten in 80-85% phosphoric acid containing 6% v/v nitric acid. The concentration of nitric acid is based on using 60% w/w. Operating temperature not critical - room temp is fine. Some brown fume (nitrogen dioxide) is evolved so use in a well ventilated area. If you are not happy with that, consider sulfuric acid / hydrogen peroxide based brighteners.

Rinse throughly between each stage.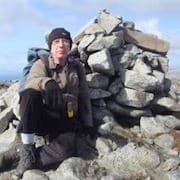 Harry Parkes
- Birmingham, UK