Serious Education ... plus the most fun you can have in metal finishing.

Stainless or zinc plated a better galvanic couple with aluminum?
(2006)
Q. I have a question regarding the appropriate choice between zinc plated steel and stainless steel part when in contact with aluminum.

We are designing an electronic enclosure which has Aluminum Extruded Side walls. The aluminum sidewall has grooves running the length of the part. The lid is currently a stainless steel plate which runs through the groove and in contact with the sidewall. The aluminum side wall is anodized on the outside surfaces but the grooves are left natural. The reason for this is to ensure there is an electrical connection between the side wall and the lid (this is essential for EMC Shielding). We are now considering changing the plate from stainless steel to zinc plated steel to reduce galvanic corrosion. Both these materials will serve our mechanical requirements, we are only concerned about the galvanic corrosion issue.

Is zinc plated steel a better choice than our current stainless steel part?
Sarva Thurairatnam
- Kensington, Victoria, Australia
---
(2006)
A. Due to their relative closeness in the nobility of metals chart, zinc plating would be the better choice to mate with aluminum. Stainless steel will actually cause the aluminum panel to corrode in an attempt to protect the stainless steel fastener (because it is more noble). If you wanted to take it a step further, I recommend using a zinc lamella dispersion coating instead of standard zinc plating. Zinc dispersions usually offer superior corrosion protection (around 500-1000 hours ASTM B117 [link by ed. to spec at TechStreet] ), and many times offer an aluminum rich topcoat to further diffuse bi-metallic corrosion.
King Drummond
- Cleveland, Tennessee, USA
---
---
(2006)
Q. Using zinc plated coach screws to fix aluminium frames,is there a problem? I am fixing an aluminium framed building to a concrete base.I intend using zinc plated coach screws.Question:- Will there be any chemical reaction or corrosion possible.
John keenan
- Belfast Northern, Ireland
---
(2006)
A. There can only be galvanic corrosion if there is moisture (or some electrically-conducting aqueous solution) present.

In the absence of an electrolyte, it doesn't really matter what two metals are in contact, they won't react.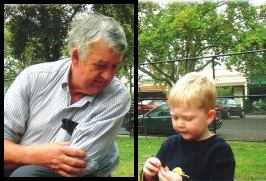 Bill Reynolds
consultant metallurgist
Ballarat, Victoria, Australia
We sadly relate the news that Bill passed away on Jan. 29, 2010.


---
---
May 6, 2011
Q. I had a lot of problems finding suitable screws for aluminum screens doors in the area where bottom seals made of some type of aluminum and rubber are been added, the area around the screws goes to a fluffy white corrosion almost bonded to the frame and difficult to unscrew, and far worse close to sea areas. Any suggestion would be welcome. Many Thanks.
Lucio Rizzo
-
Sydney NSW Australia
---
---
October 2, 2012

-- this entry appended to this thread by editor in lieu of spawning a duplicative thread
Q. I am currently working on a project where a contractor has fixed a powdercoated aluminium louvre to an aluminium bracket using 2 different types of fixings, one being a stainless steel bolt connection and the other a galvanised tech screw. What is the likelihood of this corroding?
Simon Kelly
Commercial Builder - Melbourne, Victoria, Australia
---
December 16, 2012
A. It all depends on which is the larger surface area that will ultimately start the galvanic corrosive action. In all likelihood the Galvanized screw may be the first chap to go, assuming that the Aluminum in contact with it is larger in area, If its powder coated from both sides with no exposure of the Aluminum to the weather of any kind, they may both live happily ever after till death do them part.


Khozem Vahaanwala
Saify Ind
Bangalore, Karnataka, India
---
---
Rust observed on the zinc plated screws when in contact with the Anodised Aluminium parts
October 20, 2016
Q. We Manufacture & supply Anodized aluminium components (Sheet metal) to European customers but from past some days we are getting complaint from customer that they are facing corrosion on the zinc blue passivated screws assembled to the anodised aluminium component after some time.
Also note : Plated Screw passes 120 hours of salt spray.
Packaging will be Export quality.

My doubt is is due to contact between Anodized aluminium surface and plated screws is there any reaction occurring and thus rust forming on the plated screws. Please advise.

Naveen Kumar
Product Designer - Bangalore , Karnataka & India
---
A. Hi Naveen. Perhaps you should ship a couple of extra screws loose or in the identical packaging you ship your assemblies in, and see if that gives a clue. Although zinc plating and anodized aluminum are not quite galvanically compatible, it should not be a huge issue for non-critical parts. 120 hours is not a lot (5 days); what is the exposure condition, and the plating thickness?
Regards,
Ted Mooney, P.E. RET
finishing.com
Pine Beach, New Jersey
---
---
Zinc bolt corrosion in Aluminum outdoor sign
January 20, 2017
Q. We made a sign for the corporate business center, we choose aluminum as the building material. All internal and external parts are aluminum (6061). The outer parts are clearcoat anodized, the inner pieces are bare. It was assembled with zinc plated steel fasteners, my online research pointed to this being the best option, even over SS fasteners. The sign is bolted to a brick base with a limestone slab top. And it is 100% exposed to the elements. Corrosion is taking place, orange coloration is evident. I need a recovery plan.

Since the Zn plate fasteners did not work, what is the correct choice?

Once this is known, I plan to pull the sign to the assembly area and remove all fasteners and replace them. The rust staining will have to be removed at this time. My hope is that the clearcoat anodize will provide a level of protection where this will be easy to clean.
JOHN STEFANICK
- Mason, Illinois
---
January 2017
A. Hi John. We appended your inquiry to a thread with rather similar questions, but I don't quite agree with the previous answers. My own experience (just observation) shows that stainless works very well with anodized aluminum; further while some rusting on the surface of some grades of stainless is possible, it is unlikely to ever run down onto the aluminum. One final point that is often missed, and goes unmentioned in your inquiry, is that different thicknesses of zinc on the fasteners and anodizing on the sign are possible.
While hot dip galvanized zinc coated bolts might be fine, in my own experience most commercial 'zinc plated' bolts, having 0.0002" of zinc plating (or even less), are going to rust fairly soon outdoors on their own even if insulated from all other metals.
I'd suggest type 316 stainless fasteners. Type 303/304 would probably be okay if you can't find 316 easily.
Regards,
Ted Mooney, P.E. RET
finishing.com
Pine Beach, New Jersey