Detailed rhodium plating process
++++++
Q. I have been trying to do rhodium plating with steps suggested by my supplier:
Preparation
-grinding
-ultrasonic cleaning
Plating
-degreasing at 50 °C
-acid wash with H2SO4
-rinse with distilled water
-plating with rhodium using 4 volts at room temperature

The result has been disappointing; gold I've plated doesn't have the brightness I expected.
Can anyone share their expertise on this matter?
Thank you in advance
Congo Khong
jeweller - Surabaya, Indonesia
---
++++++
A. Hi Khong,
Though you did not give much about what you do, I would give you some points you may consider.
1. You may go for Rh plating straight after Sulphuric Acid dip without water swill (2-5% H2SO4)
2. Though lately room temp. process is available, it is better to warm the bath.
3. No direct heating but use a water bath.
4. Try plating at 5-6 Volts
5. Live load! (Rectifier should be 'ON' before plating
6. Check your anode (if Pt mesh is used)
7. The surface should be bright.
8. Finally, if the problem still persists, try to give activated carbon treatment (1 g/l)
Regards
T.K. Mohan


plating process supplier
Mumbai, India
---
++++++
A. Hi Khong,

If you are using 1 or 2 liters bath, use in glass beaker and warm the solution ... carbon filtration is done if you have larger bath starting from 10 liters. for 1 or 2 liters you'll need filter paper.

Use Platinum plated anodes. After Sulphuric Acid dip, spray Di water the items, set up voltage 3.5 to 4 if it is ring for 120 second to 200 seconds I'm 100% sure it'll be bright white color.

I do have Rh bath of 5 liters mostly I don't get problem; if I do, I use in tank filtering (that's best for small bath), same as I wrote above I use that way in my bath. Use gold or nickel plated wires.

Good luck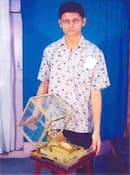 Dipen Pattni
jeweler/goldsmith - Dar-Es-Salaam, Tanzania
---
May 19, 2011
Q. WHAT TEMPERATURE SHOULD A RHODIUM BATH BE SET AT? ROOM TEMPERATURE OR 110 DEGREES?
BILLY CARTHEN
FORMER PLATER -
OAKLAND, CALIFORNIA
---
A. Hi Billy. We appended your question to an existing thread where T.K. Mohan has already answered it. Good luck.
Regards,



Ted Mooney, P.E. RET




finishing.com




Pine Beach, New Jersey
---
July 22, 2011
Q. Hi guys and t.k.mohan, sir
My name is pavan Soni and I'm from Pune Maharashtra.
I have purchased the CCCV rectifier and rhodium pen plating solution as well as ultrasonic cleaner of 1.2 l for rhodium finishing but the results are still not up to the mark. I have read every thread over google as well as on finishing.com to overcome the problem but of no use. The procedure which I'm following is as follows:
1. Buffing the 22k gold jewelry to high polish for shine.
2. Then ultrasonic cleaning with solution.
3. Then wash with the dm water, then 5% sulfuric bath, then again with dm water.
4. Electrocleaning at 4 to 6 v for two minutes.
5. Repeat step 3.
6. Afterwards, drying the jewelry with hair dryer.
7. Then finally plating without touching my hand over the place where Rh plating is done. With pen plating at 6-8 volts and normal speed.

Could you guys please help me out? I have gone beyond my budget for this but to no avail.
It would be a pleasure if guys can send me a reply please.

Pavan Soni
Student -
Pune, Maharashtra, India
---
July 25, 2011
A. Pen plating is extremely operator sensitive and jewelry would seem to be extremely difficult.
I would eliminate the drying step.

Finally, no one can really help you until they know what the time, temperature voltage and material/concentration is being used for each step.
Normally the company that you bought the equipment and chemicals from would have a technical services group to help you. If their stuff does not work there is a probability that you will go to another company that will help. Lost customer that will bad mouth their product. Bad business.

James Watts
- Navarre, Florida
---
July 28, 2011
Q. Hello sir,
I tried eliminating the drying step and detail about temperature voltage and concentration is given below:
I use the pen plating solution @ ROOM temp. and the voltage of the rectifier is 6-8 V for plating and the conc. for H2SO4 is 5% but I don't know the concentration of liquid Rh, but I use the liquid as it is sold to me.
Pavan Soni
-
Shahada, Maharashtra, India
---
August 2, 2011
Q. Hi guys.
Do reply to my query fast ... I'm waiting for your help because I know this is the only place where I can get the desired help.
Hope you guys reply soon.
Regards
Pavan
pavan soni
-
shahada,maharashtra india
---
---
September 20, 2012
Q. Sir/Madam:

Recently I have been having a problem with rhodium plating. I have a 5 lt bath and I do white rhodium plating on 18K diamond studded jewelry. Lately after plating the metal has the white color but the diamonds tend to turn black as if some coating is done on it after plating. I removed some diamonds from the jewelry and cleaned them and the diamonds returned to their original color. But when I do plating the diamonds again turn black. I am really confused as to what is happening. I have changed the bath the cleaner solution etc but to no avail. Only after putting the jewelry in a boiling hot sulfuric acid and repeating the rhodium did the diamonds did not turn black. Please advise as to what could be the problem. Thanks.
Gaurav Vij
- New Delhi, India
---
October 20, 2012
A. Dear sir, I have an answer to your question. First, in diamonds there is a groove in which you rhodium plated, so it shades up black because of channels of metals in between. You first dip rhodium plated studied piece in boric acid and acetone solution. Dry that piece due to volatilization of acetone. Then heat the piece in oxidising flame of lighter up to red hot condition, taking care that channels must not melt while heating. Then quickly dip this piece into slightly hot H2SO4 acid -- and see the effects.
bhupesh mulik
- mumbai,india