Durable black finish for golf putters
++++++
Q. As a hobby, I refurbish golf putters and need a durable black finish for the heads. The majority of the putter heads are mild carbon steel or 303 stainless, occasionally manganese bronze or brass. After buffing/polishing/cleaning, I will either apply a proprietary gun-blue and finish with silicone oil, apply an 'oil-can' finish ( Linseed Oil [linked by editor to product info at Rockler] & heat) or electro-plate them. Plating is used for the less than perfect putter heads. For plating, I use a Woods nickel strike followed by a build-up of acid copper layers. The multi-layers allow the filling of fine scratches and minor blemishes - larger blemishes are soldered over a copper layer, smoothed and plated over. Further polishing takes place between successive layers. The final plating which is either bright nickel or copper is polished to a high shine and soft wire brushed in places. I age/darken the copper with vinegar fumes by suspending the putter head over a vinegar soaked cloth in a sealed container.
I have recently attempted to apply a black nickel finish over both the bright nickel and copper final layers but cannot achieve the required shiny black. I am using a nickel sulphate/ammonium nickel sulphate/zinc sulphate/sodium thiocyanate bath but the finish is an even steel-grey. Polishing can remove the finish to reveal the copper or nickel beneath.
Any thoughts or suggestions would be gratefully received.
Linden Hopwood
Hobbyist - Aberdeen, Aberdeenshire, UK
---
++++++
A. Black nickel is very thin and needs lacquer protection for many applications. A nickel underplating is normally used.

For a shiny dark black, lower the plating current and voltage. The Electroplating Engineering Handbook, 4th edn., gives current densities 0.08-0.2 Amp/dm2 (0.75-2.25 Amp/sq. ft) at 1-2 Volts, a temperature of 21-24 C, with 1:1 anode (graphite or Ni):cathode ratio. Mild agitation seems to help, too.
Ken Vlach




- Goleta, California





Ken received a special
"Contributor of the Year" award
from finishing.com for his numerous
helpful and well researched responses
---
++++++
Q. Thanks for the advise Ken. I have tried a low voltage of 1.5 in the past but not at such a low current. I will give it a whirl this weekend but the difficulty I have to overcome is the size of the putter head (17.25 sq. inches) and the low current density area in the cut-out pocket at the back of the putter head. I have concocted an elaborate anode distribution to overcome the latter, but in order to maintain the low current that you recommend, I guess I shall have to 'thieve' with additional dummy cathodes.
If you could see my set-up as it is, I think you would probably flash me one of those 'get a life' looks.......:)
Should I further complicate the 'engineering' I will probably lose my mind and reach for the aerosol of gloss black to paint the darn things!
This, as I mentioned, is just a hobby...a few buckets of chemicals and a variable power-supply...I take the procedures seriously but feel that I may be reaching too far to achieve what the layman would see as simply a shiny black finish.
I will update the thread after I have experimented further.
Thanks again
Linden Hopwood
- Aberdeen, Aberdeenshire, UK
---
++++++
A. Black nickel is way too soft for a golf club and will scratch easily leaving a white line of the base metal.

Black chrome would be a better choice.

Enthone used to sell a black wax that could be spray painted that had a high gloss and was quite durable and would be a piece of cake to rewax.
James Watts
- Navarre, Florida
---
++++++
Q. Gentlemen, I am still persevering with the black nickel, but may consider black chrome, as suggested. The formulation that I have for the latter is of chromic acid (55 g/l), acetic acid (175 g/l) and barium acetate (6 g/l). Has anyone used this or is there a more suitable or alternative make-up?
Linden Hopwood
- Aberdeen, Aberdeenshire, UK
---
---
July 17, 2012
Q. Hi everyone, I bought a golf putter that was cold gun blued, it looked great! Unfortunately it has become rusted, and is a real hassle to keep blueing it. I would like to get the putter to look like the color of when a drop of oil is put into water, sort of that rainbow look.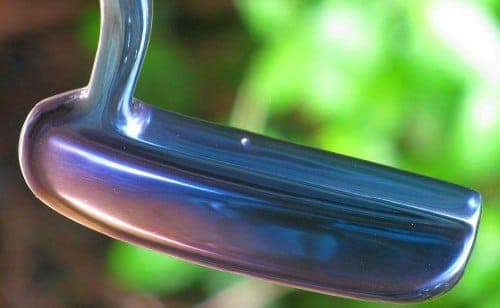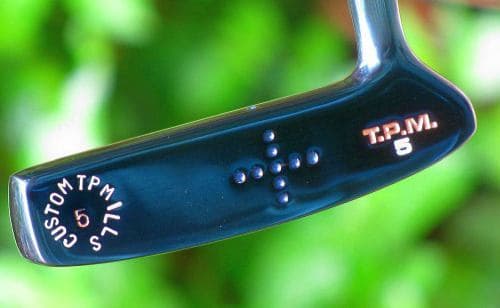 I would like to do this with a steel putter and also a stainless steel putter I have laying around, any suggestions? I live in the Middle East so very hard to get anyone to do it here, so remember I'm a total amateur :) but I can buy from the good old USA and get it shipped here

Would a torch finish work with a some type of clear coat to protect?

Thanks everyone!
Johnny Aldridge
Hobbyist - Dubai, United Arab Emirates