Antique baby carriage restoration Q&A's
+++++
Q. Hi;
I am restoring an old baby carriage for my soon-to-come first grand-daughter, the same one we used 30 years ago for her mother. The chassis (bottom part of carriage with the wheels on it, for lack of a better term) is chrome-plated steel and has rust spots throughout. How can I restore this?

Thanks,
George Cruz
hobbyist - Yorba Linda, California
---
+++++
A. The nickel-chrome plating is rusting because after all these years it is now porous, George. The correct restoration is to send it to a plating shop for replating. But if you can't afford that, you can clean it up with chrome polish; then, keeping it well waxed and dry will deter rusting a bit. Good luck.



Ted Mooney, P.E. RET




finishing.com




Brick, New Jersey
---
++++++

RFQ: Sir:
I have an old carriage (45 years old) and want to find a company who could restore it. The fabric (canvas) on the hood needs to be replaced as well as some of the leather straps. Any help would be wonderful.

Thom Milano




- Brooklyn, New York






---

++++++

RFQ: I am refurbishing a baby carriage that has been in the family for 4 generations and need 4 hub caps. The wheel hubs are stamped with the name "Ariel" The caps are 1 1/4 with a tapered thread 20 per inch. I have 2 on hand but they are in poor shape. Any assistance would be appreciated

Jon Flood




- Fond du Lac, Wisconsin






---

A. Hi, Jon.

I think there is very little chance of finding them, although you could check Ebay because I often see wheels there =>

But I'm confident that a local machine shop can make them, preferably out of stainless steel.

Regards,




Ted Mooney, P.E. RET




finishing.com




Brick, New Jersey
---
June 29, 2008
Q. Hi I recently bought a baby stroller. I was wanting to know where I could find more info on it. Its a pull type (has like a wagon handle) two 11 inch wheels with two small wheels in the back to kept it from tipping over backwards (like wheelie bars on a drag car). It looks like it has a removable shade (which I think I am missing some pieces) that stores under the seat when not in use. The seat folds back when baby is sleeping and it folds forward and handle folds back when not in use. Also has wicker sides. I found it in s.e. Iowa don't know if that will help any. Thanks, Mike.
Mike Emick
hobbyist - lamar Colorado
---
August 7, 2008
Q. A friend of mine has a 1930's chrome Chevrolet baby buggy and wants to know how much its worth how do we find that out ?
kattie leonna
- las vegas, Nevada
---
August 9, 2008

Antiques Road Show wouldn't be a big hit if such questions were easily answered, Kattie :-)

Start with a good antique shop. Or, to approach it on the cheap, track e-bay auctions of antique baby buggies. Or see if any help is available at www.restorers.com, and see if your library has a copy of "Kovels' Antiques & Collectibles Price Guide" [link is to info about the book at Amazon]. Good luck!

This is a metal finishing site, and that's our primary interest in these baby carriages. So, sorry, but this site doesn't offer or print appraisals.

Regards,




Ted Mooney, P.E. RET




finishing.com




Brick, New Jersey




Kovel's Antiques
and Collectibles

---
July 7, 2009
Q. I am restoring a Perego Baby Carriage...Luxury model and need to whiten the wheels, and the inside (which is white vinyl but has stains). It is chocolate brown with a white stripe on both sides that also need to be whitened. Is there anything I can use to fix this problem? All of the chrome around the wheels is in excellent shape and so is the body. I can't find anything that works...thanks so much.
Posey Thomson
- Santa Cruz, California
---
July 7, 2009
A. Hi, Posey. Back in the days of that carriage, carbon tetrachloride (Carbona) was the one thing that would work instantly and perfectly on white vinyl. It is toxic and has been banned from consumer products for a long time, so I doubt that you will find it. You might very cautiously try a white wall tire cleaner like Bleche-Wite
on the upholstery since you'll want it for the tires anyway.
Regards,



Ted Mooney, P.E. RET




finishing.com




Brick, New Jersey
---
August 11, 2009
RFQ: I've been cleaning up a carriage that my in-laws gave us to use as a bassinet and buggy. The carriage is missing a chrome handle that is "S" shaped and attached to the upper end of the buggy.I think the carriage was manufactured in the 1960's, it's blue with a little window for the kid to look out of when they get big enough. You can also adjust the angle at which you prop the "passenger." Are there restorers or people who have these parts on hand? I'd buy another carriage just for the part but I don't know where to look aside from craigslist and ebay.
Kevin Padden
hobbyist - Boise, Idaho
---
March 25, 2010
RFQ: Hi. I bought an antique baby buggy at an estate sale that is missing a wheel. Where do I find a replacement? Thanks! Trish
Trish Spatz
hobbyist - Richardson, Texas
---
March 2010
A. Hi, Trish. It's hard to find antique baby buggy wheels and rugger bubby bumpers.
I would try eBay, Black Market Antiques, and possibly Speedway Motors in Nebraska.
www.restorers.com has some threads on the subject, including offers by shops to repair old carriages. But it may be more practical to see if a local machine shop can make something for you. Good luck.
Regards,



Ted Mooney, P.E. RET




finishing.com




Brick, New Jersey
---
October 26, 2010
Q. I recently purchased a very old wicker baby buggy/carriage which is set on a steel frame and wooden spoke wheels. The rubber is gone from 3 of the 4 wheels as well as the metal frame appears to have been painted black, or over age has turned so. The metal is very rusted or corroded as well. Questions, 1. where to find replacement rubber for the wheels, and 2. how to go about cleaning or sanding down the metal to clean it up to repaint it. Also the caps in the middle of the wheels are about inch and a half in diameter and are silver and have the initials 'HW' ornately embossed on all 4 wheels. There appears to be some surface rust on these caps, can that be removed? Any information as to what that could mean or where this carriage originated? Thanks for your time.
Amy Rademacher
hobbyist -
Loup City, Nebraska USA
---
March 9, 2011
Q. Many of the old wicker baby carriages, such as those made by Hedstrom Union have metal wheels that are wrapped with solid rubber. Often the wheels are in good condition or can be restored, but the rubber is usually badly cracked.

How can the rubber be replaced?
Carl Hopkins
hobbyist -
Santa Barbara, California USA
---
April 4, 2011
RFQ: I have a baby carriage similar to those I read about on this site. It's 40 years old. I need to find hood material and edging, inside material, which is of a quilted plastic sort, and a handle bar for it. I have the metal that holds the handle bar, but the plastic bar itself is broken in half. It is still intact because of the metal that goes through it. I understand I can take the chrome parts to a machine shop and have that restored.

The carriage needs to be painted unless I can shine it up with a high sheen cleaner or a polisher. I know a paint used on cars may work if I have to go that route, but it would have to be done professionally. I can find no company in the USA that restores carriages such as these.

I don't need wheels, but the wheels and spokes need to be cleaned up. The wood that holds the carriage mattress is warped and smells of mold. It looks to be some kind of man made brown board, very smooth and about a half inch in thickness.

Any help given would be highly appreciated.
Melissa Lawler
mom who wants to restore carriage for pregnant daughter -
Ball Ground, GA USA
---
February 2, 2012
RFQ: Hi! I purchased an antique Shirley Temple pram and am trying to figure out how to replace or make a new fabric for the hood/ sunshade. Any tips? I would appreciate it.
Kat DiMira
-
Bandera, Texas
---
March 28, 2012
RFQ: I have an old baby carriage that was my husband's from 1969. I want to restore for our baby. Where do I go? I live in NJ bergen county. thank you
Marianna P
-
Wyckoff, New Jersey, USA
---
April 28, 2012
Q. I have a baby carriage like the one used in Gone with the wind, Bonnie Bell was sitting on the seat with Clark Gable pushing her. The horse is in good condition but I need new rubber on all 4 wheels, I want to restore the carriage and sell it. The baby would lay in the wicker bottom as the child got older, they could sit on the seat and hold the reins to the horse. The horse is covered with horse hide and still has the original bridal and reins. Please help, I need to get this in shape to sell.
Kaye R
-
Shreveport, Louisiana, USA
---
July 20, 2012
RFQ: I have found a 1950's antique baby stroller that is need of restoring. Having trouble finding a restorer in Washington State. Does anyone know of someone in Washington that does restoring on such items?
Denise Denney
-
Port Orchard, Washington, USA
----
Ed. note -- Gentle readers: if you have info on parts or restoration services, it is welcome. But no testimonials please! Testimonials often quickly lead to a race to the bottom, with shills posting with fictitious names and offering glorious praise of their own company :-)
---
---
September 12, 2012
Q. Hi, I have a beautiful wicker and iron stroller. There is a L-shaped round iron rod with the parasol on one end. However, there is no evidence on the stroller how to attach the rod behind it so the parasol balances over the stroller. It looks like I need a cast iron piece that fits somehow to the back of the stroller where the end of the iron rod rests but I don't know. Any suggestions?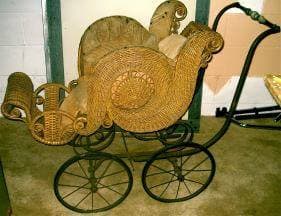 Sheryl Hartman
- Springville, Indiana, USA
---
June 12, 2013
Q. Hey There,
I have a 1984 Perego Baby Carriage, and would like to know where I can find a new cushion. It's the type, that has two parts to it (attached) the seat area and the back. Do you have any suggestions?
Sincerely,
Laura Kearins
Caregiver - Bronx, New York, USA
---
July 9, 2013
Q. I have 4 metal wheels to a wicker bassinet that need rubber around them. Can you suggest where I can have this done? It seems I can't find anyone in my area that does this.
Frank Randi
- Woodhaven, New York
^- Privately contact this inquirer -^
---
August 29, 2013
Q. Hello. I restored my daughter'1975 Headstrom stroller. I'd like to pit new solid white replacement rubber on it. Anyone know where I might get some?
Thanks
Bob
Bob Pike
- Sagamore Beach, Massachusetts
---
October 28, 2013
Q. We just got a 1850 Baby Stroller that we need to repair. I need to find a place to get snaps,Fabric and etc. The top is in bad shape. Can someone give me some places and names I can find the hardware and fabric. Thank you
Steven Bard
- Methuen, Massachusetts