The finishing.com Hotline -- Serious Education ... plus the most fun you can have in metal finishing
Silver polish (Tarn-X) stained my stainless steel sink
+++++
Q. I spilled silver polish in my stainless steel sink and did not realize it until sometime later.
Is there a way to get the stains out?
The silver cleaner spilled in the sink was Tarn-X.

Thanks.
Faith O'Kelley
- Asheville, North Carolina
---
+++++
adv.
Restore It Yourself, Inc manufactures an easy to use kit, called Scratch-B-Gone for the remediation of Stainless steel and quick removal of scratch, stain, chemical burn and rust from all surfaces of real Stainless steel appliances, sinks, and grills. Give us a call, No Worries...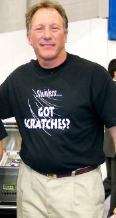 Barry Feinman
Restore It Yourself, Inc
Carlsbad, California
---
(2007)

The product worked! Thank you so much.
- Asheville, North Carolina
---
---
July 28, 2008
-- this entry appended to this thread by editor in lieu of spawning a duplicative thread
Q. A cleaner, brand name Tarn-x, was wiped on the stove and left on. Later, the stove was wiped down after seeing various dark streaks and circles on what appear to have been former food spills and Tarn-x residue. The stove was washed down with soap and water; next I used Wright's Silver Cream [linked by editor to product info at Amazon] and it took the stove back to where it's original color was except for the heaviest of the streaks and dark colorations. What can I do to bring the entire stove back to it's original Stainless Steel color?
Gwendolyn Doggett
- Camp Springs, Maryland
---
April 6, 2009
-- this entry appended to this thread by editor in lieu of spawning a duplicative thread
Q. I have dark grey stains on my stainless sink from Tarn X I have scrubbed with everything. Any help out there would be great.
Kathy Lennon
Artist - Oshkosh Wisconsin
---
March 28, 2011
A. I too got Tarn-x on my new kitchen sinks. After coming to this site, I remembered that to sell my other house, I used car polish to clean and polish the old sinks. I signed off and tried it. It took three applications, but there are no remaining black marks. I had used Meguiers at the old house. Today, I used some polish my friend put in a bottle for me last year, so, sorry about not knowing the name. Put some on a rag and rub hard. Let it dry and rub hard again. Repeat until gone. Your rag turns black and your sinks return to their original color. My sink seemed to have deeper brush groves around the top and that area took the most rubbing -- but all the stains came off.
Laurel Zigler
-
Ontario, Oregon USA
---
---
January 17, 2012
-- this entry appended to this thread by editor in lieu of spawning a duplicative thread
Q. I was cleaning my silver cutlery and some of the silver cleaning liquid got onto the stainless steel sink and has left marks as though the steel has been bleached. Any ideas of how to remove the marks please?
Rita Shah
-
London, England
---
January 20, 2012
A. Hi, Rita. As you see, we added your posting to a thread that already addresses this subject and offers three potential solutions.
Hopefully other readers will avoid problems by recognizing that silver polish can stain stainless steel. Good luck.
Regards,
Ted Mooney, P.E. RET
finishing.com
Pine Beach, New Jersey
---
June 4, 2012
Q. I left a rag full of Tarn-x in my brand new, of one week, stainless steel sink over night. It now has a black mark on it; how do I remove this stain? I'm sick about it; the sink is one week old. Thanks for your help.
Evelyne Hadida
-
Montreal, Quebec, Canada
---
June 6, 2012
A. After reading all the advice about cleaning my Tarn-x stain in my stainless steel, I got home and wiped the sink with Barkeeper's friend and to my surprise I was able to get rid of the stain 98%. You can hardly see the mess that I had. So, thanks to everyone who told me about the Barkeeper's friend; it's just too bad this product is not easily available in Montreal. I was lucky that I had bought some in Florida last time I was there; this product is great and I'll be cleaning my stainless sink with it from now on.
Once again, thanks.
Evelyne Hadida
-
Montreal, Quebec, Canada
---
October 4, 2014

Thanks everyone for the posts. My Google search brought me here and Barkeeper's Friend worked! phew. :-)
For anyone in Montreal: I have seen Barkeeper's friend at Ares and at William's Sonoma.
Lori Goodfellow
- Toronto, Ontario, Canada
---
---
Silver Polish Ruined Stainless Steel Serving Set
January 1, 2015

Q. A house cleaner is believed to have used Weiman silver polish on a stainless steel salad serving set that we had received as a wedding gift. The result of the "cleaning" is that what was once a lustrous shine is now almost entirely dull, with large patches of greenish-darkened metal, and a few places where there is now copper-colored metal. I do not understand metallurgy sufficiently to know if one metal was plated over another, and now the underlying metal is now exposed, or if the discoloring is the result of some type of oxide on the metal. Some suggested cleaning materials (including vinegar, stainless steel cleaner, Bar Keepers Friend) have been used, but with no effect. I would like to know, first, what happened; and second, is there any practicable restorative course of action available (e.g., cleaning product, plating)?

Lawrence Hughes




- Flushing, New York




---
December 2014
A. Hi Lawrence, sorry for your troubles. But "patches of greenish-darkened" and "copper-colored" and "one metal plated over another?" don't sound at all like typical observations of stainless steel behavior. Why do you believe the set is stainless steel -- does it say so?
Regards,
Ted Mooney, P.E. RET
finishing.com
Pine Beach, New Jersey
---
March 8, 2015
Q. Ted: The serving set looked like stainless steel, and my understanding that stainless steel is the most common material for flatware. Beyond that, I don't know what else the metal could be. The serving set came in a gift box, not a manufacturer's box, and no labels. The set is certainly not silver. What other metal could have been used? Is there an easy test to determine? (Sorry for the delayed response; time got away from me.)
Lawrence Hughes
[returning]
- Flushing, New York
---
March 2015
A. Hi again Lawrence. Stainless steel is rarely plated, especially for serving sets. Rather, it's the same material through and through (an alloy of steel, chromium, sometimes nickel, plus very small amounts of other stuff).
What you are describing sounds like the set is made of brass and was nickel and chromium plated. I'm surprised that silver polish would destroy the plating that way -- but I guess it did, exposing at least patches of brass. It can be replated, but perhaps not affordably. Replacement would probably be cheaper.
Regards,
Ted Mooney, P.E. RET
finishing.com
Pine Beach, New Jersey
---
---
April 10, 2015
Q. My grandma said I stained her stainless steel sink. I have no idea what happened but nothing cleans it. It is a large gray stain. Can you tell me what it is or how to repair it? Thanks,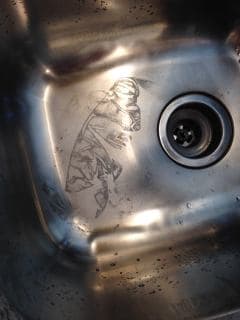 alex fulton
student - chicago, Illinois, USA