Rust on new stainless steel appliances
An ongoing discussion from 2005 through 2014 . . .
(2005)
Q. Hello!

I purchased stainless steel, A-quality kitchen appliances in December 2004. I am very careful cleaning these products using only mild soaps or sometimes simply water and a clean towel.

About three months ago I noticed that the oven door was covered in small rust-colored spots. After careful observation, I also noticed these on the lower edge of the stove top had these marks. I have also found them on the sink rims.

I was informed by the dealer that this wasn't rust but "some sort of a chemical reaction with the water" (?). He cleaned the metal with a product made specifically for cleaning stainless steel. However, these marks have returned. I was also told to clean the metal with White Spirit, but have hesitated to do so as I'm concerned about warranty requirements.

In my opinion, this is rust. Whatever it is, it seems to me that this should not be happening on a supposedly top quality stainless steel surface.

Could you give me information on this problem?
Thanks very much!
Marcia P
homeowner - Hattiesburg, Mississippi
---
(2005)
Q. Your story of rusting of new kitchen appliances is similar to mine and no one is giving a straight explanation. We also purchased our appliances in Nov 2004. We bought a new GE Profile Fridge, Jenn-Air Range, and Fisher-Pakel double drawer dishwasher. Within 6 months, rust spots started showing up on all of them. After months of back and forth with the local reps, we finally got MayTag (Jenn-Air)to agree to replace the rusting panels, only to figure out after he came, that the new panels are steel (that just look like Stainless) magnetics stick to them like glue. Fisher-Pakel came in and replaced the front panels, with what they said was stainless, but they look totally different than what was taken out, and nothing like stainless (magnets don't stick though). The GE fridge, continues to rust away and just looks horrible and we been promised numerous times that "things are on order". So now instead of having 3 appliances that matched, we now have one that isn't stainless (not sure what it is), another that is some tan/gold thing they claim is stainless, and a rusting GE refrigerator. My next step is to contact the States Attorney and file a suit that many of these manufactures are claiming to sell (and charge big $$) for stainless steel appliances, that in reality, aren't. Or at best are made with the cheapest grade of stainless, that you might as well call them unpainted steel, because they rust just like steel.
Good Luck, they haven't hear the end of this from me!
James H
- Westbrook, Connecticut
---
(2005)
A. Not to dispute your claim that the panels are low quality, James, but it isn't true that just because the metal is magnetic it is not stainless steel. Nickel-bearing stainless steels are non-magnetic, but other stainless steels are magnetic. Check your flatware drawer and you'll probably find some of each. In fact, you may find the knife handles non-magnetic and the knife blades magnetic.
Never use bleach or steel wool on stainless steel, and don't even think about using muriatic acid on nearby brickwork or floors, even in the garage, or the fumes will rust all the stainless in a house.



Ted Mooney, P.E. RET




finishing.com




Pine Beach, New Jersey
---
(2006)
Q. The stainless front of our Amana dishwasher has developed small rust spots all over it. What can we do to clean the surface? We don't have this problem on our Amana fridge or Jenn-air stove.

Help!

Thanks,
Dave Aronson
consumer - Woodinville, Washington
---
(2006)
A. There are stainless steel cleaners that may work. But never touch stainless with steel wool, never use bleach on it, and never use muriatic acid in the house at all.



Ted Mooney, P.E. RET




finishing.com




Pine Beach, New Jersey
---
(2006)
Q. We have the same problem with rust stains on our Frigidaire refrigerator. After investigating, a metal expert told us the problem is in the brushing process the stainless steel goes through to get the brushed finish. A cheap process was used that had dirty brushes. The dirty brushes embedded particles into the steel. The rust is caused by these particles oxidising. He also indicated that too much of these particles in the steel & it can not be called stainless.

With all this being said we still have the problem & Sears is not going to do anything about it, calling it a cosmetic problem or caused by something we did.

Any further suggestion to fix this problem or anyone with luck dealing with manufacture would help.
Brian Johanson
- Kansas City, Missouri
---
(2006)
A. Your metal expert has indeed identified one possible cause of stainless steel rusting, Brian. But it wasn't clear whether you are saying that he actually inspected yours, or whether s/he was speaking in generalities.
There are stainless steel cleaners that may work. Stellar Solutions is a supplier of stainless steel "passivating solutions" that manufacturers use to remove this "brushed-in" contamination, and you may want to contact them.
Again, never touch stainless with steel wool, never use bleach on it, and never use muriatic acid
in the house at all.



Ted Mooney, P.E. RET




finishing.com




Pine Beach, New Jersey
---
(2006)
A. We have a cleaner for stainless steel & it works well at taking off the rust. However, within a week it is back. First point stainless steel doesn't rust. What we are seeing is poor quality steel with high levels of carbon, that has not followed industry standard. One way stainless steel is graded is by carbon levels. Too high & it is just polished steel. In my opinion the appliances should not be considered stainless steel.
Brian Johanson
- Kansas City, Missouri
---
(2007)
A. Stainless steel is steel with chrome and nickel added... Too little of these and your 'stainless' will certainly rust on you...

When you see "18/8" or "18/10" on a stainless steel item it means 18% nickel and either 8 or 10% chrome... this is high quality... What you get on appliances is not this quality...

Steel is iron with the carbon removed ... The more carbon remaining the more rust you will have...
Joe Wood
- Plymouth, Massachusetts
---
(2007)
Q. I am having a rust issue with my Jenn-Air side-by-side fridge, but I think it may have to do with the magnets we had placed on the door. Most of the stainless steel doors are fine, but the lower half of the left-side door has developed some rust spots where we had stick some of those flexible magnets that many stores give away as advertisements. They were under the water dispenser, so I am assuming the rust developed due to water dripping down the door from the dispenser, and either causing the magnets to rust and stain the door, or getting trapped under the magnets and then causing the door to rust. Either way, I tried applying some CLR
full-strength to the spots to little effect. Anyone have any suggestions on how to get these spots off?
Colin White
- Wakefield, Massachusetts
---
(2007)
A. I have a Jenn Air stainless steel side-by-side refrigerator that was showing a few rust spots on the doors. I used a Mr. Clean Magic Eraser
to remove the spots, followed up with Method stainless steel cleaner. Doors looked great.
Christine Ashley
- Southern Pines, North Carolina
---
(2007)
Q. I went on line today because I also purchased a sears stainless steel oven and have always used the cleaner sears sold to me to care for my appliances. I have small rust spots all over the front of the oven that I paid 1500.00 dollars for. Nobody seems to care. What can be done legally anybody have suggestions. Mine is off of warranty. Sears I thought was a good company but now I find they could care less. What can I do so my kitchen that was redone doesn't look like a big rust sore.

Karen
Karen Bailey
- Brick New Jersey
---
(2007)
Q. I live in Brooklyn and gently wiped off my new Maytag fridge and stove with a damp sponge like Maytag said and one week later both appliances have tiny rust spots. When I went back to Home Depot they said someone else was just there with the same problem. These are new appliances and now I see that other have had this problem. No matter what the "experts" say - my stainless steel tools hardly never rust or it takes decades of neglect. What should I do "stop payment"?
George Burke
customer - Brooklyn, New York
---
(2007)
A. I can't advise you on stopping payment, George, but I can warn you that bleach is murder on stainless steel. Are you sure that gentle wipe did not include bleach?



Ted Mooney, P.E. RET




finishing.com




Pine Beach, New Jersey
---
(2007)
Q. I bought 3 stainless steel Maytag appliances June '06 from Home Depot: dishwasher, gas stove and venting microwave. No more than 6 mos later, rusty specks were showing up and removable. They kept coming back and with a vengeance. I don't use bleach or cleaners w/bleach and I don't own steel wool or muriatic acid. Now that I'm beyond frustrated and sick to my stomach that my $5 k worth of appliances look well... not like they cost $5 k, I'm finding that there are varying grades of "stainless steel" and that a low-quality stainless, 430 , which holds magnets, is susceptible to damage including pitting and rusting. Very frustrating particularly since I just put a magnet on both my dishwasher AND my oven and... they stuck. I am so saddened. So... any tips on cleaning the rust spots until I can remodel the kitchen and sell the appliances off?
Nicole Berry
- Fairfield, Connecticut
---
(2007)

Q. We have experienced the same problem with ALL 5 of the Jenn air Products purchased for our kitchen. We purchased them in 2006 and they all have rust spots on them. Two of the panels have already been replaced and the rust is on those as well.
Jenn air's position is WE have an environmental issue!
They refuse to be accountable to this defect. We have tried all avenues and are now going to sue them for the replacement cost and installation of new appliances.
They claim they have never heard of this before and then when pressed, say okay maybe in those areas around the ocean! We live at the base of the Blue Ridge Mtns...go figure..could it be, just maybe a production problem?

CM

Cathy Mysak




- Waterford, Virginia





---

(2007)

I am not here to defend Jenn-air, Cathy, or any of the other appliance manufacturers mentioned. But if you have five different appliances that suffer the same problem, probably manufactured in several different factories, it doesn't sound like "a production problem" on the factory floor. To me it sounds like someone used muriatic acid or bleach on a tile floor, brickwork, or concrete floor. I've said it several times on this page, but for the benefit of new readers: don't use or let your contractors use muriatic acid anywhere in or around the house if you have stainless appliances.

You might talk to a supplier of proprietary citric acid passivating solutions like Stellar Solutions about the possibility of correcting this rusting and preventing further rusting in the future. Best of luck.




Ted Mooney, P.E. RET




finishing.com




Pine Beach, New Jersey
---
(2007)
Dear Ted,

WE NEVER used any muriatic acid or any other kind of acid in our kitchen.
It seems clear from the numerous postings that production of these appliances is the problem regardless of where and when each one was produced. If it is a matter of policy and practice the product will be less than desirable. This seems to be the case with all of these folks. Certainly it is the case with our appliances.
It is never normal for true stainless steel to rust. PERIOD.
I think most people taking the time to write their concerns, also take the time to care for their expensive appliances ... it is not the consumer you should be looking to.
Cathy Mysak
- Waterford, Virginia
---
I feel for your problem, Cathy. I bought a Maytag dishwasher because of their previous long history of providing reliable appliances to my household. It is plain "crappy" -- paper-thin face panels that the trained installer dented with his knee, a burned out water valve straight from the factory, plastic wheels that broke off the drawers in the first month, and so on. And all the while, I was forced to be the repair co-ordinator for each breakdown: I had to be home to receive the parts by UPS; I had to verify that they were the right parts; I had to call to tell them when the parts came in. I could almost cry when I remember my several engineering trips to the Maytag factory in the heartland of Newton Iowa which used to build icons of reliability.
Swearing off the new Maytag, when my 35 year old Maytag clothes washer finally gave out I switched to a Kenmore washer/dryer combo. It must have been designed by children who never used a clothes dryer, as each turn of the drum pushes clothes into a space under a door protrusion which compresses the clothes, then extrudes them through a narrower gap that catches and rip seams, snags clothes by their buttonholes, and rips buttons off -- it's designed like a shredder, and that's what it does. We kept it less than a year and replaced it with an LG.
opinion!
Today's highly destructive, sickeningly overpaid CEO's, with their "meatball whoring" (licensing those logos/meatballs for use on garbage) have in just a couple of years squandered reputations for quality that took generations of blood, sweat & tears to build. I am NOT here to defend these leaches! Besides making me spend my hard-earned money on garbage, and putting my friends out of business by moving manufacturing offshore, even worse: today's CEO's have collectively put the security of our nation at utmost peril by deliberately razing the Arsenal of Democracy that won two World Wars ... and built in its stead a People's Arsenal in China -- knowing full well the consequences for our children.
But there are countless inquiries on this site where people ruined their stainless appliances with steel wool, bleach, scotch brite, vinegar, or by letting an installer use tile acid in a bathroom or garage, and where the writer bemoaned that nobody warned them. So that's what I'm doing. It is also becoming obvious that stainless steel appliances look like they are robust when they are the opposite -- and we are also trying to bring that to the attention of undecided readers.



Ted Mooney, P.E. RET




finishing.com




Pine Beach, New Jersey
---
+++++++
Q. I recently hired a cleaning person at my home. He typically cleans commercial buildings. About one month after he use a product called "damp oil" on my stainless steel fridge (9 years old), stove (7 years old) and dishwasher(brand new), I have noticed tiny rust spots on them. Have you heard of damp oil, and what is in it that could be ruining my appliances? Can I possibly reverse this problem? The damp oil does not seem to harm the office building elevator stainless.
Patricia Palmer
buyer - Ottawa, Ontario, Canada
---
+++++++
A. Having read all the responses to the rusting of stainless steel products. I give my conclusions. S/S should be manufactured in a clean environment and most certainly away from carbon steel. Even if during manufacturing a piece of carbon steel touches some S/S, carbide precipitation takes place and rusting occurs on the S/S. Hence why some people have advised against using metal type scrubbers. Indeed one engineer said water can be the cause, yes it can if the water has a high mineral content it can cause rusting. Some manufactures of pressure vessels ask for de chlorinated water to be used for pressure testing thus eliminating the risk of rusting. The only answer I can give to help remove the rusting is to apply some aluminium persulphate (don't know where you would get some) and use this on a cotton cloth to rub away the rust. it may come back but that depends how deep it has penetrated. Good luck.
Brent Huntington
- Goole, England
---
June 8, 2008
! SHAME ON ELECTROLUX

I HAVE A 3 YEAR OLD STAINLESS STEEL ELECTROLUX N39SEJ-R .
I WAS TOLD THE DOORS CAN'T RUST . WELL I HAVE NEWS FOR EVERYONE. ELECTROLUX STAINLESS STEEL DO RUST AND THEY WILL NOT REPLACE THEM. MY FRIDGE WAS SUPPOSED TO HAVE A FINGERPRINT-FREE COATING ON THE STAINLESS STEEL SO THERE WAS NO NEED TO USE STAINLESS STEEL CLEANER. RUST HAS OCCURRED UNDER THE COATING. WE HAVE BEEN TOLD TO USE STAINLESS STEEL CLEANER ON IT BY ELECTROLUX RECENTLY AND HAVE DONE SO ONLY TO TOTALLY SCUFF THE DOORS UP. THE CLEANER HAS BUFFED THE FINGERPRINT-PROOF COATING OFF AND IT LOOKS LIKE SOMEONE HIT IT WITH A SANDER, WHICH IS WHAT I AM GOING TO DO.
PAINT IT WITH 2-PACK AUTO PAINT AND FORGET I EVER HAD A STAINLESS STEEL WASTE OF MONEY
robert Goodwin
- Darwin , northern territory , Australia
---
June 19, 2008
! I have a fair amount of stainless steel around my house. A few months ago, a Maytag stainless steel front fridge joined the line-up. As you well may have guessed - it rusts. I, too, first suspected anything else other than a manufacturing defect. I also tried about every sensible cleaning method, only for the rust to return within days.

I finally called in the warranty, and along with two other issues that needed addressing; I managed to get replacement doors ordered. I hope that by now there has been enough of a ruckus that the new doors are made properly. While I am waiting for the service personnel to come on site to swap out the doors, I am testing a surface spot with a damp kitchen sponge to catch any early signs of degradation.

Interestingly, my Dacor stove (stainless) has had zero rust issues and sees far more moisture, scrubbing, etc. and has been around years longer. If chemical exposure or aggressive cleaning as an issue, that stove would be first to rust, but not a speck.

Best I can tell, these panels for "better" appliances (yet not "high end") are simply flawed. BTW, that Maytag serviceman from the commercial, a myth, warranty service is outsourced.
JH Blau
- Oakland, California
---
July 5, 2008
Q. Are you kidding me? About a week or so ago is when I first noticed the little tiny specks of rust on my Frigidaire refrigerator, I couldn't believe my eyes; I called my cousin because he's my go-to guy. I told him that maybe it was because of the magnets I had on it when I first bought it (tax return 2007). He just laughed and said magnets don't stick to stainless steel. I gave Frigidaire and hh gregg a lot of money (for me); the rust doesn't start until the warranty is up even though when you have a warranty it's like pulling teeth to get these people the fix a problem. I'd just bought my condo. in Nov.'06. I'm thinking I'll add some value to my home by small improvements and it will good for resale, I never thought in a million years that I might have to buy all three appliances again. (I can't, I'm on a budget so tight there is no budget!) Speaking of that, I need to check my dishwasher and stove. (All three Frigidaire). If anyone has anything, please continue to share.
Kenya Eldridge
- Los Angeles, California
---
July 27, 2008
A. Hi Folks,

I've been following this thread after having similar experiences with our SS Amana and Maytag appliances (1 year old to date). All three of these units (DW, Range and Fridge) have shown the same small rust spot problems mentioned here. The DW has been the worse.

I brought in the service guy from the local store where we bought them. He said he'd be happy to change out all the panels, but also advised that the same issue may come back. He recommended I try Noxon 7
to clean the appliances first. If I still wasn't happy, he'd put new panels on. We bought a 4 year service plan, so I have the time.

This stuff is incredible. It smells pretty bad, so be certain to work in a well ventilated area, and put some gloves on. I suggest working on small areas, and put aside a decent amount of time before getting started. It took me about 2.5 hours to do the DW and Range alone, and a lot of elbow grease. You'll see all sorts of black grime come off on your towel. Change your towel often (I went through a roll on each appliance). Just keep applying/wiping off in cycles until you're happy with the look.

It removed all of the spots, and brought the steel back to the same brightness as when they were first installed. It's now 3 weeks later, none of the spots have returned. I couldn't believe how much better the steel looked. It does take a lot of effort and you're not going to like the smell, but it doesn't linger once your done. I wiped everything down with water after, just in case there was residual Noxon on the steel. I didn't want that stuff getting on hands and ending up in food or someone's mouth.

I'll post in about a month or two to let everyone know if it lasts.
joe Boston
- melrose Massachusetts
---
September 1, 2008
I have been following this listing for a while as well...since we are having these "rust spot" related problems on our stainless steel appliances.

Thank you for suggestions related to the cleaning alternatives.

I am just absolutely appalled at the fact that despite charging such exorbitant prices for kitchen appliances, the material used by most of these companies is so sub standard.

I really think we should consider litigation against some of these companies, since this is consumer fraud.

Any takers?
Sunanda Kishore Cruz
- Washington DC
---
January 4, 2009
Q. The "stainless steel" tub in our brand new Maytag Centennial washing machine has rusted after the FIRST LOAD, consisting of one, medium-sized blanket. There are also black smudges all over the tub (particularly around the top rim), that just won't quit rubbing off, no matter how many damp paper towels I try to use to get it clean. I am afraid to wash any more clothes in this machine for fear of ruining them. We also just installed a brand new $1800 whole-house iron extracting machine, in addition to our water softener. One hundred percent of the former iron problems we used to have in sinks, showers, and toilets had disappeared before using our new washing machine for the first time. Translation: the rust is positively NOT coming from the water.

Also, I would like to know how one is to avoid using bleach in the stainless steel tub of their WASHING MACHINE. That would be the machine one puts his/her dirty laundry into to clean--and, yes, occasionally BLEACH--so that it can be worn/used again. Please do not tell me we are not to use bleach in the laundry anymore. This machine, in fact, has a bleach-dispensing cup built into it. (And for the record, the one lone blanket I have washed to date was not washed with bleach--just regular old detergent. And no, there has never been muriatic acid used. We are very cautious of chemicals and the environment.)

This wash tub is NOT stainless steel, or anything resembling it. The set goes back to Home Depot tomorrow for a full refund. Back to the drawing board. What is this country coming to? Even if you've managed to hold on to some of your money, you can't buy a quality product in America anymore to save your life. So sad . . .
Sara Girard
- Grand Rapids, Michigan
---
March 12, 2009
Q. Hi

Interesting thread. I'm having a similar problem. The sink is at least 7 or 8 years old and I've never had a problem.

However my cleaning lady uses Mr. Clean Magic Erasers on the sink. We noticed shortly afterwards that they were covered in scratches. Tons of circular scratches. We suggested that perhaps it was the Magic eraser that was doing it. She said that it was fine on stainless steel and that it was so clean that we were now seeing the scratches more clearly.

Two weeks ago we started seeing spots all over the sink. It is really distressing because it looks like the sink it filthy but it is actually really clean. Reading this column I'm now wondering if it is rust.I'm really starting to wonder if the Magic Eraser is the culprit in this. Could it be stripping the finish off? Or sinking into it and damaging the surface?

Has anyone else used this product and had bad effects?
Marvin Brother
- Toronto, Ontario, Canada
---
April 3, 2009
Q. I recently bought a KitchenAid S/S fridge and dishwasher.

After about 3 months of usage (and cleaning with a stainless steel cleaner once a month), I began to notice numerous little streaks. In sunlight, they look like soap scum (maybe rust-like) but once the sunlight is blocked, you can't really see the streaks anymore. I run my finger over it and these spots are perfectly smooth. It's like the fridge looks good and all of sudden in sunlight, there are thousands of streaks of 1/4 to 1/2 inch that show up.

I am very dismayed at this and tried cleaning with soap and water, vinegar even WD-40
to no avail. Is my situation similar to what others are describing? Anyone had success cleaning it?
Chris Kwon
- El Cerrito, California
---
July 17, 2009
A. I found this page a couple of weeks ago when I was seeking a solution to small rust spots appearing randomly on my "stainless" Whirlpool fridge doors. We've never used anything other than those 'magic cloths' and water to clean the fridge, so it was very frustrating when this apparent damage started appearing.

Anyway, I tried 2 or 3 different SS cleaners that I found here to try and clean it up - nothing worked. Then I found 'De-Solv-It Stainless Steel Reviver' (got it from B&Q in the UK) which I didn't really hold out much hope for - it's a fairly innocuous looking white cream cleaner. But it works, almost like magic - hardly any rubbing required, no hint of streaking, etc, and the apparent rust deterioration has completely vanished - the fridge looks as good as new. Can't recommend this stuff enough!
Tony Morley
- Leeds, West Yorkshire, UK
---
August 23, 2009
Q. I CAME HOME AFTER BEING GONE FOR A WEEK WHILE OUR FLOORS WERE REPLACED. MURIATIC ACID WAS USED TO GET THE GROUT OFF THE TILES. THERE IS A WET METAL SMELL IN THE HOUSE. WHEN I GET THE FLOORS WET AND WIPE THEM UP THE CLOTHE IS RED AND SMELLS VERY STRONG OF A WET PENNY. MY FRIG, STOVE, MICROWAVE, AND SINK ARE ALL RUSTING WHAT DO YOU RECOMMEND I DO?
April Irvin
- Blanchard Oklahoma
---
August 23, 2009
A. Hi, April. I would immediately take plenty of pictures, insist that the president/owner of the company visit to look at it, and then wash the floor with dilute baking soda.
I feel you may need to replace all the appliances. If this is what the fumes from the acid did to stainless steel, what do you think they did to the far less robust copper wiring and electronics?
Regards,



Ted Mooney, P.E. RET




finishing.com




Pine Beach, New Jersey
---
September 8, 2009
Q. Anyone else having problems with Frigidaire refrigerators releasing moisture humidity or rust-colored liquid on the outer coating of the plastic coated doors; especially around the water and ice-cube dispenser? I reported them to the Attorney General's office, FTC, and Consumer Protection. My appliance is under warranty and was purchased through Best Buys, and I'm being lied to and getting a run around. So...I'm ready to fight for my protection of rights as a consumer. Anyone else experiencing this?
Marianne J
home owner - Camden County, New Jersey
---
October 11, 2009
Q. We are having the same problem with our Frigidaire refrigerator. We now have two small pitted holes that are leaking a rust colored liquid. We purchased the appliances at ApplianceMart and they have been no help. We also called Frigidaire and they said they have never heard of this problem. We asked to have a rep for the company come and look at the problem. Frigidaire told us that they don't have anyone in our area (Minneapolis) to look at the problem. Any suggestions?
Mary Quinn
- Minneapolis, Minnesota
---
November 22, 2009
! We have ... well, had, they're three years old now, stainless appliances ... all have developed rust also. No muriatic acid and bleach has ever touched them (read this whole thread lol). They're all made by Frigidaire. I'm not happy.
Dee Rhind
- Bridgewater, Massachusetts
---
November 30, 2009
Q. We too bought a complete kitchen set of "stainless steel" appliances from Maytag (Jenn-Air for the range hood) from Sears less that five years ago and are experiencing issues with rust in what is called stainless steel. We called Maytag and they would not do anything. We called Sears and they would not do anything. We bought Maytag because of their reputation. Now we would not buy anything from a company that cannot stand behind their products. All they would say is to have a service person at our expense come over to the house and prove that the rust is a manufacturing defect. Again, this is at our expense.

Is there a government agency that reviews such matters?
Michael Smith
- South San Francisco, California
---
December 28, 2009
! We started noticing small rust spots appearing on our GE Profile refrigerator doors and couldn't believe it. I've gone on line and discovered this thread of folks having the same problem. We purchased our refrigerator from Home Depot but from what I've read neither the manufacturer or retailer will stand behind their products. I will try using the products listed and hope for the best. A very sad situation to say the least!
Barbara Reinhardt
- Minneapolis, Minnesota
---
December 30, 2009
A. Barbara, as to your issue of rust, the appliance industry is experiencing an increased problem with 'rust' due to the fact that they are beginning to use more 430SS (magnetic type) metals as a way to reduce costs. This is real Stainless but has more iron; therefore, susceptible to rusting/staining. Scratch-B-Gone quickly fixes this problem and our Ultra Shine chemical adds a protective coating to retard rust. No manufacturer warranties their 'Stainless skin' except against rust through.
---
December 31, 2009
I have had a plastic vinyl coated type Frigidaire refrigerator for several years, and within months after having it it had rust spots all over the door of it. Nothing would remove the rust, and it now looks like a refrigerator with the measles look of rust spots all over it. Its a total eyesore. It was like humidity from the inside out. As a result I would NEVER purchase a Frigidaire appliance again. Neither would people who come over and see it. It is totally awful. I can't wait to get rid of it. Betty in the midwest.
Betty Ehler
- Minnesota, USA
---
February 16, 2010
Q. Hi,
Does anyone know if Borax
is safe to use in washers with stainless steel tubs?
Thank you.
Tom Slick
- Roselle, Illinois
---
September 5, 2010
! I purchased 3 Fridgidaire Appliances in May 2010 and in July 2010 noticed rust spots on all doors and handles! Initially, after staying on the phone with Frigidaire for almost 1 hour they told me it was the cleaning product I was using (Weiman's and Magic) I was not happy, called back very frustrated and they referred me to an appliance Co nearby and they are replacing the doors-we'll see what happens next - I am not a happy consumer.
Susan Amaral
-
Nottingham, New Hampshire
---
September 10, 2010
! I could hardly believe it when I saw rust on my stainless steel! I called Jenn Air a moment ago and they said that they do have a rust remover powder product. I was able to order it from them on the phone. I hope it works but if it does not, I'll let you all know in October! Good luck to us all!
Mary Smith
-
Chicago, Illinois
---
September 16, 2010
Q. I have a 11 month old Whirlpool SS fridge with freezer on bottom. It runs great. We love that design.
I have rust on my freezer door. Will not come off. Called Whirlpool and tech was just here now. He took one look at it and said he will order a new SS door and he will come back in a week to install it. Good luck to everyone!

Victor
Victor Mosca
-
Dallas, Pennsylvania USA
---
October 12, 2010
Q. Alright I'm now scared after reading all the posts about Muriatic (Hydrochloric) acid. I used a tile and grout cleaner that has it not thinking that it would in any way damage the stainless steel appliances. The nylon brush that I used splattered the solution on the bottom of the stove and dishwasher as I was scrubbing the grout. I became immediately concerned after I tried to wipe it away with SS cleaner but it didn't work. I immediately made a baking soda paste and covered the affected areas on the stove and dishwasher and then used baking soda on the floor to neutralize the acid. I do not have rust but am now scared that I may be in trouble...have I acted quickly enough? Anything else I can do to get rid of the dark spots that formed because of the acid?
Peter Forsman
-
Jersey City, New Jersey
---
October 18, 2010
A. Peter, although Scratch-B-Gone refers to scratches in its name, it works equally effectively on stains, rust, and spots due to acids in a flash.
---
October 19, 2010
A. Hi, Peter. Never use hydrochloric acid in your home again! The thing to remember is that hydrochloric acid is NOT a liquid, it is a gas dissolved in water. Although the most immediate damage may be done to areas where it is splashed, the acid fumes permeate the air and attack your electronics, wiring, and chrome finishes as well as your stainless steel surfaces.

Regards,



Ted Mooney, P.E. RET




finishing.com




Pine Beach, New Jersey
---
October 27, 2010
Q. I remodeled my kitchen 3 years ago and purchased all matching GE profile brushed stainless steel appliances. My dishwasher and refrigerator have rust spots that started to appear about 1 month ago. I always use stainless cleaner on my appliances. The floor tile work was completed before the appliances were installed so I do not believe this is a problem of the "environment" these are poorly manufactured low grade doors. I waited decades to remodel my kitchen and have matching appliances, I did not buy low end products and now I have rusty doors.
Mary Rose Chasler
Home owner -
Fredonia, New York, USA
---
January 13, 2011
Q. Hi I used hydrochloric acid mixed with water to clean the floor tiles and after a few days the stainless steel appliances stated to build up rust what can be done to remedy the situation?
Iroshi Deliwala
-
Clayton, Victoria and Australia
---
January 12, 2011
A. Hi, Iroshi. First off, don't do it again. You can try sodium bicarbonate (baking soda) to neutralize the acid, but a lot of damage has already been done, and this still leaves chlorides (which are bad for stainless steel) on the appliances. So, after the neutralization, a salt remover could be tried. But the wiring of the appliances has also been exposed to the acid and may be less reliable now.


Regards,



Ted Mooney, P.E. RET




finishing.com




Pine Beach, New Jersey
---
January 14, 2011
Hi,

Thank you!

Regards,
Iroshi
Iroshi Deliwala
-
Clayton, Victoria and Australia
---
January 20, 2011
! I have 3 different brands of SS appliances and 2 SS sinks. The sinks have no rust but all the appliances do. I have worked in the food industry for over 20 years and most commercial kitchens have stainless steel everything and I have never seen rust in these environments. For sanitation reasons most commercial kitchens see a lot of bleach water used in cleaning them throughout the day and then once a week the use of a stainless steel cleaner to buff and shine (these are usually a spray or cream with a kind of oily finish). Having this expertise and the ability to buy the commercial cleaning products, this is what I have used in my home kitchen. I don't use bleach but a damp towel or sponge for daily cleaning and the SS cleaner once a week or so. When I first saw rust (after about year) I thought it may be because I live in the damp Northwest but after hearing so many stories from people all over the world my conclusion is that all these appliance companies use an inferior SS product. I thought that after a number of years of stainless steel products being on the market that they would "work out the kinks" and look to how SS sinks and commercial products are made but it doesn't seem to be the case. I am very surprised that many of you were able to get replacement fronts for any of your appliances as I was told by the appliance store that it was just normal "wear and tear". You should feel lucky. If anyone has found a product or method for removing the rust, I would love to hear about it, I hope to sell my house in the next couple years and really don't want to have to replace all the appliances in order to do so!
I really like the clean, modern look of stainless but certainly wouldn't recommend it to anyone who's in the market. In the future I will either go with the shiny black (which I had in the past and loved)or think about spending the extra $ and buying commercial appliances.
H. HEARSEY
-
SEATTLE, Washington
---
April 2, 2011
A. The appearance of rust or 'golding' can be due to improper cleaning chemicals such as ammonia or chloride based products or can be that the manuf is beginning to use 430SS material which has a higher iron content therefore it is magnetic and more exposed to rusting. Corrosive living environments will cause the later to see rust more quickly. Our Scratch-B-Gone kit will quickly and totally remove this problem. Thanks for the question
---
April 20, 2011
! I thought I was the only one with the rusting problem until reading the above. I bought GE Profile appliances and began noticing the rust appearing. I have tried repeatedly to remove them to no success. I tried to contact General Electric with no success to talk to anyone. I was just left on hold three different times. I purchased these appliances at Home Depot and will contact them. How can we make this problem public so people will not buy these inferior products?
Gayl Davis
-
Shingle Springs, California, USA
---
April 23, 2011
! I also had problems with my 2009 GE Profile series refrigerator. I had purchased an extended warranty from my appliance sales place so I called them and they talked to their local GE sales rep and GE sent out a service man to look at the refrigerator. He looked at the doors and agreed that they were rusting and they are in the process of replacing the doors. The top two have been replaced and the bottom freezer door came in damaged so they are reshipping it out to me and I should be done with this by next week. Sounds simple but I did have to get rather firm with my appliance sales team and the GE service people, but after making it clear that we had one of two situations on our hands, either a manufacturer defect or fraud they decided it was best to deal with this as a manufacturer defect and replace the doors. After reading this thread I am very surprised that some enterprising lawyer has not started a class action law suit against these manufacturers.
T Francis
-
Long Beach, California USA
---
June 7, 2011

! I have rust spots on the face of my stainless steel Maytag dishwasher. I believe that this is a product flaw due to cheap steel that was not treated properly during manufacturing. The rusting should not occur under any circumstances on true stainless steel. I was told to write to:
Executive Department, 553 Benson Road, Benton Harbor, Michigan, 49022

I will also be seeking a product recall. Please do the same.

Jessica Corey




-

Saint James, New York, USA




---

September 7, 2011

A. My Thermador stainless steel cooktop developed some small rust stains near the burners when it was only about 6 months old. I tried several stainless steel cleaners that had no effect. Then I read about Bar Keepers Friend =>
and gave it a try today. I was amazed to see that it completely removed the rust stains and left no marks on my cooktop. I would recommend this product for cleaning rust off of stainless steel appliances to anyone now.

Dave Strothmann

-

Pine, Colorado, USA

Barkeeper's Friend

---
October 25, 2011
A. I also would recommend Bar Keeper's Friend. Buy it in your grocery store in the cleaning aisle.
Removed my rust problem on oven and refrigerator and staining on dishwasher from Jet Dry spill. No scratching at all. Doesn't leave an oily film for finger prints either.
Sharon Clarke
-
Plattsburgh, New York
---
November 3, 2011
Q. I had the same problem here as everyone else. Nice new stainless steel fridge and BAM - rust starting.

No I have not gone willy nilly with muriatic acid or the other things spoken of here repeatedly. I just tried to clean it as recommended by the manufacturer instructions.

Well - I can get it clean. I used three things:

Baking Soda
No-Scratch Scot Brite Pads
Elbow grease.

Now I am hoping that using a stainless steel polish and cleaner will prevent the problem from happening again. We shall see.
Tom Boston
-
Norwood, Massachusetts, USA
---
December 7, 2011
Just an FYI from an "Appliance Specialist" These door panels are not 100% steel and can rust if not properly taken care of. NO WATER SHOULD EVER BE USED!! They need to be cleaned ONLY with a DRY & CLEAN rag and stainless polish. If you use anything else you run the risk of rust. The cosmetic warranty on all appliances is 30 days. It does not make them "bad products" you are just not reading your instructions and using common sense. Metal + water = rust. Plain & simple. Also the agents they have answering the phone at the manufacturer's do not have training in specific materials, etc. They are there to set up repairs and notate issues you are having and then to read you the warranty in the back of your manual.
Amy Ledo
-
St Paul, Minnesota, USA
---
December 16, 2011
! Sorry Amy but your comment is extremely off Base saying that Metal + Water = Rust. 90% of all kitchen sinks in the U.S. are made out of?..... You guessed it Stainless Steel. How many of those are rusting after repeated use with soap and water. (Lack of) Quality manufacturing is your answer for most everyone's issues on this forum. To be disrespected by customer service and told it is a cosmetic issue is unacceptable. My 6 month old whirlpool stainless appliances are having the same issues reported here and I can assure you the manual says clean with soapy water and rinse or use a stainless steel cleaner. I have always had stainless steel appliances even in my basement and have never seen rusting like this. Whirlpool customer service management told me it is cosmetic and maybe I could use touch up paint but there is nothing they can do about it. Just an insult to hear that being said,... Paint seriously? Could you imagine buying a new Cadillac and 6 months later the paint started falling off and you were told sorry its cosmetic... no one would accept that and GM or any manufacturer would accept blame because it is on their product.

Bottom line customer service is horrible in this country and no one wants to accept responsibility.

Very upset and sick to my stomach about spending 5K and getting a POS product
Mike Zimmerman
-
Pottstown, Pennsylvania, USA
---
February 13, 2012
! I believe that consumers should be informed of the quality of stainless steel built into products with labels identifying the stainless steel quality ratings and a graph (much like on EPA milage rating on new cars stickers). This information will solve the whole problem and probably lead to the demise of stainless steel appliances when consumers are informed that rust issues may occur in the life of the product.
Joe Lawrence
-
Foley, Alabama
---
February 13, 2012
Hi, Joe. I agree.
However, in these days where the Supreme Court says "corporations have the same rights as people", there are no limits anymore on lobby money and access, so laws don't come from the consumer protection direction anymore; they come only when the large corporations decide they want them and they tell Congress exactly what to write. The way to get the corporations to want a law, and therefore to get Congress to write them, has become to launch class-action suits in sufficient volume that the kind of labeling that you want will protect the corporations from further suits. If enough people with rusting clear-coated "not real" stainless refrigerators would join class action suits for damages for having been misled by the manufacturers, you'd very soon have the labeling laws that you want. You'll only get pennies on the dollar from such suits, with the law firms pocketing most of the settlement, but getting your money back is not the point. The point is to get the laws changed -- so find a class action suit and do it!
Regards,



Ted Mooney, P.E. RET




finishing.com




Pine Beach, New Jersey
---
April 12, 2012
Q. We have purchased 2 x display fridges for our shop. After a period of 4 months, rust has surfaced...is this normal ? The technician who built them came to have a look and he used a scourer to get rid of it...( also scratched the fridges)....I want to know if it is normal to have surface rust ?
Jenny Panops
-
Melbourne, Victoria, Australia
---
April 21, 2012
Q. I too have a fridge problem of Rusting. LG. I am not going to sit back and just let them run over me. All of you must know that all of these brands wherever you purchased, they sold you something that said it was stainless steel, well stainless steel does not rust. PERIOD. Go back to the store you purchased from and tell them they sold you an item that said stainless steel and it is not; they sold you something under false information; they are to take care of your replacement; and they can fight the maker. IT'S FRAUD. If it is not stainless then you did not get what you paid for. Are we talking class action lawsuit?
Doreen Phara
-
Midland, Texas
---
June 19, 2012
A. I personally have not seen HCl rust GOOD (real) stainless steel. It does have drastic effects on many other metals.
I have used diluted HCl in my washing machine to remove lime scale from the heating element and all it does is tarnish or dull the shininess. The Washing machine is ca 20 yr and not one defect.
Try a Miele appliance.
Bill Lapthorn
-
Cincinnati, Ohio, USA
---
June 22, 2012
Q. Hi Ted,

OK, so stainless steel is probably not a good choice of finish these days.

What is ?
Jay Grovier
-
Laredo, Texas USA
---
June 22, 2012
A. Hi Jay.
I don't think high quality stainless steel (type 18-8, type 304, type 316) is a bad choice. What I think is a bad choice is low-grade stainless steel, or plain steel disguised as stainless steel to fool you.
Beauty is in the eye of the beholder, and trends come and go, so I can't say what you should get. My wife and I chose black appliances ... but that's just us, and some readers are probably saying "OMG, black, what's wrong with those people?" :-)
Regards,



Ted Mooney, P.E. RET




finishing.com




Pine Beach, New Jersey
---
July 11, 2012
I purchased a Whirlpool Gold refrigerator in August 2010. Within less than a year I had big spots where it looked like the stainless steel was wearing off. I was using a stainless steel product that the store recommended. The store, after many arguments agreed to replace the bottom freezer panel as it was the worst, but said I would have to pay $400 per door to fix rest of refrigerator. I said there was no way I was paying $400 per door when the refrigerator cost me $1500 about 2 years ago. I called Whirlpool and the customer service agent, while being very rude said I apparently used the wrong product. I said no you sold me a defective refrigerator. She also said that I was out of warranty. I said last time I checked stainless steel does not wear off. I even went back to the store and asked the salesman if it was "real" stainless and he said yes. Today I went to open my doors and my refrigerator has condensation on the inside, the temperature on the door is still 38 degrees, ideal temperature and both of my door on the inside were covered in rust. I was able to use a magic eraser and a baking soda paste to get it off. This should not be happening. My dishwasher, also Whirlpool Gold is only 5 months old. It also has streaks like someone dripped water in weird formations on the front. I am afraid to use anything on either product. I would rather have the fingerprints.
Jerri Gall
-
Stafford, Virginia USA
---
July 20, 2012
! I've noticed that the people in the department stores spray Pledge on the stainless steal appliances. I've never used this product on my stainless. The Dacor appliances, cooktop and double ovens, have been outstanding. The counter depth Kitchen-aid refrigerator has been a different issue. Water leaks down the ice machine. This is either from someone using the ice dispenser, or from the ice building up a fine layer from the back of the ice maker itself which leaks water from the inside out. I've purchased several stainless cleaning products, and I cannot remove some of the streaks on the front doors of the refrigerator.

So far, no rust problems. After cleaning up on a daily bases, I wipe the appliances down with a clean towel or a paper towel. When guests come over, I look at the refrigerator doors to make sure that water isn't leaking out of the tray. Kids love to switch the dispenser from ice to water. I usually tell them up front not to touch the dispenser, and let me do it for them. I've come to the conclusion that it's the price you pay for having stainless.
Melanie Newman
-
Charlotte, North Carolina
---
August 11, 2012
! I just bought a Kenmore "stainless steel" microwave from Sears and installed it two weeks ago. I have not used anything but a wet paper towel (water) to wipe it down, and I immediately used a dry paper towel to dry it. It already has rust spots, and what looks like pitting on the door.

I guess at some point this sort of thing will do some damage to the companies that are selling these inferior products. I'm certainly going to be spreading the word, and I'm going to tell Sears, though I don't think they can really do anything about it unless they gave me REAL stainless steel replacements.
Raleigh Way
- Statesboro, Georgia
---
December 20, 2012
! I purchased a Jenn Air stainless refrigerator; within two days the refrigerator started showing rust spots. They sent a technican who recommended they replace all the doors.

Upon inspecting the new doors they had rust spots, were dented and scratched. The doors were taken back. I asked Jenn Air to remove the refrigerator and they refused. I am taking them to court.

Be aware that the warranty covering the above is only for 30 days.
Joe Kelly
buyer - Sparta, New Jersey
---
February 21, 2013
Q. So I've had multiple stainless appliances of the years. (More than 20! we've moved a lot!!) Both the real thing, i.e., Sub Zero/Thermador/Wolf etc., and apparently, unbenownst to me, the lesser quality stainless (described here as GE, KitchenAid, etc.) and I have never had an issue with any of the finishes. Ever. And although the majority of these appliances were in a constant "conditioned" space, some were installed/in use in outdoor kitchens! That said, I was just getting ready to order all new (lower end) Kitchen Aid stainless appliances for a condo we have. Given my previous experience I wouldn't hesitate, however, this condo is direct oceanfront so now I'm concerned about potential corrosion/rust issues due to the salt!! Oddly enough, I wouldn't even have been aware of the potential rust issues but discovered multiple complaints while reading dishwasher reviews! Who knew? Which brings me to my question, are these lower end appliances going to be more at risk if installed in an oceanfront condo? (FYI, because it is Fla, the A/C runs 99% of the time so it's not as if there'll be constant exposure to the salt air, though there are a few times of year where we can and do open all the windows/doors for the day.)

M. Carr
- Central, Florida, US
---
March 17, 2013
A. Unfortunately this rusting issue is not limited to lower end stainless steel appliances. I spent $17k on top of the line professional viking series and few weeks ago. The rust started to show on the refrigerator doors. No muriatic, bleach were used or even came indoors at any time. They are still under extended warranty. I mentioned the problem to the service guy 2.5 weeks ago and that is the last time I heard from them. What happened to these companies. I will keep posting my progress. No, I will not try anything new to clean or try to get rid of the rust. They have to replace it.
Hany Boutros
- Los Angeles, California
---
July 18, 2013
Q. Ted Mooney - I spent the last hour reading all the letters dating back to 2005. There were several products recommended on how to clean rust from inferior Stainless Steel. Yes I purchased a Whirlpool package and my refrigerator is pitted only a few months into the purchase. Stainless steel is supposed to be durable but the manufacturers have found a cheaper alternative. Here is my question, what product would you personally use to #1 fix the problem and #2 protect the finish to prevent future occurrences? The products mentioned above were aluminium persulphate, Magic Eraser, Noxon 7, De-Solv-It Stainless Steel Reviver, Scratch-B-Gone & Bar Keepers Friend. Looking forward to your recommendations. Thank you.
Amin Khalifa
- Mt. Ephraim, New Jersey, Camden
---
July 2013
A. Hi Amin, sorry for your hardship. I'm only the website moderator, not an expert. But I think you'll want to use the least aggressive product which will do the job. I'd probably try the Noxon 7 or another liquid/paste metal polish and count on it to leave a protective waxy film; but if the scratches/pits were too deep, then Scratch-B-Gone.
Here's the thing: if you asked what tool to use to dig a hole, people would have to ask "how big a hole" because a teaspoon would be fine for seeds in an herb pot, a hand shovel would be right to bury a box with your kid's pet turtle, but a huge steam shovel would be used to excavate a foundation for a skyscraper. See, you could dig the skyscraper foundation with a teaspoon but it would take most of eternity; and perhaps a truly skilled heavy equipment operator could peck those tiny holes in a herb pot with a steam shovel, but odds are you'd needlessly smash your pot.
Here's the tie-in: you don't fill scratches, you grind away the metal around them until the surrounding metal is level with the scratch; and you can't possibly "grind away" all the metal around a deep scratch with a mild wipe or polish; but I wouldn't want to take sandpaper to my appliance if I didn't have to. Good luck.
Regards,



Ted Mooney, P.E. RET




finishing.com




Pine Beach, New Jersey
---
August 13, 2013
Q. I bought a stainless steel Bosch fridge. In less than a year its door started getting some stains all over. I also paid $500 for guarantee.
Sears's technician said "it is not acceptable" and took some pictures but Sears neglects the problem and comments it is a cosmetic issue and Sears cannot do anything about it! I have no idea what to do. Where should I complain?

Nilie Moubedi
- Toronto, Ontario, Canada
---
October 3, 2013
A. Hi there,
Use Barkeepers Friend to clean the rust, and then stainless steel polish.
S Juman ali
- Curepe, Trinidad, West Indies
---
October 24, 2013
Q. I purchased a Whirlpool Stainless Steel French Door Refrigerator on March 19, 2013. I paid $1544 which does include additional 2 year Warranty. Six Months later I have Rust below the Water Dispenser on Left Door. Magnets DO Stick to it but Magnets DO NOT Stick to my Stove or Dishwasher which are also Stainless Steel and made by GE, as some have already said.
Whirlpool says it is Cosmetic and is not covered. I say it is a Defect in the material the door was made out of. Any suggestions on getting door replaced? How can I tell IF it is really Stainless Steel? I will be writing Lowes and Whirlpool. I DO NOT GIVE UP.
Brenda Adams
- Smithville, Georgia, USA
---
November 19, 2013
Q. After reading alot of these comments I have heard almost brand mentioned as having rust problems except Samsung. Has anyone ever had a problem with their stainless steel Samsung appliances rusting?
Shelley Behr
- Zelienople, Pennsylvania, USA
---
January 15, 2014
Q. I have rust issues on the bottom freezer drawer of my Samsung French Door "Stainless" refrigerator. Lowes and Samsung will not do anything to help. I have all stainless appliances much older or the same age as my refrigerator that have not rusted. This is my first experience with "stainless" rusting. I have worked in commercial kitchens with all stainless and have never seen it rust until now. I think the manufacturers are using poor quality stainless and passing it off to the customer and the consumer should not be responsible for their fraud and product defects. Anyone aware of a class action lawsuit? I read of one in California with Krislov Law. I will contact them. If you know of a class action lawsuit or would like to start one, please email me. Something has to change!
Amber Scouller
- Gig Harbor, Washington
---
January 28, 2014
Q. I bought my whirlpool French door fridge in November 2013. I just went to wipe it down and noticed a bunch of tiny rust marks that were found under a magnet. I've had a stainless steel prior to that and it never had one spot on it. Trying to get through to whirlpool now but from what I've read hear it doesn't sound good. The fridge is barely 3 months old what's it going to look like in a year!
K. Pagano
- Silver Creek, New York, USA
---
February 8, 2014
A. I have read many of the complaints listed about the rusting of the stainless steel appliances and noted that a couple of months ago our whirlpool fridge started with small rust spots on the bottom freezer pull out drawer.
I do not know if this would work for everyone but so far it has provided satisfaction to us. I used a top grade car cleaner/wax to remove the rust spots. Following that I applied several coats of car paste wax and although several months have passed, I, so far, do not see any more rust spots and the appliances (Fridge, oven and dishwasher) are without rust. This has worked for us and initially takes a little rubbing to remove the rust but so far has been successful. I continually check for rust spots and thus far none.
Richard Kellogg
- Montebello, California. USA
---
---
June 22, 2014
! ! Hello. I wanted to thank you all for the information above. I have felt that I was alone with the problem of defective "stainless steel appliances". It is obvious that manufacturing has going really bad in America and we as consumers are left to pay a high price for manufacturers' mistakes or greed. I wanted to suggest bringing these issue to our Congress so they will ask the manufacturers or impose better laws that protect the consumers. I also suggest to post pictures of our rusted appliances on Face Book including the names of the appliances and the store that sold them because to me they are by now aware of the fact that they are selling defective merchandise without any regard for the economical hardship that it brings to the consumer. Let's get busy to restore our trust in our ability to buy without the fear of being taken advantage of.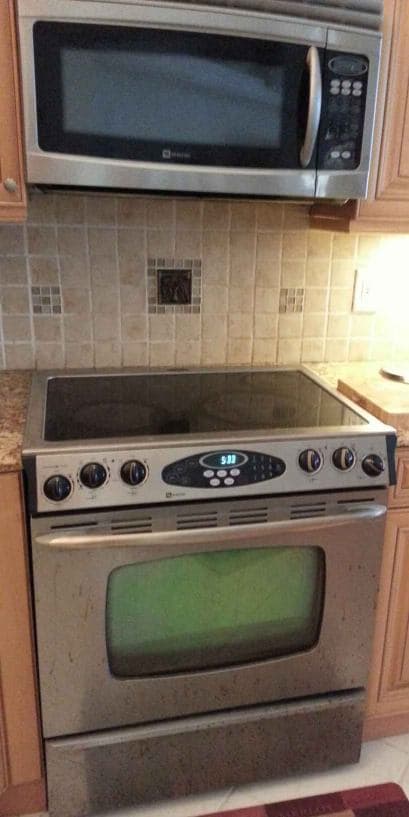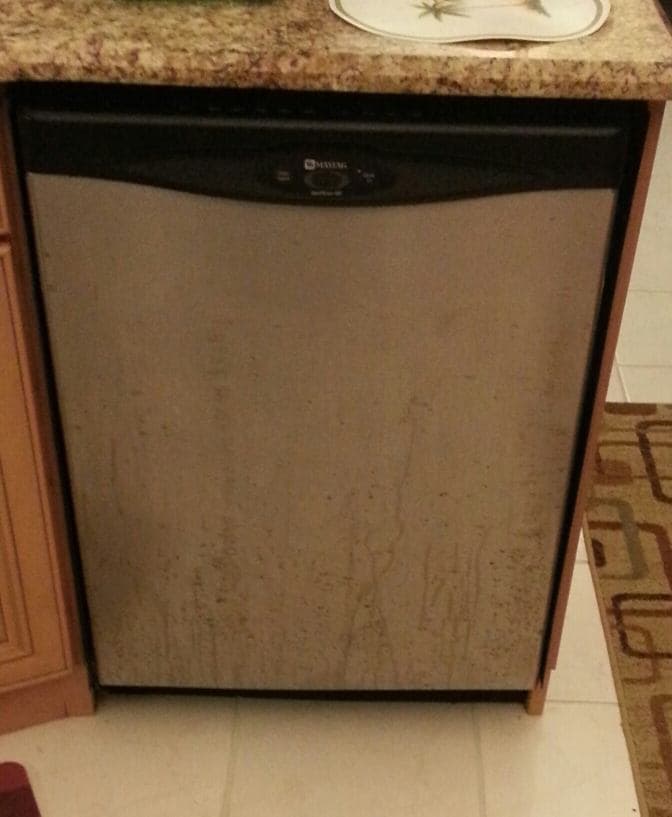 Marina Lange
- Palm Harbor, Florida USA
---
July 2014

Hi Marina. First off, apologies for cropping the pictures such that readers can't see how nicely maintained your kitchen is, but we have practical limits on the size of photos we display here, and I didn't want to reduce them to the point where the rust couldn't be plainly seen, so I had to crop them.
You are clearly right that the quality of stainless steel in kitchen appliances sucks today, but as Forrest Gump said, "maybe it's both", and I wouldn't be honest if I didn't say that I believe that something was used on those appliances that wasn't safe for them (like a bleach-based cleaner), or acid was used in the kitchen or garage, that accelerated this rusting (because it's two appliances probably separated throughout their manufacturing and transport life, and the microwave further from the floor isn't suffering the same way).
I'm sure Congress knows how truly crappy appliances are today, but for some reason, rather than spending their time listening to us whine, they prefer to let the Fortune 500 entertain them on yachts with Caviar and Chivas Regal, and possibly with buxom bikini girls sitting on their laps serving it to them :-)
Regards,



Ted Mooney, P.E. RET




finishing.com




Pine Beach, New Jersey
---
July 8, 2014
A. Sounds more like a job for "Consumer Reports" [link is to product info at Amazon] magazine to me.

As Ted points out, even properly passivated stainless can encounter damaging circumstances. We often strongly suggest to customers of our passivation products to never warranty their stainless products against corrosion as they have no control over the environment that the product is located in. Kitchens tend not to be very corrosive places until a muriatic acid based floor or tile cleaner gets used in the vicinity of the appliances. That being said, most of the time corrosion that sets in within days of installation of a stainless railing or some such is due to iron contamination that occurred in the fabricator's shop and was not dealt with.

Last winter we saw a severe problem in the aftermath of many large stainless fabrications that were transported a long distance on the back of flatbed trucks. They were supposed to have been wrapped and covered for protection from the road salt but most of them were not. I've also heard of large fabrications being transported by cargo ship across the ocean and showing the damage of the marine atmosphere when they arrived.
---
---
July 30, 2014
!! Yes I agree to what I am reading. Our LG Stainless Steel range has the same small rust spots all over . And Home Depot will not cover that under Warrantee -- they said it is cosmetic and that is not covered. What is now in order is a CLASS ACTION SUIT against the companies that put out this GARBAGE AND ARE NOW GOING TO FIND OUT THE POWER OF THE PEOPLE!!
Thomas Herceg
- morganville New Jersey
---
August 23, 2014
Hello My name is Thomas Herceg and I want to add to my previous statement about the LG gas range I spoke about.
That is, in addition to the "stainless steel" rusting and NOT being under warrantee, about 1 month after we started using it I was broiling a steak in the top oven of the double oven range.I opened the oven door to check on doneness and to turn the meat over. This act in doing so apparently MELTED THE KNOBS which control the heat settings of the top burners.
The knobs LOOK EXACTLY LIKE METAL but no they are cheap PLASTIC not even designed to withstand heat. You would think that if a big appliance company was going to put fake "METAL" looking knobs near a HOT broiler oven they would not melt.
I swear this is true.
Thomas Herceg
[returning]
- morganville New Jersey
---
August 9, 2014

Not even 2 months old! RUSTED! With a little help from the b 52s and a bottle of OXI CLEAN DISHWASHER BOOSTER I scrubbed those nasty rust stains OUT! Mind you, take it easy with the scrubby side of the sponge, I applied FULL STRENGTH and did a few areas at a time rubbing in circles and VOILA!~ Had I known NOT to use white vinegar perhaps we would not be having this conversation, would we? anyhow, the oxyclean seems to have done the trick! Am sure it will have to be repeated, but for now, I am looking at my shiny new fridge SANS the rust and it feels pretty satisfying! Good luck to all and hope this helps!
maria concilio
- south orange New Jersey usa
---
August 26, 2014
Hello all:
I have read all the responses above back to 2004. 10 years of consumers complaining about small rust spots on their name brand, very expensive, "stainless steel" appliances. One person commented on Samsung, well hate to burst your bubble, but Samsung is among the scumbags as well. My husband and I waited 15 years to upgrade our kitchen appliances. I was so thrilled to get these state-of-the-art products since I love to cook. Well less than four months after purchasing and nearly 6K, we have tiny rust spots on the Samsung refrigerator and the Samsung slide in range as well as the Lowe's brand range hood. The only product that we bought about 6 months before the others was a Bosch dishwasher (no spots). We also upgraded our cabinets with matching stainless steel handles and drawer knobs-no rust. Even the inexpensive GE Profile microwave has spots on it. I do use bleach in the kitchen but not on the appliances. I had real stainless steel appliances in the early 90's and they never rusted, I just got rid of them because I hated the constant finger prints from everyday use. It's just sickening. One thing I am a stickler about is a bright, clean shiny kitchen. Frustrated American Consumer.
Thanks for letting me chime in.
Tina Duggins
- Fayetteville, North Carolina, USA
---
August 27, 2014
I purchased a Whirlpool stainless steel refrigerator from PC Richard & Son, 1 year and 3 months ago. I wasn't looking for stainless but was talked into it by the salesman. I was never told rust problems could develop. I took the 5 year warranty with PC Richard & Son. Rust appeared on the inside and outside of the doors. I was told it wasn't covered under the warranty because the problem was cosmetic. When I read the Contract it stated physical damage is not covered. To me, physical damage doesn't just happen like rust. Physical damage is a dent caused by an object or person. I feel that customers should be forewarned that stainless steel could develop rust.

I have read all the above posts and I would be interested in joining a class action suit.
Maureen Mason
- Inwood, New York
---
August 28, 2014
I respectfully suggest that the grade of Stainless Steel is much more important in assessing corrosion resistance than the blanket term: "Stainless".
316L Stainless Steel is much more corrosion resistant than the 304 grade designed for heat resistance (for example).
One has to have one's wits about them when attempting to differentiate oranges from lemons.
All Stainlesses ain't Stainless Sol!
Sorry, but hope this helps.
Regards,
Bill Doherty
William Doherty
Trainer - Newcastle, NSW Australia
---

August 2014

Hi William. While that's very true, the issue is that consumers will never have enough facts about the manufacturing history to make any assessment based on material of construction ... which they also will almost never know anyway. Things may be different down under, but here in America class action suits are the only realistic tool for change. Only the lawyers make money, with the consumers getting back pennies on the dollar, but the suits do help dissuade manufacturers away from bad practices.

Regards,




Ted Mooney, P.E. RET




finishing.com




Pine Beach, New Jersey




---

August 29, 2014

Ted,
I respect your opinion and believe that these consumers have been "hoodwinked".
Caveat Emptor is probably inappropriate when consumers believe that their suppliers have their best interests at heart and that suppliers believe their reputations and follow on sales will be built on performance & trust.
We live in a different world unfortunately.
Most of these appliances are manufactured in 3rd world countries whose populace does not share our ethics and values.
Price is the only consideration.
I guess that sooner or later consumers will wake up to the fact that the appliances which used to last 10, 15 or 20 yrs now only last a month past warranty.
Maybe then it will be time to take Manufacturing back home?
Regards,
Bill

William Doherty




Trainer - Newcastle, NSW Australia




---
August 28, 2014

!! Wow I wished I had checked out this blog post before I also purchased a supposedly "Stainless Steel" Samsung refrigerator from Best buy (with extended warranty) last year (7/24/13).

One month to the day that the manufacturers warranty ran out 8/23/14), I notice rust accumulating on panel of the side door. I never use anything caustic in my house and definitely not on my brand new refrigerator! I only use products approved for use on stainless steel. Called Samsung only to be told this is a cosmetic problem, basically my problem. They could fix it if I were willing to pay.

Needless to say I was shocked -- this is obviously a manufacturing defect in the steel. And now from reading all these comments I know I am right. I have plenty of steel products in my home and have NEVER had this problem. So I called Best Buy from where I purchased the product only to be told same thing it is a cosmetic problem and not covered.
This an outrage. Any lawyers out there, it is time for a big time class action law suit. Where are all the environmentalists concerned about these worthless appliances being dumped into landfill? Something must be done. By the way when I asked Samsung ECR agent if they ever had this problem before she said she was not aware -- an obvious lie!

Myrna Calderon




- Bronx, New York USA




---

August 2014

Hi Myrna. Those environmentalists are more concerned about the ounce of phosphate an American shop needs to corrosion-proof a ton of steel than the ton of crappy steel from China :-)

Regards,




Ted Mooney, P.E. RET




finishing.com




Pine Beach, New Jersey