Effects of muriatic acid on galvanized finish
+++++
Q. Will muriatic acid remove galvanized finish from metal? I would like to remove the galvanized finish from some old metal hinges I am trying to texture and make look old. Is there anything I can use to remove the galvanize finish?
Dan B
teacher/artist/blacksmith - El Paso, Texas
---
+++++
A. muriatic acid
is hazardous to work with but should remove the galvanized finish in a flash.



Ted Mooney, P.E. RET




finishing.com




Pine Beach, New Jersey
---
+++++
A. Ted is right. Muriatic acid will remove the zinc just fine. Be advised that there needs to be adequate ventilation....do it outside! The gases produced will include hydrogen, so use some common sense while the hinges are stripping.
David Jaye
Houston, Texas
---
+++++
Q. Thanks Ted and David,
Is there another method, a safer way, which will remove the galvanize finish? Doing blacksmithing, I know I can burn off the finish in my propane forge, with good ventilation. I prefer NOT to do this, as it uses a lot of propane and I have several hinges to work on. Also, the safety issues of burning the finish off concern me, just as they do using the muriatic acid. And how would I dispose of the acid when I'm done.

As a hobbyist, it sounds like there is no safe or easy way for me to to tackle this problem. Am I right?

Thanks for all the info guys.
Dan B
teacher/artist/blacksmith - El Paso, Texas
---
+++++
A. Finishes can, in general, be removed chemically, mechanically, or thermally. In theory the galvanizing can be sanded or blasted off of the hinges, although I don't know if all visible areas will be fully accessible to the sanding or blasting.



Ted Mooney, P.E. RET




finishing.com




Pine Beach, New Jersey
---
+++++
A. You can try soaking them in a solution of 2 tablespoons of Drano
crystals in a gal of warm water. Add the Drano with great caution! Rinse under flowing water for a couple of min each and transfer to a pail of vinegar. White vinegar in gal jugs is not expensive. Let set for an hour. Remove and brush the black smut off with a vegetable brush under flowing water and repeat the vinegar/rinse cycle as many times as required. Bake when thru or it will rust like mad; protective gloves
, apron
and a face shield
are mandatory.
James Watts
- Navarre, Florida
---
---
May 6, 2013
Q. Recently I saw an acid-wash finish done to some zinc-galvanized sheet metal that I would like to reproduce for myself. The resultant patina makes the metal look very much like old lead: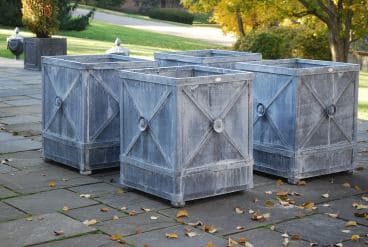 It appears that the strength of the acid wash isn't sufficient to completely remove the galvanized finish, but it is strong enough to seriously etch and affect it. I'm curious what you recommend to experiment with in order to achieve a similar finish? Thanks so much for any advice, Dave
Dave Bockman
- Fairfax, Virginia, USA
---
May 7, 2013
A. Time, Temperature and Concentration are the main things that control the amount of attack.
I would start with a 5% acid 95% water and see how that works.You can always add more acid and you can do it several times.
Remember it needs to be very well rinsed or a very slow attack will continue in some places.
James Watts
- Navarre, Florida