Palladium-alloy white gold versus nickel-alloy white gold
++++
I am in the process of having a wedding ring set custom made by a local jeweler. To have this set made in platinum was out of my budget, so I opted for white gold. I did, however, pay slightly more for palladium alloy instead of a nickel based alloy. I did this to get a higher quality ring that would (hopefully) remain more white in color over time than the cheaper nickel-alloy white gold.
My question: does the palladium alloy indeed yellow less over time? And, are palladium alloy white gold rings also rodium plated? What would be different about the look of the ring if it were not dipped in rhodium?
Thanks,
Elena Richer
teacher - Petaluma, California, USA
---
++++
HAllO Elena Richer,
The more you add alloys more you get white color and if you are looking for bright white color it'll need plating other wise you will not get bright white color. Palladium is good it'll not look yellow after few time but you will have to plate for bright white color.
Example I made one white gold pendant of palladium alloy which was 18k I saw to my customer he told me why it is not looking like imported jewelry I explain him you have to do plating so I did bright white color, after plating he is happy with color same like imported jewelry.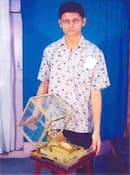 Dipen Pattni
jeweler/goldsmith - Dar-Es-Salaam, Tanzania
---
April 1, 2008
I bought my wedding ring as white gold simply. At that time didn't know much about alloys. My ring now is scratched and a bit yellowish after only 6 months of wearing it. I wanted to polish is to get the shine back but was told that it's been a palladium alloy, not nickel and it would always be a bit yellowish.

I'm confused now as I searched about the alloys and found out that palladium is supposed to be whiter than nickel.

I would really appreciate an advise what to do to get my ring shiny again, or do I have to buy a new one and be more careful?

Thanks!
Alma Mandic
buyer - Vancouver, BC Canada
---
April 6, 2008
Hi, Alma. Dipen PAttni's answer is helpful in that he tells people that you don't get the truly scintillating, brilliant color you see these days without rhodium plating. Please see our Rhodium Plating and White Gold FAQ which, I think, will give you a clear understanding. In short, you need to have the ring rhodium plated periodically.
Regards,



Ted Mooney, P.E. RET




finishing.com




Brick, New Jersey
---
October 13, 2010
Hi guys.

I really want to buy a whitegold engagement ring for my lady, but am afraid it will turn yellow over time and it'll need to be replated with rhodium.

Any advise to have more palladium (14/24th) than yellow gold (10/24th). Do you think this will do the trick?

Tony Fitzwater
Buyer -
Seoul, South Korea