What could be causing the pitting and corroding to chrome fixtures
++++
Q. Please I require some assistance. I work for a Kitchen and bath firm, that employs plumbers, builders, etc... My neighbor came to me for help. The chrome and all metals in their infant son's bathroom has become corroded, pitted, and/or rusted. The home was built 18 months ago. The builder is involved and took the chrome pop up from out of the sink to be tested. Per the builder, the test results state that a cleaning solvent had to have been slowly leaking in the vanity cabinet to have caused this. A bleach product. The pop up along with the faucet are of a brand name that I carry. I contacted the manufacturer who states that a vapor of sorts from bleach would not cause this on the product, and that you could use bleach on their product and it would not cause this. The shut off valves in the sink base, hinges on the cabinet the faucet and pop up outside of the cabinet the mirror above the cabinet, the light bar above and the light fixture in the hall way (side facing the bath only) all show the same signs.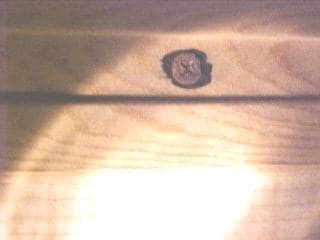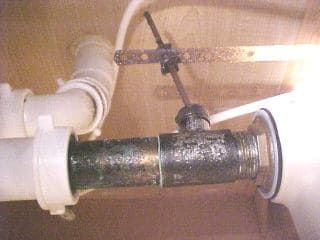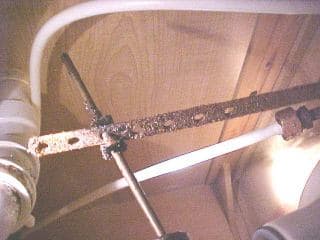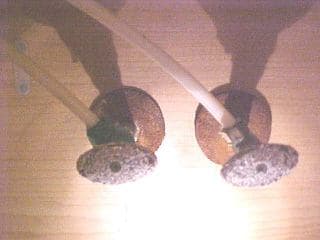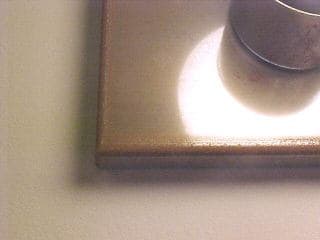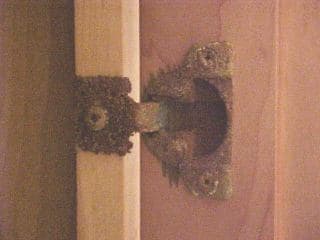 The ironic thing is that the shut off valves to the toilet which is approximately 36" from the vanity cabinet do not show any signs. Humidity is not a factor as it is only used to bathe an infant. There is a heat vent located in the toebase of the cabinet that shows corrosion on the exterior of the vent plate but the interior is clean. Any ideas what could be causing this event to occur? I have pictures of all of this. I have thought perhaps something under the cabinet between floor and cabinet or something sealed in the wall. Please any assistance would be helpful.
Cara Magnuson
builder/designer - White Lake , Michigan, USA
---
++++
A. My experience -- although most of it is just handling letters on this site, rather than hands-on -- is that muriatic acid
is the culprit. Look for the use of this on the floor, or the wall grout, or even on the fixtures if the consumer is uneducated. Perhaps a toilet bowl cleaner with muriatic acid was used under the sink. It's pretty hard to hurt good chrome with most things, but muriatic acid will do it in a snap.



Ted Mooney, P.E. RET




finishing.com




Brick, New Jersey
---
++++
Q. Thank you for the response: We thought of Muriatic acid, But that was not in the area. And wouldn't you have to have used this often to get this effect? That would have meant that someone cleaned the interior of this cabinet with that? The lab report still states a chlorine or bleach slowly leaking. What would a vapor of sorts do over a long period of time? Could this be possible? What I am not sure.
Cara Magnuson
- White Lake, Michigan
---
++++
A. It would only have to be used on the floor or walls once and the fumes would drift through the bathroom destroying the chrome. But if it wasn't there, it wasn't there. If bleach was used a few times I think it could attack the piping this way, although it looks like classic muriatic acid damage to me.



Ted Mooney, P.E. RET




finishing.com




Brick, New Jersey
---
++++
Q. I have another question please, If we are thinking now that perhaps someone used muriatic acid to clean off excess grout, would it change the color of the grout? Perhaps make a white grout yellow?
Cara Magnuson
- White Lake, Michigan, USA
---
++++
A. Sorry, I can't answer that one myself. However, I think it's acid attack ... and it seems more likely to be fumes than exposure to liquid ... which means I'd suspect an acid that fumes ... and muriatic acid does fume ... and muriatic acid is used for grout removal. I can't refute, with speculation, hard evidence to the contrary if it exists; but lacking any real evidence, and knowing that the chrome in that bathroom was exposed to something, muriatic acid fumes just seems far more plausible to me than anything else.



Ted Mooney, P.E. RET




finishing.com




Brick, New Jersey
---
---
++++
Q. Ted,
I am the neighbor that Cara was referring to; the rust issue in a bathroom. Thank you for answering Cara's questions. I have a few more that I hope you could answer. We stopped using this bathroom 6 months ago. My 2-year old son previously used this bathroom to bathe, drink water, brush teeth, etc. Is this harmful/hazardous to small children? Is it an ongoing hazard? What needs to be replaced? Is it just the plumbing or the entire bathroom needs to be gutted? I know these are the 2 extremes, but I would honestly like to know what needs to be done. I appreciate your time with this matter. I've had many sleepless nights, thinking about it.
Thanks for all your help,
Melanie Kelly
- White Lake, Michigan, USA
---
++++
A. The question about the corrosion; some bleaches contain sodium hypochlorite (NaOCl) and this has a horrible smell of chlorine. If you have used a bleach that is based on hypochlorite, it could very well corrode as you have shown. Secondly, using muriatic acid (hydrochloric acid) seems a bit extreme to remove excess grout. Cannot you just scrape it off with a putty knife or "Scotchbrite"? Muriatic acid is a very strong acid and not pleasant to handle; it will readily attack most metals and cause corrosion when either a vapour or liquid. I know commercial cheap industrial hydrochloric acid (in the UK) can contain some iron and this will give it a slight green tinge, so if you put this onto grout, it may be adsorbed and turn the grout a pale green that will ultimately turn brown. However, pure hydrochloric acid should not contain anything that itself will turn grout a different colour.
Trevor Crichton




R&D practical scientist




Chesham, Bucks, UK
---
March 3, 2008
A. Trevor: I've done quite a bit of ceramic, porcelain, and quarry tiling. The grout is spread onto the tiles and sponged around until it settles in the cracks. This leaves grout on the tile that you can remove while it's still damp by almost endless sponging & rinsing and dumping & refilling the wash bucket. That's the only way I've ever done it, but it is more time consuming than you could believe (and once it's dry you can't remove it that way).
Contractors apparently often do just a quick wipe up, and then go back and remove the grout haze from the tile with muriatic acid. If they don't have excellent ventilation and an empty house the fumes are likely to corrode everything.



Ted Mooney, P.E. RET




finishing.com




Brick, New Jersey
---
---
March 1, 2008
Q. My wife is convinced that using household laundry bleach (Clorox brand) cleans rather than damages what appears to be the chrome-plating on the fixtures of our apartment's sinks. She is convinced that the greenish pitting and other discoloration is due to a lack of cleaning. I was clean and polished when we moved in and only became pitted and greenish stained days after we moved in and she 'disinfected and cleaned' using household laundry bleach. She was convinced that some past turbidity of our drinking water and poured much bleach into our downstairs sink drain especially and a black-stained powder-like matter to then settled along the sides of the closed sink also filled with water as I understand it. (I'd give you more details, but my wife is convinced that bleach doesn't act that way toward some or all metals.) H-E-L-P, before her actions result in our having to buy all new plumbling fixtures.
Mike Smith
- Portsmouth, New Hampshire, U.S.A.
---
March 3, 2008
A.
Mike: Bleach is a great disinfectant so I understand why your wife would use it, but it's terribly corrosive to metal for the same reason it kills germs: tremendous oxidation power. If you search the site there are a lot of student science projects where the kids are looking for what liquid will cause the most rust and they are usually amazed at how quickly bleach corrodes metals. A good new nickel-chromium plating may hold up for a while, but once there are some wear spots or pinholes the bleach will be incredibly corrosive.



Ted Mooney, P.E. RET




finishing.com




Brick, New Jersey
---
---
February 6, 2009
Q. I have a question about chlorine in water, I have dezincification resistant ball valves installed in a potable water system with brass chrome plated balls, the ball were nickel-plated before being chromed. The potable water system splits to serves the cold water and hot water systems. The potable water system has a chlorine injection system controlled to maintain 0.5ppm to control bacteria in the system. I was called back to site to investigate why some of the ball valves on the hot water circuit have jammed but not on the cold. On investigation I found that the chrome plating on the balls had started to flake and the nickel-plating underneath was showing signs corrosion.
I have since found out that chlorine in hot water is more aggressive by a factor of 2 for every 10ºc rise in temperature, the supply temperature is 65ºc, but
I can find no documented evidence that chlorine is known to attack chrome or the nickel-plating when used in hot water.
Any Help
By the way what I do know is that if fumes from a chlorine type product are left in as unventilated area, such as the cupboard under a sink, the fumes will attack any material that is plated such as chrome and galvanise.
Peter Rees
Valve Manufacture - London, UK
---
---
March 24, 2012
Q. I have been wondering why my bathroom's (which has only a vent and no window) chrome fixtures were constantly corroding - I use lime away to scrub the chrome clean -I also use bleach to kill the mildew created by this poorly designed bathroom. Am I to understand that if I discontinue to use the bleach, my problem will be solved? What cleaning products will not cause corrosion? Shall I use baking soda or something instead? Thanks for your valuable input!
Linda Tanghe
-
Webster, New York
---
November 15, 2012
A. Chlorine bleach can indeed cause these types of issues.
It can happen even faster if its used in a strong solution.
Very dilute solutions are not as harmful but can over time also cause damage to chrome plating.
Toilet bowl cleaners can also attack chrome fixtures especially acid bowl cleaners commonly used by professional cleaners.
Green oxides, black corrosion and stripping of the chrome plating partially or entirely are the result.
Norm Lester
Home improvement contractor - Orlando, Florida
---
September 12, 2013
A. I routinely use bleach to remove chrome plating from plastic parts. I just immerse the parts and wait a few weeks. The chrome turns into a black sludge in the bottom of the container. Does no one do experiments anymore to investigate a hypothesis? Check out www.sciencedirect.com/science/article/pii/S0261306906002469
Stephen Chapman
- Greensboro, North Carolina, USA