Bright Dipping of Brass
-
Q. Hello everybody! I am currently bright dipping over brass parts. We have a very significant amount of rejects because of spots on the inside of the part (pocket shaped part). It is hard to tell before we bright dip if the part is going to be rejected or not, under microscope we can tell that the part before the bright dip is etched. Were ever we see the etching, is where the spot comes out after the process(bright dip). Changing oil is helping(stampings) has helped reduced the problem but we need to eliminate it completely since this part needs to be seamwelded after the bright dipping. Can some one help share with me the experiences and potentially help me eliminate this problem; we have had this problem for over 9 months now.
Alfredo F. Garza
Brownsville, Texas
---
-
A. Dear Alfredo , I recommend that you contact MacDermid and look at one of their products called Kenvert K35 it is a chemical polish for Brass & Copper, they also have another product in the Kenvert range called K 30 PR which also works well but is Chromic Acid based. Without more technical information about the actual process you are using, it is very hard to give specific advice. Regards, J
John Tenison - Woods
- Victoria Australia
---
-
A. Are you using a leach pot in your rinsing after bright dipping? If not, try rinsing then dipping in a solution of about 2 lbs of caustic soda beads to 10 gallons of water, before a final hot rinse. Good Luck.
Phil Pace
- Tulsa, Oklahoma
---
-
A. I am no expert when it comes to bright dipping of brass. Others could give a better answer if you listed the entire process with concentrations and temperatures. Also a better definition of your part and how you are racking it would help. Gut feeling is that you are not getting complete rinsing between the process tanks and a trace or film of the chemical is settling into a recess or low spot which is adversely reacting with the following chemical. Since the rest of the part is OK, it would be in the processing of the part as in agitation (solution flow) or rinsing. Stressed metal from forming could possibly be the problem. but I would expect the opposite side of the bad spot to be bad also if it were the problem. It could be a rough spot from the die that is holding the chemical also. No simple answer, a process of elimination. I would try one part at a time with different racking combinations to see if you could isolate the problem.
---
-
A. Here is a quick and efficient "old-time" bright dip for copper and brass. Make a mix of 85% by volume Phosphoric Acid, and 15% by volume Nitric Acid. Mix the two thoroughly. Use at room temp. When you put a part into it, as soon as the part becomes covered with fine bubbles - it is done! Although I would NEVER EVER recommend it, I have gotten my fingers in this solution and have had time to rinse it off before any burning was ever felt. This can make copper, "new penny bright." Good luck, and remember to treat the chemicals properly and with respect. Used carelessly they can injure, and cause safety issues.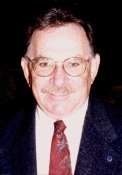 Ed Budman
- Pennsylvania
---
-
A. The bright dipping of brass really depends on the alloy. Leaded brass in the phosphoric/nitric mixture will pit.
I used to find that what the phosphoric/nitric mixture worked best ... electroclean/water rinse ... dry. In some cases water on the surface will add to a etched surface. I would submerge the part in the bright dip solution ( room temp) until fully covered then hold the part in the air until it was foaming from the chemicals (good ventilation required regardless of method) then follow with a complete water rinse until all visible signs of bright dip are gone. might be a minute. Pull this out too soon and you will etch the surface unevenly as the phosphoric's viscosity will retain on the surface of the part. A 70 °F and warmer rinse would really helped.
Electrocleaning is a better alternative if it's just for plating purposes.
Todd huehn
- coon rapids, Minnesota
---
April 8, 2010
A. For good shine on blackened brass material, try 58% of nitric acid with some common salt.
poonam chari
- Maharastra India
---
---
-
Q. Hello again,
We have been asked to brighten Brass Key pairs and provide an anti-tarnish which will last for at least one or two years after our customer has manufactured and shipped the final lock assembly from India to USA.
We are presently Barrel Nickel plating and then wiring and gold flashing the brass keys. We have tried an electropolish followed by lacquering in an acrylic lacquer which does not work well on account of the key being supplied to us in pairs of two which causes problems like shadowing in electropolishing. Is there nothing else we can do but continue with Nickel/ Gold?
We are also not happy using conventional Nitric Sulphuric bright dips on account of our wish to retain our lungs. In such a situation can anyone help us with a stable process to mass bright dip these keys and effectively anti-tarnish also.
For people outside India who are kind enough to assist; may we request for non proprietary solutions as bringing proprietary chemicals from outside India is next to impossible.
Many thanks in advance for your time and assistance.
Regards,
Khozema Vahanwala




Saify Ind





Bangalore, Karnataka, India
---
-
A. Hello Khozema....I agree that the nitric acid based bright dips are rather nasty to work with as well as treat. A good alternative is 25% acetic acid, 25% nitric acid and 50% phosphoric acid. Warm it to 130-150 °F. This doesn't produce the deadly orange cloud we all know and love. It is also harder to over-etch the surface. The parts should be dry to avoid etching.
Jim Conner
- Salisbury, Maryland
---
-

Dear Mr Jim Conner,
Many thanks for your special recipe, It really works well!
However we found that in normal room temperature of about 25 °C it works fine, But when we heat to about 50 °C we get reddish patches, so were content using it cold. Any advice as to how long the bright dipping should take?
Thanks again and best wishes in advance for Christmas.
regards
Khozema Vahanwala


Saify Ind


Bangalore, Karnataka, India
---
.
A. An alternative is to use 8 to 16 oz/gal chromic acid with 15 to 25% by volume sulfuric acid. Also proprietary materials are available.
Gene Packman
process supplier - Great Neck, New York
---
---
++++
Q. We manufacture free machining brass parts (360FC Brass), which we need to deburr. Because there are critical valve seat surfaces in these parts, we are considering thermal deburring.
The parts come out satisfactory, except for dark oxides on the surfaces. Since this part is used by a very particular customer for oxygen, we need to remove the oxidation from the thermal deburr operation. Is there a simple bright dip solution that will clean this oxidation without deep etching or pitting, and leaves no organic residue on the surface?
I have tried 20% phosphoric acid at room temperature and it seemed to do a great job after about a 1 minute dip. Is this a practical solution over time? What happens to the solution and what means should I employ to neutralize and dispose of the solution if / when it no longer is effective?
Jeff Gotthelf
Engineering - St. George, South Carolina, USA
---
++++
A. Jeff
The Phosphoric acid will need to be discharged per EPA regulations and the heavy metal in chemical form too.
Alternatively go for a Proprietary Peroxide based bright dip which leaves behind a very cosmetically appealing finish while creating a metallic powdery sludge which is metal, not chemical. Hence disposal is very simple, sell the sludge to a recycler. The chemical breaks down into slightly acidic water due to tiny sulfuric acid adds for pH control.
Regards,
Asif Nurie




- New Delhi, India
---
++++
A. There are a number of commercially available deoxidizers for copper and their usage depends on the final degree of brightness required. The maximum brightness can be obtained by using a peroxide based chemical polish which provides excellent luster and has good shelf life against further oxidation. This solution, when spent, is very easy to waste treat and remove copper metal.
Other non-peroxide processes will remove darken oxides but will not further brighten the surface. These processes generally require an anti-tarnish post dip to prevent further oxidation.
Regards,
Dayton Dailey
- Lake Zurich, Illinois, USA
---
++++
Q. I am evaluating Peroxide/Sulfuric as a bright dip for brass and need an inhibitor to slow down the dip. What are good candidates?
Frank Whitmore
Sr. Chemist - Lonoke, Arkansas, USA
---
---
++++++
Q. We are currently using a Nitric Acid Brite Dip tank process to post clean copper, brass and copper/brass silver-brazed parts. Our plant manager would like to eliminate this process and replace with a non-toxic version, and to prevent excessive metal removal. Is there anything out there that will accomplish the same without very caustic chemicals? We do some acid brite dipping prior to brazing for cleaning purposes.
Matt Dingeldein
Welding Equipment Manufacturer - Beecher, Illinois, USA
---
++++++
A. It's hard to say whether it would work for your mix of parts, Matt, but sulfuric acid plus hydrogen peroxide is substantially less toxic than nitric acid.



Ted Mooney, P.E. RET




finishing.com




Brick, New Jersey
---
++++++
A. Instead of sulphuric or nitric acid you can use (maybe-you must try) acetic acid/hydrogen peroxide solution (3 parts peroxide/3%/1 part vinegar/5%/). Hope it helps and good luck!
According to some other sources even hot 10-25% citric acid can be used. Hope it helps and good luck!
Goran Budija
- Zagreb, Croatia
---
---
June 9, 2012
Q. Dear sir,

We are doing bright dip process on Brass and copper parts at sub contractor.

We observed black marks on those parts. Can you please give the detailed process of bright dip on Copper and brass.
Karthik Ganesh
-
Chennai, Tamilnadu, India
---
---
June 20, 2012
Q. Hello everyone, I am looking for some information on Bright dip. We are currently induction brazing a series of copper tubes into a brass forging and the copper is oxidizing and turning black we were able to bright dip the parts and remove the oxidation.
Now I am looking for technical data to get the process approved with our customer.
What exactly is bright dip?
Exact Chemicals used?
Exact Process?
Exact chemical reaction with the part- intended Exact chemical reaction with the part - unintended reaction with copper, Brass Silver solder?
Would anyone know where I could find a resource to answer any or all of these question?
Thanks Steve
Steve Thorud
-
Bloomington, Minnesota
---
June 20, 2012
A. Hi Steve. My understanding is that a bright dip for brass requires an oxidizing acid because copper does not readily dissolve in mineral acids. There are a wide range of different bright dips available, so unfortunately the readers are not going to know what you used. One of the more popular approaches is a mix of sulphuric acid and hydrogen peroxide, where the peroxide is the oxidizing agent, and this is available as a proprietary with stabilizers added which slow the spontaneous decomposition of the peroxide. But there are other bright dips based on nitric acid. And there are some discolorations that seem resistant to any bright dip except chromic acid. Better are proprietary mixes rather than home brews, and if you can find out what was used, your customer may already be familiar with it. Good luck.
Regards,



Ted Mooney, P.E. RET




finishing.com




Brick, New Jersey
---
September 12, 2012
Q. I was wondering if staining/ etching is the only possible detrimental effect of bright dipping brass; are there any known chemical / physical changes that could be encountered?
Ruth Zelaya
- Clifton, New Jersey, USA
---
September 12, 2012
A. Hi Ruth.
I'm not quite sure if I'm following properly, but bright dipping is only a surface treatment, and it will have no effect on the bulk of the metal. If done improperly it could somewhat etch or pit the substrate though.
Regards,



Ted Mooney, P.E. RET




finishing.com




Brick, New Jersey