Cleaning gold that has been burned
+++
My friend asked me how to clean a Gold ring that has been burned. The ring was hanging over a burning candle and has become tarnished. I understand that it was probably the other metals in the ring that caused the discoloration. Jewelry cleaner did not remove the tarnish. Do you have any suggestions on how to get her ring back to normal?
Valerie McCullough
student - Balmertown, Ontario, Canada
---
+++
Very short immersion in pure nitric acid maybe can help(1-5 sec.)!
Goran Budija
- Zagreb, Croatia
---
++++
Hello,
Can you tell me how he tried to clean that ring? That jewelry should have to repolish that ring by buffing it will come out New brand.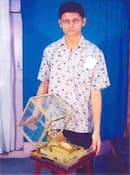 Dipen Pattni
jeweler/goldsmith - Dar-Es-Salaam, Tanzania
---
+++++++
Hello burn victim - I was on this site because of my own misfortune. I was cleaning my rings by boiling with just a little dish soap and water. The water boiled out of the pan while I was distracted and I found my white gold diamond earrings, white gold diamond heart shaped necklace, yellow gold and diamond ring, and my white gold and diamond hoop earrings, burned, black, and lifeless at the bottom of the sauce pan. After almost fainting, I came looking for help and found this page. Then I remembered a friend of mine had a trick where he took the oldest darkest penny I could find in my wallet. He told me he could make it looked brand new. He took Tapatio sauce
sauce and poured it on the penny. He left an outer portion of the penny without sauce for comparison. Five minutes later he rubbed the sauce off with a rag and it was restored to it's copper pink finish.
I didn't have Tapatio but I did have the Valentina sauce
sauce, and prayed that it might take some of the black off. I let my jewelry soak in the sauce in a plastic cup for five minutes and it started to work. I put it back in for ten minutes the next time and it has almost come completely off.
At least they are wearable. I think they have a high acidity and work well. Get out and old penny and see for yourself....
Good luck!
Chris McMillen
- Richardson, Texas
---
September 12, 2009
Chris, I did the same thing. I was cleaning my wedding band by boiling it in water. It was a lot of water in the pan. I went upstairs to eat. Kids came home from hanging out with Grandma and forgot about my ring. When I finally went to the kitchen my ring (and my pan) looked like it had been in a fire. I almost cried. So I am going to get the sauce that you mentioned and pray that it works. Thanks.
Burn Victim #2 [name withheld at request]
- Atlanta, Georgia