The finishing.com Hotline -- Serious Education ... plus the most fun you can have in metal finishing
Mirror finish on cast titanium?
+++
In my free time I like to produce titanium jewelry(generally grade 23, 6AL/4V ELI), and have recently been looking into titanium cast components to speed up my creation times... The problem I am having is discerning a finishing method for working with cast titanium. Right now finishing is primarily done with sanding/polishing/buffing... But if I am to switch over to a more complex cast titanium part, I know I will encounter a much harder casting surface outer layer and surface areas that cannot be reached with conventional hand finishing means... So, my question would be, before I spend $600+ US on a casting run, what are my options for producing a smooth surface with a mirror finish in titanium? Keeping in mind that this is hobbyist work, done at home, and although I don't mind working with chemicals, I would like to avoid anything particularly life threatening...

Jason Klym




jewelry/medical - Winnipeg, Manitoba, Canada




---
+++
Not sure if it would work for your type of designs but I use a vibratory tumbler on our jewelry (titanium, stainless steel, brass, aluminum etc etc) and it works very well. Mirror polishes are easy and much less time consuming. You will need a "jewelry" type setup not a machine shop setup. Most machine shops just tumble to deburr. Jewelry setups work down to a rouge. The abrasive media lasts years..our setup cost about $500 altogether and other then buying fresh rouge its all lasted for 7+ years, and we tumble on average 2,000 ear rings at a time.
Jason Aube
- Flint, Michigan
---
++++
If you wish to trypolishing-ref a book. Please read MSDS first 6%HFBY WEIGHT+6%water+88%ethelenglykol. temp room or a round 40C 8-11A/sq dm but not less than5.4A/sq dm. good luck an TAKE CARE WITH HYDROfluoric ACID .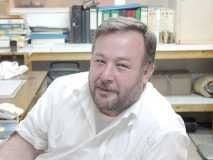 Khair Shishani
aircraft maintenance - Al Ain, Abu Dhabi, United Arab Emirates