Anodizing of stainless steel
+++
Q. I keep seeing requests for anodizing stainless steel. Is there a process for doing that?
I have been in the business for many years and have never heard of it.
Jim H
job shop - Lynchburg, Virginia
---
+++
A. Yes, it can be done. It does not have the usefulness that aluminum anodizing has. Two vendors at this site have processes for it. Prismatic and one other that I can not remember. There are even pictures from the second vendor in a letter about half a year ago if you use the search engine. It uses a high voltage and you have Henry Ford's choice of color as "any color that you want , as long as it is black".
James Watts
- Navarre, Florida
Ed. note: the other vendor is Russamer Lab, and Anna responds below.
---
(2003)
A. Yes, we can anodize stainless steel to different colors, including black.
However in comparison to titanium anodizing, stainless steel colors are not so durable and require some type of protective coating to become durable.
---
+++++++
Q. I saw Mr. James Watts' response regarding the color options for Anodizing SS as being only "BLACK". Is this true? and if so why just black.
Hossein Aghamehdi
Engineering Mgr. - York, Pennsylvania
---
+++++++
A. It may have once been true, but both Prismatic and Russamer say they can offer it in colors. But the term "anodizing", while literally accurate, can be a little misleading because the process is very different from aluminum anodizing, which is dyeable and thus offers a wide range of colors. The color of anodized stainless steel is restricted to the diffraction coloration that is generated by the electrochemistry of the process.



Ted Mooney, P.E. RET




finishing.com




Brick, New Jersey
---
December 10, 2008
You can also treat stainless steel with IVD - ion vapour deposition - to give an aluminium coating. You can then anodise it in the same way as aluminium.
Andrew Pridmore
- Gillingham, Kent, UK
---
September 13, 2010
Q. In the house we bought 2 years ago, I have a 23 year old Thermador Cook n Vent cooktop with 4 gas burners and an electric griddle. It is stainless steel - 18 gauge, # 4 brush, grade 304 (Thermador informs me). It works great, but I have never been a fan of how stainless steel looks in a kitchen. I would like it to either take on the finish appearance of brass or nickel or an enamel-like appearance of white or black. Perhaps other colors. Perhaps other types of finishes I haven't thought of. Is this feasible? Is doing it, if it can be done, affordable? If yes to these questions, is there a company who could do this for me in New England?

Thank you so much for your attention to these questions. I am fascinated by this web site!. Barbara Williams
Barbara Williams
-
Concord, Massachusetts
---
September 13, 2010
A. Hi, Barbara

Brass plating is probably not practical for a cooktop as brass tarnishes very quickly even at room temperature if not protected with a lacquer, and lacquer/clearcoats may not well suit a cooktop. Nickel plating is possible, but getting good adhesion onto stainless steel is somewhat problematical, so considering the temperatures, you might get flaking. Porcelain enameling is probably what you want; this more closely resembles melting glass onto the surface than painting it -- very high temperatures are involved. Sorry, I don't know offhand who offers porcelain enameling, but hopefully it was a little help to clarify what finish you might be looking for. Good luck.

Regards,



Ted Mooney, P.E. RET




finishing.com




Brick, New Jersey
---
September 14, 2010

Ted - Thanks very much for your response. Will research it from your advice. If I make progress and think what I learn could be helpful, will pass it along to you! Barbara
Barbara Williams
-
Concord, Massachusetts
---
---
December 1, 2011
Q. Seeking care and cleaning/maintenance instructions for anodized stainless steel. Can any of the experienced industry contributors offer some simple care, chemicals to avoid?

Specific application: Pushbutton switch, switch has 200k life cycles expected...but will the anodized finish meet the life cycles with normal human touch or will it fade, chip or wear long before the electro-mechanical properties of the switch?
Joan Lanoux
-
Minneapolis, Minnesota, USA
---
December 6, 2011
Q. Can 316 Stainless Steel be anodized a Gold color? Does it create an Oxide layer like when anodizing titanium? If so, do you know what process is involved, for example, does it need to be acid treated first, etc?
Joell Cruz
Medical Device Technologist -
Palm Beach Gardens, Florida
---
December 16, 2011
A. Yes, stainless steel can be anodized in various colors, including gold
---
December 22, 2011
Q. Thank you for your reply. Does the anodizing of stainless steel create an oxide layer like with anodizing titanium? This is the biggest question I am trying to find an answer to.

Thank you

Joell Cruz
-
Palm Beach Gardens, Florida
---
January 10, 2012
I want to emphasize that a long time ago (2003) I posted that stainless anodizing was not durable in comparison to titanium anodizing (see my first posting in this discussion). It is not true anymore - we have developed stainless coating that provide the same (or similar) range of colors as titanium anodizing (plus black), and the colors are perfectly durable. We have installed this technological process at a surgical instruments repair company.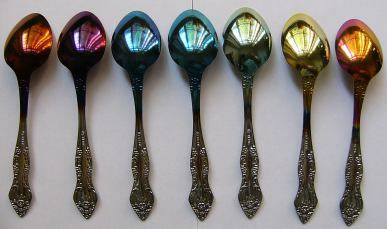 ---
August 16, 2012
Q. I want to know if the SS trim from a classic car can be colored even if the type of SS is not known.
Thanks.
Mark Brizzi
customs - Parish, New York USA
---
August 16, 2012
Hi Mark. There are probably other ways to color trim than anodizing (chrome-look paint, for example), but you might contact Prismatic and Russamer to see what they say. There are a lot of threads here, and it's unlikely that they will stumble back onto this one soon :-)
Regards,



Ted Mooney, P.E. RET




finishing.com




Brick, New Jersey