Barber Chair Restoration Solutions

Bobby Farmer's chair
(see May 23, 2009)


Tim Leslie's chair
(see June 16, 2009)


Dan Steven's's chair
(see July 1, 2011)


Bascoul Charles' chair
(see July 30, 2012)


Maureen Sless' chair
(see Sept. 11, 2012)

+++

Q. Does anyone know the best way to refinish the metal parts of an antique barber chair? Also, if plating is the solution what would be the appropriate finish?

Chuck Holman




hobbyist - Walnut Creek, California




---
+++

A. I replated parts of barber chairs at my shop in Berkeley. If its an real old it's Nickel plated, If late 40's and on, Chrome. If the plating isn't completely shot you can use a chrome rouge.

Jon Diamond
silver plater
Berkeley, California

---

++++++

Q. I am restoring a barber chair and have had all the metal chrome parts replated. However, now some of the parts don't fit; the new plating is too thick. What's the best way to remove some of the plating. File, wet sandpaper, or ?

Thanks.

Brian Lamb




- Pullman, Washington





---

A. I think you'll find the chrome plating to be harder than a file, Brian, in which case a file won't work, of course. Sandpaper [linked by editor to product info at Rockler] on a power tool will probably work. But the chrome plating is millionths of an inch thick, the nickel plating under it is what is thousandths of an inch thick -- so you will lose corrosion resistance and there will be an appearance difference. Hopefully the sanded areas are not visible. Good luck.




Ted Mooney, P.E. RET




finishing.com




Brick, New Jersey

Barber Chairs on ebay
---
March 22, 2008
Q. I have a Koken Barber Chair form the 1890s to 1930s. It's in many pieces and I have full intent to restore it in time. I need some metal parts for the chair and I am having difficulty locating them (can't understand that, it's only around a hundred years old!) I do have some pictures of my dismantled chair and would appreciate any help anyone out there can provide. What I'm looking for are the metal parts from the wooden leg rest down. I don't need all the parts but I am willing to buy the complete bottom part of the chair if necessary.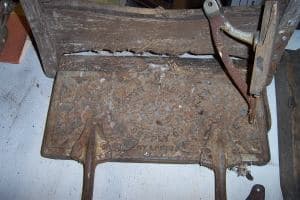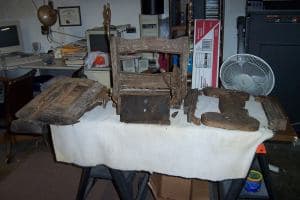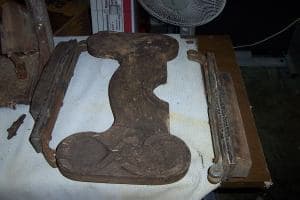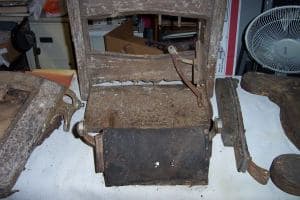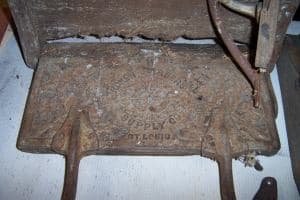 I desperately need help with this project. Any help or references you can provide will be very much appreciated.
Norman Stephenson
Norman's Barber Shop - Raytown, Missouri
---
June 5, 2009
A. Norman Stephenson:

There is a seller on ebay that has many of the parts I see in your photo... jedijason1978
This guy helped me a ton with my barber chair.. I'm the guy with the chair right below yours on this site..
Bobby Farmer
machinist - Grand Coulee, Washington
---
May 23, 2009
Q. I have been working on this barber chair for two years, plating, leather upholstery, wood carving and sanding... it's come a long way... from what I have seen of other chairs, my chair is early 1900's no metal on the arms, all oak.. I need the parts that will lock it in the recline position, the rod that goes to the leg bracket, and the bracket as well...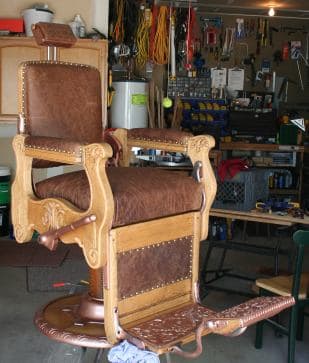 Willing to pay any reasonable asking price plus a large token of my appreciation..! Thanks for reading..!
Bobby Farmer
machinist - Grand Coulee, Washington
----
Ed. note: General hints about obtaining parts are welcome, but No offers please! This is a technical site about metal finishing, not a free ebay, and we'd be swamped overnight if we tried to be. Thanks.
---
June 16, 2009

Q. I have purchased an old Belmont barber chair. I want to restore it; it reclines but does not swivel or raise lower. I can't find parts or manuals. It appears to be a Koken classic design.

THANKS!

Tim Leslie




Hobbyist - Menlo Park, California




---
July 4, 2009
A. Try kicking the handle forward. Sometimes they stick when they have been pulled back too hard. I use these chairs on a regular basis. In fact one of mine I got at a discount because the arm was froze in position and I knew all I had to do is kick it forward. Unless it's just moving forward and backward and still not working.

All the way forward and down holding it there lets it down. pushing the lever forward and down and up raises it, and just halfway down/forward lets it swivel. to lock in position lightly pull back to the upright position.

Hope that works
William Farrell Stephens II
- Saint Johns, Florida
---
May 20, 2010
A. For the guy with the chair that does not go up or down, check the oil level and lubricate all of the parts in the handle.
Steve Hicks
- Ludlow, Massachusetts
---
June 28, 2010
Q. My name is George Ranallo
My son has a 1960 Pairda chair that he took apart to have the parts chromed. After four years he is trying to assemble it. Does not remember how all the parts go back together. Have tried to find a repair booklet but no luck. Would appreciate any help.
George Ranallo
- Overland Park, Kansas
---
Other threads about barber chairs include letters 7610, 26677, 40093.
---
September 15, 2010
Q. I would like to know where or how to fix my hydraulics on my Koken barber chair. I want to make sure it works right before I put it back together
charles jackson
hobbyist -
kearney, Missouri usa
---
March 12, 2011

Q. Hello, my name is Teresa. I have just purchased a Theo Koch's chair, not sure of age. I have taken all the leather pieces off and cleaned the porcelain. The metal parts need help, someone mentioned chrome rouge. Please tell me where I can purchase this product and should I use some steel wool first to clean it up a little more? Thanks for your help, I live in Toms River NJ if anyone is near buy that works on these chairs. Teresa Zaza
PS I also think some parts are missing for chair to recline, when I took off leather foot rest it did recline, but something seems off.

Teresa Zaza




hairstylist/salon owner working barber chair -

Toms River, New Jersey USA



---
July 1, 2011
Q. Paidar chair but original numbers plate missing from seat. Not sure of year and need same before I head in to full restoration. All mechanicals work well but appearance is rough. Any help would be greatly appreciated.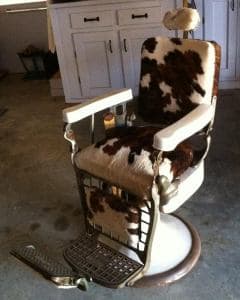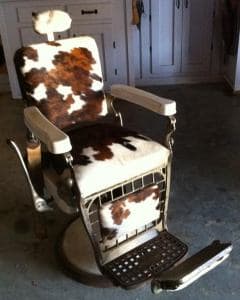 Dan Stevens
hobbyist -
Magnolia, Texas, USA
---
September 13, 2011
Q. I have a 1970 Koken barber chair with electric hydraulics and am looking for "up" and "down" pedals. Mine broke and need new ones!
Robyn Autry
cosmetologist -
Barnsdall, Oklahoma, USA
----
Ed. note: This is a metal finishing site where advice for Robyn's situation is welcome, but we are not set up to be a Craig's List, can't handle the traffic, and can't put people into private contact with each other. Sorry.
---
November 9, 2011

Q. I have a Koken terminal barber chair and I need the hydraulic pump handle and the bracket that goes from the ankle plate to the tension rod. Please tell me where to find these parts. Also what does the serial #A222400 mean? I greatly appreciate it.

Eric Schimmel




chair restorer -

Valley Stream, New York, USA




---

January 7, 2012

Q. I have a wooden Koch barber chair #c16907. Any way to tell the age or other info?

Richard Fabrizio




-

Warwick, Rhode Island, USA





---

January 17, 2012

Q. Hello I have a Paidar chair. The hydraulic pump seal appears to be bad. When I try the pump, the chair will lift about an inch, I hear the pressure vent off and the chair drops back down. I was wondering if anyone knows how much trouble it is to repair the seal and where do you buy the parts? Also, how do you check the oil level in the chair and where is the oil added? What type of fluid do you use in these chairs?

Thanks for any help you can give me.

Brian (Michigan)

Brian Miska




-

Bay City, Michigan




---

January 26, 2012

Q. Hello, I have a chair thats brake is either malfunctioning or missing. Can anyone help explain how the brake functions and were its locality is? Must appreciated as I am needing this chair in my functioning antique shop.
Thank you.
Ty

Tyler Atkinson




Barber -

Ridgefield




Barber Chair Parts on ebay
---
February 2, 2012
Q. I have a Barber Chair that has the battening in the seat completely shot. The battening is made of material that I can't locate. It looks like a straw based material. Does anyone have any ideas what I can use or where to get matching material.
Robin Hart
-
Susanville, California, USA
---
April 18, 2012
Q. I have a 1935 Barber chair. I am trying to either bring it up to a high polish or chrome it. I would like to know how I do it?
Michael Williams
-
Atlanta, ga
---
April 19, 2012
A. Hi Michael.
The items in questions are almost surely steel or cast iron and cannot be polished to high reflectivity. There are plating shops, probably right in your area, which can nickel-chrome plate these items for you. Good luck.
Regards,



Ted Mooney, P.E. RET




finishing.com




Brick, New Jersey
---
April 23, 2012
Q. I like to restore a lot of things and I recently picked up a 1940s barber chair. This will be the first barber chair I have ever restored and being in college I am on a budget. Around how much does it cost to re-chrome plate the chair?
Connor Kilmer
-
Auburn, New York, USA
---
May 1, 2012
Q. I have a Koken barber chair and need to find the piece that helps lock the headrest. I also need the piece that the tension rod fits into as the piece I have has one of the bracket arms broken. I really don't want to have it fabricated unless I must. How do you date a Koken? Mine is round with partial porcelain arms.
julie shoraga
-
normal, Illinois USA
---
May 1, 2012
A. Go to ebay and find the most beat up barber chair that looks like yours and ask them if they would sell you the parts that you are looking for.
Connor Kilmer
-
Auburn, New York, USA
---
May 1, 2012
Q. How much would it cost to nickel plate an antique barber chair?
Connor Kilmer
-
Auburn, New York, USA
---
May 2012
A. Hi Connor.
It would depend mostly on how much prep work is required and how big an area must be plated, but probably a couple hundred to several hundred dollars.
Regards,



Ted Mooney, P.E. RET




finishing.com




Brick, New Jersey
---
July 12, 2012

Q. I have a Koken barber chair late 1890's oak with a claw nickel plated base. I have seen several chairs like this one but they have the wooden claw base, I have yet to see a complete cast nickel plated base. Chair is in excellent condition but I can't find one to compare due to the cast nickel claw base. Have you ever seen one like that?

Ruben R Luevano




ruben luevano -

El Paso, Texas




---
July 25, 2012
Q. What does my missing footrest even look like? I've done tons of research online and I can't even find the same type of Paidar chair I have.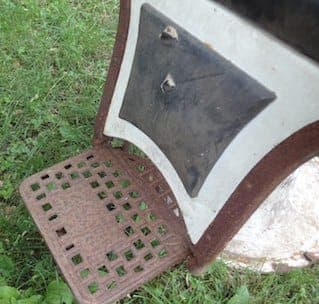 Connor Kilmer
-
Auburn, New York, USA
---
July 30, 2012
Q. Hello

I brought this chair in France, at a flee market, it's a "Triumph" (maybe made by Koken in St Louis). Is there any expert to date it (my feeling is 1920 to early 1930), and to confirm me that's a Koken made chair?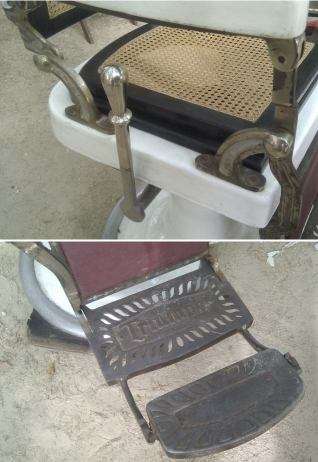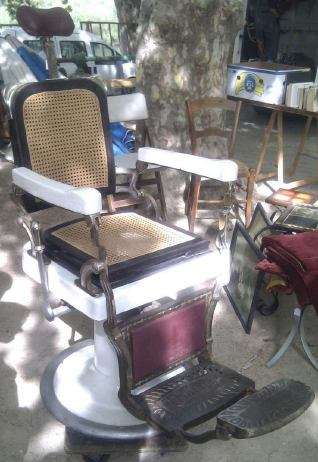 Regards folks !
Bascoul Charles
- Montauban France
---
August 10, 2012
Q. Hi all I am looking for a chrome ring for an old Belmont barbers chair pedestal.
Allen Yee
- Honolulu, Hawaii
---
August 6, 2012
Q. I have an old barber chair that the stop handle does not work on it (right hand chair in photo).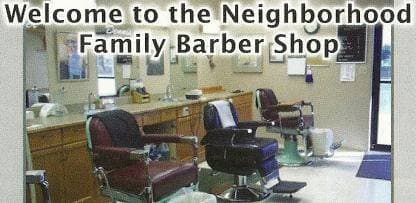 Does anyone know if this is a job I can do or do I need a professional to do? These chairs are extremely heavy and takes 2 big guys to move them. Any suggestions will be helpful or if you know anyone in my area of Arizona that can restore that part please e-mail me.
Thanks
Dick White
barber shop - Sun Lakes, Arizona
---
August 28, 2012
Q. What is the best way to clean and polish the porcelain on my 1939 Koch chair? It looks clean but not like a restoration. Thanks
bill groth
- chicago,Illinois usa
---
September 11, 2012
Q. I have a 30's or 40's Koken chair that I would like info on. The hydraulics are not working, could just be in need of oil, foot rest is missing and the base is missing enamel and has a crack running through it. Otherwise it is in great condition, all porcelain enamel is in good shape and the head rest is included. Chair still swivels.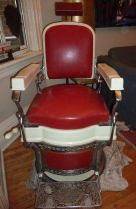 Is it possible to have the base welded and re-enamelled?
Maureen Sless
- Toronto Ontario Canada
---
February 10, 2013
Q. I have just purchased a barber chair for restoration and the casting is cracked. How can this be brazed or welded or whatever it may be?
Kevin Orr
- Port Angeles, Washington, USA
---
March 11, 2013
Q. Hi,
Am restoring an early Theo. Koch chair. All of the original nickel plating is shot, and the estimates for replating are astronomical. Has anyone had acceptable results with any type of paint?
Ron Bedard
- Seabrook, New Hampshire
---
April 14, 2013
Q. Hi,

I am a pedal car collector. I have come across a pedal car that was used as a barber chair seat. I know the manufacturer of the pedal car but it also had metal tags on it E Paider. I did some research and found that he made barber chairs. So far so good!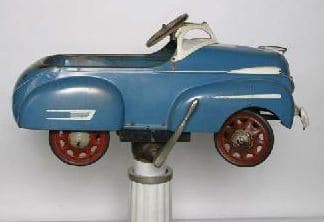 The car is the easy part for me. I have an avid collector. However, the barber chair is a new and exciting area. I am missing the base with hand pump. (is that the correct terminology?).

Here is my specific question. Are all the bases interchangeable, or did each company have specific kinds?

Can I just buy a beat up barber chair from the 20's and be on my way? Any help is greatly appreciated. Rick

p.s. For a change of pace, here is my pedal car website for those interested: ibuypedalcars.com
Richard LeRoy
- Zimmerman, Minnesota
---
April 27, 2013
Q. I am restoring a 1910 - 20s Koch barber chair. I just started working on the pump and in taking it a part I found a 1 1/2" brass with fins on one end and threaded on the other, also a leather washer. Can anyone tell me were they go? I've look at pictures on the Internet and cannot find it. The plunger has a brass piece in it. I'm going to try to post a picture. Thanks for your help.
John Tabor
- Waxahachie, Texas, USA