The finishing.com Hotline: Serious Education ... plus the most fun you can have in metal finishing. Ted Mooney, Webmaster


What is nickel silver? Plating/replating issues.
+++
Q. I recently came across a set of silver in my parents' attic that my father had gotten in Japan after the war. It is marked as "nickel silver". I am not familiar with this and would like to know about it. Is it a silver plate? How well does it hold up? Does it require special care? After extended use will it have to be replated?
Thank you,
Barbara Smith
- Hammond, Louisiana
---
+++
A. Hello Barbara!
Nickel silver is a family of copper-zinc-nickel alloys, generally thought of as Copper Development Association (CDA) alloys 745 to 782, containing somewhere between 55-72% copper, 10-18% nickel, and 10-27% zinc. Color ranges from ivory to silvery white, and while they have good resistance to corrosion, you should avoid exposure to ammonia and its solutions.

Lee Gearhart
metallurgist
---
December 2013
A. Hi Barbara. Yes, the silver plating is thin and does eventually wear through. Usually you'll see it in the spoons first, as you notice that the recess of the spoon is a different color than closer to the edges.
Regards,
Ted Mooney, P.E. RET
finishing.com
Pine Beach, New Jersey
---
---
What shop can do german silver plating?
February 22, 2008
Do you have any knowledge of anyone in the US, preferably in the west, who can do nickel silver (german silver) plating? This would be greatly appreciated.
Thanks
Chris Giunta
- Corvallis, Oregon
---
February 22, 2008
A. Hi Chris. I am not certain offhand whether this alloy is possible to electrodeposit. Some alloys can be plated, if suitable complexing agents have been developed that can retard the more noble metal from plating out preferentially, whereas some other alloys are not electroplatable.
Brenner has a page or so about it, and doesn't seem to consider it likely =>
But please describe your situation rather than casting the proposition in the abstract. If you have thousands of objects that absolutely must be plated with german silver, and no substitution will work, a shop may be interested in trying to develop the process with you. But if you have only a few parts, it may be possible and necessary to suggest an available substitute. Good luck!
Regards,
Ted Mooney, P.E. RET
finishing.com
Pine Beach, New Jersey
---
May 3, 2011
A. Why would anyone want to plate with nickel silver? This alloy was originally developed as a base to be plated with other metals, especially true silver. I would guess that ordinary nickel plate would be the metal most similar and would give a much better surface. Rhodium or chrome would also be quite similar in appearance, while tin would give the closest non-tarnishing appearance to real silver. And then again, there is real silver plate, which would tarnish, but can be easily cleaned for a good color.
Emmit Stewart
retired -
Canton, Ohio, USA
---
May 5, 2011

Hi, Emmit.
Thanks. I'm beginning to think that maybe Chris was looking for silver plating of his/her nickel-silver items and I misunderstood the need.
To clarify for readers who are finding themselves lost, silver plated flatware and service items are often made of nickel-silver (which contains no silver), and are electroplated with silver. When the silver plating wears off, the flatware has a metallic taste as well as a poor appearance.
Regards,
Ted Mooney, P.E. RET
finishing.com
Pine Beach, New Jersey
---
---
I pickled nickel-silver and now it's copper colored
June 25, 2011
Q. I soldered some buffalo nickels & sterling silver bezel cups onto some nickel silver. I put it in my pickle, I guess I shouldn't have as some of these items turned completely copper and some came out normal. Was it the level of heat? Or was it something in my pickle? I've tumbled the heck out of them and some are still copper colored.
Shelagh Blatz
-
Priddis, AB, Canada
---
Jax Silver Plating Solution

June 30, 2011
A. Hi, Shelagh.
If you previously used this pickle bath, you dissolved some copper into it. When you immerse a less noble metal into it, like a zinc-bearing nickel-silver, the copper will immersion deposit onto the nickel-silver. This is a very thin coating, though, which should come off. If the pickle was really aggressive, it may have dissolved enough zinc to leave the alloy too copper rich. I'm not sure that it would really be a clean fix but, silver deposits onto copper in the same way, so you could try putting the articles into silver nitrate or a commercial silvering solution =>

Good luck.
Regards,
Ted Mooney, P.E. RET
finishing.com
Pine Beach, New Jersey
---
---
May 8, 2012
Q. Sir, I have seen german silver pots such that, if we pour milk in it, after an hour the milk turns into ghee. So I want to know exactly what kind of metallurgy that pot has?
Sunil Sharma
-
Maharashtra Nagpur India.
---
---
Cleaning german silver
December 20, 2013
Q. How to clean nickel and silver flatware made in Japan? Was bought in the middle sixties. Mine has begun to tarnish (used very little) and I would like to start using it more often. Any advice would be most appreciated. Thanks!
Kathy Tate
- Flowery Branch, Georgia
---
December 2013
A. Hi Kathy. Sorry but I don't know what you mean by "nickel and silver" flatware. "Silverplate" is flatware that looks just like sterling silver flatware, but is actually made of silver plated nickel silver (there is no silver in nickel silver). Is that what you mean?
Here is a photo of a sterling teaspoon, a silverplate tablespoon, and a stainless teaspoon. The two silver items are somewhat tarnished so they have a slightly yellowish cast. If the tarnish is removed, they will have a definite whitish cast compared to the blue-ish cast of stainless steel.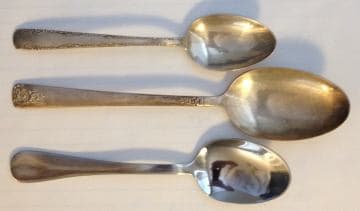 Does your flatware look like this silverplate? If so, you can clean it with silver polish, but you might also be interested in letter 4785, "Polishing Silver with Aluminum Foil and Washing Soda". But if the middles of the bowls of your spoons are a different color than the edges, the silver plating has worn away. Good luck.
Regards,
Ted Mooney, P.E. RET
finishing.com
Pine Beach, New Jersey