Magnetism vs. 316 stainless steel properties
+++
I have acquired a 316 stainless steel ball valve for the transfer of chemicals. The valve is slightly magnetic (I'm told this is because it has been machined). Does this quality cause it to corrode easier? I have heard that being magnetic may cause it to attract magnetic elements out of fluids and thus corrode faster. We are filling some acidic, basic, and neutral fluids as well as solvents like Odorless Mineral Spirit.
Babak Mehrnoosh
- Albuquerque, New Mexico, U.S.A.
---
+++
If the valve body is a casting, the most likely reason for the slight ferromagnetism is that the alloy is CF8M, which is the casting alloy that corresponds to the wrought alloy 316. It has slightly different chemical specification than 316. 316 is usually made with its chemistry balanced to give a fully austenitic (and hence incidentally nonmagnetic) microstructure. CF8M is usually made with its chemistry balanced to give 3 to 8 percent ferrite (which is magnetic) in the microstructure. This is done primarily because the presence of the small amount of ferrite very greatly reduces any risk of cracks or tears during solidification in the casting process. Benefits that occur as side effects are (1) increased yield strength relative to 316, (2) increased corrosion resistance because of higher chromium content than 316, (3) usually increased resistance to pitting because of slightly higher nitrogen content than 316.
Machining of nonmagnetic 316 does not normally cause the surface layer to become slightly magnetic. There are several stainless steels in the 300 series where heavy machining cuts and hence greater deformation of the layer immediately below the cutting tool, can cause a small amount of (magnetic) martensite to form from the austenite, but 316 does not usually show that effect.
Bill Reynolds




consultant metallurgist




Ballarat, Victoria, Australia




It is this website's profoundly sad
duty to relate the news that Bill
passed away on Jan. 29, 2010.
---
+++
316/316L can be made magnetic by cold-working. Were not talking about a lot of magnetic permeability, but enough to move a needle on a compass.
According to the manufacturers of this alloy it is not magnetic and will not become magnetic after cold working. However, after years of working with this alloy, I notice that it does indeed become magnetic when cold worked, especially when the tools used are showing magnetism.
If you require it to be non-magnetic, then the parts can be de-magnetized with commercially available de-magnetizing equipment. Simply pass the unit over your parts(or parts through the unit), and it will be ferromagnetic free!
Try 316 Lvm as it is the most resistant to cold induced magnetism, due to it's extra low interstitial quality, and increased nickel content.
Jeff Swayze
- Kelowna, B.C., Canada
---
+++++
Is it possible to magnetize 316L stainless steel during welding, or due to connecting piping to grounded pumps, pipe racks, etc.?

Thanks,
JOHN D. EVANS
engineering & construction - Spring, Texas, U.S.A.
---
July 8, 2008
Hi,
I bought a 250 liter stainless steel hot water cylinder that the manufacturer states is made of 316 stainless steel. This tank sprung a leak and they gave me another one. Now this tank has started to leak. We thought it may be the water corroding the tank. I put a magnet onto the tank and it stuck to it.
Can I approach the manufacturer and question the quality of the stainless steel they are using
Colin Mernagh
- Killiane, Wexford, Ireland
---
July 22, 2008
WE ARE TRADING IN PUMP VALVE IN DIFFERENT MATERIAL OF CONSTRUCTION. ONE OF OUR SUPPLIER HAS SUPPLIED A PUMP IN CF8M BUT HIGHLY ATTRACTED BY THE MAGNET.WILL IT BE POSSIBLE? AS FAR AS OUR KNOWLEDGE IS CONCERN CF8M NEVER ATTRACTED BY MAGNET. PLEASE ANSWER.
AMRIT DEY
TRADER - SILVASSA,UT OF DNH, India
---
July 22, 2008
Hi, Amrit. Based on the previous answers it sounds extremely unlikely that CF8M or 316 stainless steel could be "highly attracted" by a magnet.
Regards,



Ted Mooney, P.E. RET




finishing.com




Pine Beach, New Jersey
---
August 6, 2009
I have found that although the parts being welded are non-magnetic 316 stainless, the consumables used (and recommended for the purpose) often contain enough chromium to result in a level of ferrite high enough to be noticably magnetic. This is common practice (as far as I know), but for areas where ferrite must be avoided at all costs, such as nitric acid plants, then specially alloyed consumables that give a purely austenitic (non-magnetic) structure are available.
Simon Price Jones
Pump Manufacture - Leeds, England
---
---
---
October 1, 2011
Hi,

We are manufacturing stainless steel bolts in 304 and 202 grade with hot forging process. The threading on these bolts are done on a roll thread machine.
These bolts are developing a minor flux and are being attracted towards a magnet. Please suggest me some method to demagnetise these bolts.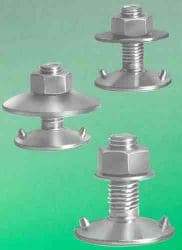 Thanks & Regards,
Mihir Doshi
Manufacturer -
Mumbai, India
---
October 4, 2011
There are numerous manufacturers of loop demagnetizing equipment. I'm sure there will be a manufacturer in India. One common application is demagnetizing after magnetic particle inspection, so anyone who offers equipment for MPI will also offer demagnetizers.
Jon Barrows

, MSF, EHSSC
Springfield, Missouri

---
October 13, 2011
I believe Paul from Australia provided the best answer.
For magnetic issues, cast 316 SS does turn into a magnetic material, not Because of 8-9% of ferrite content in casting operation an due to moving rotational parts and since magnetism changes. Some areas turned into fully magnetic since magnetism increases due to rotation. We are working with pumps.
Kam Dianatkhah
-
Palm Desert, California