The finishing.com Hotline: Serious Education ... plus the most fun you can have in metal finishing. Ted Mooney, Webmaster


How to restore antique cook stoves
Valerie from Glendale CA's
"Moore's Merit"

Bob from from Seattle OR's
"South Bend Malleable"
---
+++
My mother asks if you have any books on Quincy stove. In the back of the stove is the numbers 43m467 and under that it read oil fire momo gram heater. Do you have any idea what year it was made and any information how to operate it. If so please answer soon as she plans to use this for her house to heat this year.
Brenda H
[last name deleted for privacy by Editor]
- Canton, South Dakota
---
++++

My husband and I just purchased an older wood burning stove. We are unsure how old it is or if we got a good deal? (We paid $200) When we purchased it, the man told us that it needed to be sealed with a fireproof sealer. (It can come apart and needs some sort of a sealer on the door too) This particular stove has a claw foot style at the bottom with a ash pan and a sliding vent. It has a round belly with a door, then a top piece with a cast iron circle lid on top. I have been unable to find it on the internet to compare prices, or find something out about it. If anyone knows any info. about my stove, I would greatly appreciate it:-)

Teisha L

[last name deleted for privacy by Editor]




- Tucson, Arizona, USA





---

+++

I am in the same process as you on a old Kalamazoo wood cook stove, what help have you found, and tips on care and where to find parts.

Debbie H

[last name deleted for privacy by Editor]




- Dinosaur, Colorado





---

+++

Hi,

I use Rutland Stove Polish [linked by editor to product info at Amazon]. For hot plates and top, Rutland door rope for all the seals, and Krylon BBQ & Stove paint [linked by editor to product info at Amazon].

Have fun.

Kevin N

[last name deleted for privacy by Editor]




- Roaring Spring, Pennsylvania





---

(2006)

Have you ever heard of the Breakfast stoves made in Pa used in the early 1800s and do you have a picture of one. We found a door with that name and trying to find out info.

M Davis




- Iraan, Texas





---

(2006)

hi, am redoing a older wood stove for my teacher, and one of the legs is broken. is there a place that I can find NEW set.

Ethan W

[last name deleted for privacy by Editor]




- Milton, Pennsylvania





---

(2006)

You can take broken or duplicate parts to any jobber casting shop (foundry) and have a replacement part cast.

Dave Barr

- Centralia, Washington
---
(2006)
Beautiful Antique Stove! Please Help Me Find Information! I have been given a small cast iron stove. I'm a new hobbyist and have been restoring this stove for some time. The problem I have come across is that after cleaning the rust off this stove, I cannot find any numbers or name on this. I have been searching the internet and contacting numerous people trying to figure out what I have, so far I have gotten nowhere. To best explain my stove I can only say this: It looks like a cross between a baseburner stove and a parlor stove. The cylinder stands about 20 inches off the base and to best explain it, looks ribbed. The base is square with a small a rectangle vent at the bottom front which I do have an engraved cover for it. Off the front is the tray which comes out approx. 10 inches. The top of the cylinder is a flat ring with an engraved cover for it. The stove and details engraved are all black, there is no signs of ever having any plating on it. The height of this stove is almost 26 to 30 inches tall. I was told that it would have possibly been used as a small heating stove. The stove came with 4 different handles, only one has a number and I am not sure if this would help in any way. If there is any that could help me, I would really appreciate it. I am awaiting photos to put up.
Benjamin R
[last name deleted for privacy by Editor]
truck driver - Gilbertville, Massachusetts
---
February 25, 2009
I have an old wood/coal kitchen range. The plate on the oven door says "Columbian" and it was made in Pennsylvania.does anyone have any knowledge of this. I can find nothing on the net.
Lea Davenport
homeowner - Stillwater, New Jersey
---
April 13, 2009
As a small child I remember visiting a neighbor who used a cook stove for heating her home and cooking meals. This lady died many years ago and left the stove to my Mother. If living my Mother would be in her mid-seventies and I am in my early fifties, therefore I feel I have acquired a very old cook stove. My Mother had the stove stored for years, I have now moved it to my house and would like to restore it. The condition is good with very little rust only on one side. My question, Best way to remove the rust and recondition the stove. Will not use for heat or cooking. I will very much appreciate the recommendation of any products. Thank you.
Peggy Sutherland
- Bristol, Virginia
---
June 27, 2011
We have a hiking cabin 1 mile up a mountainous rocky Trail in California. Inside is a Moore's "Merit" 4 burner stove with warmer and oven. A while back there was a leak in the roof and it rusted out the sheet metal in the stove.

We still are able to use the stove although it is heavily packed with foil to protect the stove from setting the cabin on fire.

It needs to be fixed and unfortunately no one in their right mind would professionally come out to do it. Needless to say we need to do it our selves. transporting the stove would be next to impossible...

I have a few questions what type of sheet metal is needed to replace the box? does this need to be professionally bent and welded or can it be assembled at the cabin?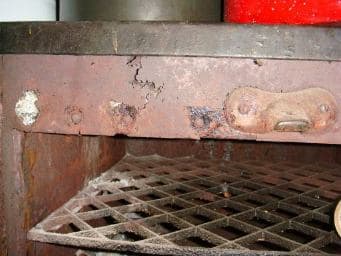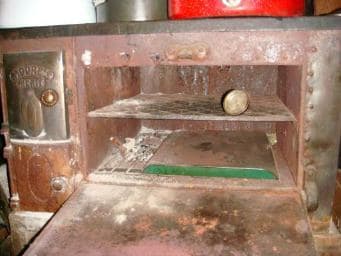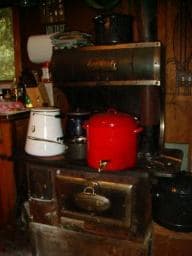 It will be at least a year before we attempt to tackle this project as I need to get as much info as possible before I start it. I am crafty but not a welder. I read the forum on wood stove repair but didn't see any suggestions for the sheet metal replacement. since the metal is so rusted in spots I am just not sure what gauge and what type of metal I would be using.

If it is not welded together what type of adhesive is used to connect the pieces.
Also what type of bolts would be purchased to replace the riveted bolts on the stove?
Valerie Campbell
Hobbyist/cabin owner of a stove that needs help! -
Glendale, California USA
---
May 30, 2012
Q. I have a South Bend Malleable Wood Cook stove that is in great condition except for the backsplash piece behind the shelf unit. It was replaced with a piece of sheet metal and painted. The paint is chipping and flaking off.
Is there anyway I can put a reasonable paint job on it that approximates the original and how do I match the paint color that is off white. Is there any place that might have an original piece with original finish.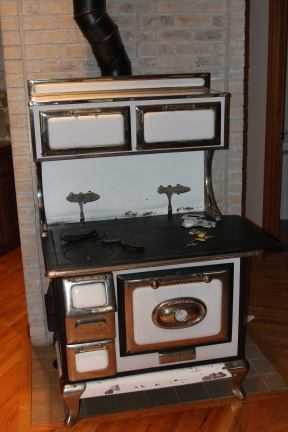 Thanks
Bob Cartano
-
Seattle, Washington
---
1 2