Aluminum as an 'art' painting surface
++
Q. Hello everyone,
I am a artist and have some questions about using aluminum, or any metal, as a painting surface. I work in oil paints and have been using various types of hardwood plywood and MDF board. I am not happy with their longevity and how they warp over time. I have been preparing my surfaces by building up acrylic primer, gesso
, usually five or six coats, sanding between each coat. I am interested in Aluminum because it is so smooth and seems as though it will last forever. So here are my questions: What is the best Aluminum to use as a painting surface and where do I obtain it? (I saw some aluminum sheeting that was nearly an inch thick and looked corrugated in a gallery, what is this?) How do I prepare the raw aluminum to hold paint forever, do I need to do anything beside sanding it?
Thank you for your responses and I am sorry I do not know the technical aluminum jargon.
Best,
Coln White
- NYC, New York
---
++

A. Hello Coln!

Aluminum should work very well for you as a painting surface! It is readily available in flat sheets up to 4 by 8 feet, sometimes even greater, and is available with textured finishes (where the mill rolls in an embossed pattern) as well as the standard flat, smooth material you envision. I took a quick look at an industrial hardware supplier's catalog, and they listed a 4 by 8 sheet, 1/8 inch thick for $218. You can likely do better by calling an aluminum supplier found in the yellow pages.

Since you merely want the aluminum to support paint, you don't need the high strength grades. I'd recommend a 1100 or 6061 grade because they are common, least expensive, and readily take the preparation steps. The easiest of these prep steps is a chromate conversion coating, often referred to by the trade names of 'Alodine' or 'iridite'. This will put a very thin (millionths of an inch) 'coating' on the aluminum- actually it is converting some of the surface aluminum to a chromated oxide. The better, more complex preparation step would be anodizing, wherein you make your aluminum an anode, put it in an acid bath, and run electricity through it to greatly thicken the natural aluminum oxide layer. It's still a pretty thin layer- sulfuric acid anodizing is only a few ten-thousandths of an inch thick- but it's thick enough to make a superb paint base. Prime it, and you're ready to make a work that will last as long as the paint.

I'd suggest having the preparation steps, either the conversion coating or the anodizing, done at a commercial shop: you can find some here at finishing.com, or if none of those fit your needs check the yellow pages or web search engines.

Good luck!

Lee Gearhart
metallurgist
East Aurora, New York




---

++

A. To Lee and Coln, (in response to Coln's inquiry about aluminum preparation for art painting surface.)

I am an artist/painter who has been using bare aluminum panel for awhile but only recently discovered the metal primer I have used is insufficient to protect the metal from long term corrosion. Lee mentions both anodized and chromate conversion, both of which I am investigating. I have found a possible problem that Lee may not have considered. The primer paint coat he mentions will have a problem adhering to the anodized surface unless it is "roughed-up" with a Sandpaper [linked by editor to product info at Rockler]. This is the normal procedure for applying primers to a smooth bare surface. A fine grit paper may have the potential to breakthrough the very thin layer of anodization and/or the chromate conversion he is suggesting. I wonder if Lee could comment on this. This is a painter problem essentially but it is leading me to consider POWDER COATING as a better way to go for Coln's situation. For more info on this and comparison to anodized properties follow the links from www.finishing.com/shops/saf.shtml to the powder coating page.

Best,

Mark Dorrance




- NYC, New York




---
+++++++
Q. Hi,

My current approach, or the beginnings of an approach, as an artist wishing to paint on scrap aluminum (sheet metal left over from a custom car fabrication shop), has been to prepare the metal by glass-beading, and then to use a "zinc chromate" primer, which I think I've found as a multi-metal primer at an Ace hardware store...

Is this sufficient for fine art applications?

And...then what? Can I paint with conventional artist's acrylics, or oils, or must I use something like automotive-grade paints?

I'm interested largely in applying washes or glazes, plus developing dimension or texture beneath them; I'm also interested in achieving a deep transparent gloss coat atop the work, at least in parts of my paintings.

I'd also welcome any ideas on how to attach stuff to the back of the aluminum sheets, to make them simple to hang on a wall, once I've finished them.

(I'd also welcome any and all contact from other artists working with sheet metal, for the purposes of information exchange.)

Thanks so very much!
Terri Kiplinger
- Lucerne, California
---
+++++++

A. Hi, Terri. Although the Alodine 1201 or "Iridite" chromate conversion coating mentioned by Lee is ideal, that really should be done at a metal finishing shop; your alternative of a zinc chromate primer should be fine, and you should find it at boating stores if it proves hard to get at the hardware store.

The main focus of this site is industrial metal finishing so, while we certainly welcome postings and responses from artists, I and many of the "regulars" here aren't very familiar with artist's acrylics & oils. But I would lean towards believing them compatible with the zinc chromate rather than incompatible.

You can find the other artists who have posted here simply by using the word "artist" in the search engine at the bottom of the page. Good luck and welcome.




Ted Mooney, P.E. RET




finishing.com




Pine Beach, New Jersey

Primer for Aluminum

---
August 31, 2009

Dear Sirs, Thank you for taking time to answer artists questions. We do not always make money on our efforts and spend large amounts of time creating. Having good info brings peace of mind and is a great way to support the arts. I have been wondering about artist oils on aluminum and the priming process so this has helped me. Mark
Mark Cranford
- Fort Myers, Florida
---
June 11, 2010
A. I thought that there was a lot of good info brought forward here and thought that I would put my two cents worth in.
I own a art oriented metal working business and sell aluminum canvases to the public, among other things. I sell them with a orbital sanded finish and an easy to use cleat style hanger. It is a bent pan, if you will, made from 3003 series aluminum. Good mix of strength, resistance to corrosion, and form-ability.
Encaustic, oil and acrylic artists love them and their methods of priming vary. Some go straight to paint, some use a zinc chromate primer or an automotive primer. Anodizing, powdercoating these will work; powdercoating will be cheaper.
Personally I think you all are thinking about it too hard, It's aluminum it will last long enough for your grandchildren's grandchildren to appreciate it if you treat as you would any other piece of fine art. I have yet to receive any complaints from any of my clients regarding corrosion over time or problems with paint adhesion. Thanks for listening, check out my site!
Brian Fredella
Inner Metal Works - Bedford, Texas. USA
---
June 26, 2010
Q. Hey all,
I've been using fine art oil paints on aluminum as well . . . don't know why we have to prime it at all . . . please explain. Will it eventually peel? Is that the issue?
Claudine Luchsinger
- Narrowsburg, New York
---
June 29, 2010
Q. I appreciate all the comments regarding painting on aluminum. I would like to paint on aluminum that will be displayed outside exposed to the elements. Would I need to use exterior acrylic or oil paints and is the prep the same?
JJ Atwell
art teacher/artist - Frederick, Maryland, USA
---
July 23, 2010
A. Brian Fredella again, JJ Atwell the answer to your question I think is, yes...I don't think the aluminum surface has anything to do with it if the paint is not sealed with a uv resistant exterior grade topcoat(Permalac) I don't think you could expect it to hold up over an extended period of time no matter what it is painted on. Claudine L, I side with you on this one, I don't think a primer is necessary, gesso, zinc chromate, anodize, Alodine, etching primer, powdercoat, none of it. What you need is surface prep. I use 80 grit with an orbital sander or media blaster, and have never had a client complain of problems with adhesion. The paint will not peel if properly prepped and cared for as fine art should be. Aluminum must be clean and free from dirt and oil before painting. Hope this helps.
Brian Fredella
- Bedford, Texas. USA
---
October 30, 2010

Thanks all for a lot of valuable information. I checked out Brian Fedella's website/store. Brian: For a second, the word 'Canvas' made me think it was Canvas-mounted Aluminum supports. Since art-support is a well understood term, and you do use the term 'Metal Art Support' too, may I suggest that the word 'Canvas' may be completely removed from the product descriptions/store items. Thanks.
Syed Hasnain
-
Virginia, USA
---
January 13, 2011
A. Aluminium Composite Panel usually comes in 8 x 4 feet size, having normal thickness of 4 mm. However, 4mm is too thin and tends to bend easily, so go in for 6mm thickness. Have them cut with care, otherwise it tends to bend near the edges. To prepare properly, just scrub the surface with sandpaper (rough ones that come in about 4 inch thickness and measured in lengths of meters (just small pieces would do). After the surface is scrubbed properly by sandpaper, use industrial spirit (like the one used when spirit polishing wooden furniture), and properly clean the surface. Then, instead of using gesso etc, just use directly from tube itself of acrylic paint and apply with wide brush on surface. If using white, then once up down, then followed by once sideways after drying. The acrylic paint has strong binding of its own, and once it is dry, the surface is ready for fine painting. A painting done in this way is showing no problem even after 5 years now, in spite of there being a lot of humidity and heat where I live. If it were painted on canvas, there would have been patches here and there, mostly of fungus. But painting on aluminium composite panel has no such problems.
himalaya
-
shimla India
---
April 26, 2011
Q. Dear all,

Thanks for all the work you've done already on oilpaint and aluminium. I was wondering, are there different kinds/blends of aluminiums too and what kind is the best fit for oilpaint? Love to hear from you and exchange information.
Normally you would use an special gesso or metal primer under oilpaint for the adhesion of the paint and that the oil will not get in to the underground. With aluminium I can imagine that it won't be necessary (only the sanding makes sense then).
Jeanette Mennes
-
Zeist, Netherlands
---
July 23, 2011
! An example of fineart painting on aluminum is the work of artist Steven Alexander.
His geometric paintings on aluminum show a high level of achievement and outcome.
Eveline Luppi
-
Greenwich, Connecticut
---
January 26, 2012
Q. I am interested in painting 3/16 sheet aluminum after cutting into designs with a plasma cutter. (Do I need a particular aluminum alloy)
I want to layer a paint oils or aluminum dyes in varying layers and opacities to in fact create an artistic painting or even a sculpture with solid colors.
I am also thinking of texturizing/abrading/ scratching the surface of the aluminum.
Then finally automotive clear coat. How do you suggest I do this. And how much would it cost say for a 2 foot square sheet? The art would be hung indoors mostly.
Are aluminum dyes sold by pints, gallons etc what would be relative pricing? how toxic are they. Thanks so much Greg in Vancouver Canada
Greg Maurer
artist -
Vancouver, Canada
---
February 4, 2012
Q. Hello - I am an artist in Canada who has been using aluminum as my substratum for 5 years. I have had wonderful results. Please check out www.darleanmorris.com for my art.

Usually, I approach a metal sign company to create my aluminum "pans". They are approx. 40 x 36" and 42" x 36". My intent is to go larger! I prepare them by gentle sanding and cleaning, then use the paint directly on the metal. Oil has a natural bond or marriage with the aluminum.

Aluminum is a wonderful surface to work on. I never have to worry about the 'canvas' breaking!

Let me know if you have questions.
Darlean
Darlean Morris
artist who works on aluminum -
St. Marys, Ontario, Canada
---
February 12, 2012

RFQ: Hey Everyone,

Does anyone have a source where I can buy ready made aluminum canvas'? I have been google searching and trying to avoid having to have them specially made by a metal fabricator, etc. I would like them in 20 x 20 or larger. I would also appreciate any information on any company that might make aluminum canvas'.

Thanks in advance.

Adrian R




-

Charlotte, North Carolina USA






Aluminum Stretcher Bars

---
June 19, 2012
A. I've been painting on galvanized sheet metal (26 ga.) for over 30 yrs. and have had no durability issues with the following process. First I etch the metal, flat and level outdoors, with a fairly strong dilution of muriatic (hydrochloric) acid. I let the surface cook for a few minutes and then rinse well with water. I then let it drain in a vertical position. It's a good idea to neutralize the acid with a baking soda and water solution. Let that dry and wipe down with a clean lint free rag or paper towel damp with denatured alcohol. Remember to use proper protection because the fumes from the zinc and acid are toxic. A respirator is necessary as well as rubber gloves and eye protection. A rubber rain suit would be a good idea. Then prime with a suitable galvanized metal primer. I've used different water based products and they all seem to work well. Recently I've been using a greenish translucent primer from Sherwin Williams that is water based and easy to use. When dry enough to recoat, I've been priming again with 1 or more coats of any good primer. I think that white gesso might give the best ground. I roll it with a short nap lint free roller and lay it off with a 3" brush in one direction. I usually apply more than 1 coat and lay these subsequent coats off in the opposite direction. This (the brush strokes at 90 degrees to each other) gives me a "tread effect" mimicking the look of canvas. It could be sanded smooth of course. Be sure that the primer coats the edge of the metal so that it won't rust. All things considered, aluminum may be a better choice and the aluminum composite panels seem interesting. Does anyone know about the pre-painted aluminum sign blanks, etc. that come with a gloss finish? Can sanding and repriming provide a durable base which won't have any adhesion issues? I believe they are also available with a matte finish.
Chris Recker
Chris Recker
-
Houston, Texas, USA
---
August 24, 2012
Q. My daughter has been painting on aluminum and making beautiful jewelry out of the paintings. We have used something called Ice Resin
to finish the pieces. This has become a challenging process in that the resin is inconsistent and messy. I can't see this as a viable option for long term production. Does anyone have any suggestions for finishing pieces that would create a similar look to resin but not be so difficult?

Also, I am looking for resources for colored anodized aluminum in larger pieces.

Thanks for your help.

Tamara
Tamara Phillips
- Minnesota
---
August 27, 2012
Hi Tamara.
This site's supporting advertiser, Global Metal Finishing, has a good stock of anodized pieces for you, and is an anodizing shop if you have a special need. Good luck.
Regards,



Ted Mooney, P.E. RET




finishing.com




Pine Beach, New Jersey
---
September 16, 2012

Q. Hello,
I love painting directly onto aluminum with acrylic paint! I purchased a sheet at Home Depot sanded and cleaned with a 50% solution of vinegar and water. My question is how to preserve the painting? If I try to varnish I feel it will smear, even though it has dried. Do I have to apply a varnish?
Thank you
Frustrated in NJ

Donna Pfeffer




- Galloway, New Jersey USA




---
July 8, 2014
Q. How do you hang the sheet metal paintings? I want to try my luck using aluminum sheets but don't have a clue on how to hang the art.
Jay crabb
- Paris Texas
---
September 6, 2014
A. Hi all

Re: hanging aluminium artworks, I use 'U' shaped aluminium bars that attach one near the top and one near the bottom of the piece. I attach it with two part epoxy glue and it stays just fine. I drill two holes at the top of the bar I want to hang from and string hanging wire. This way makes sure your work hangs an equal distance from the wall at the top and bottom and reduces swing or movement of the piece. I have had some of these works over ten years with no problems yet as far as hanging. I like to use for photo mounting.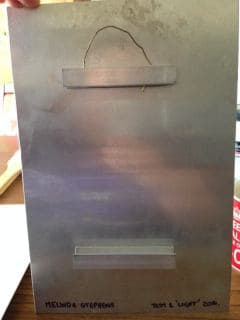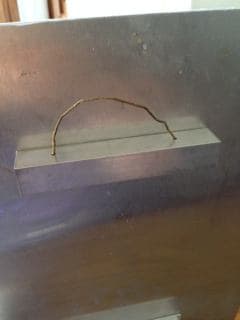 Hope this helps.
Melinda Stephens
Artist - Perth, WA, Australia
---
---
Nose Art Painting on Aircraft

September 17, 2014

Q. I am a flight jacket artist used to working with acrylic dyes. I have been commissioned to do "Nose Art" on a WWII P-51 Mustang and am looking for ideas on the best paint to use to do the job that will last for the lettering and pin-up art. Any ideas and suggestions are welcomed!

Kevin Wisniewski




Artist - Milwaukee, Wisconsin, USA


^- Privately contact this inquirer -^


---
---
November 24, 2014
Q. I see that most of you are artists, I'm not, I do custom woodworking. My use for Aluminum is in this particular instance is using 3/16" x 2.5" x 7" bars to span a space on in a contempory styled table. The bars span a 1" space that connects the two slabs.

The aluminum bars are spaced 1" apart and the groups of two are spaced 24" from each other. Long table my concern is putting a catalized lacquer over the aluminum when finishing. The bars will be epoxied into the 2.5" slabs. There is a 1" space between the two slabs as I was saying. In total there will be (8) 3/16 inch bars bridging the gap to hold the table halves together.

I thought I'd explain my use. So I most likely will be using a catalyzed lacquer as mentioned as my top coat. I would like to know if just preping with an automotive aluminum prep or something of that nature will be enough? Remember this is a dining table and it might see some moisture once in a while but not excessively. I want to be able to finish the surfaces at the same time. Once I start to spray I would like to be able to coat everything.

I'm up for suggestions
thank you
Ben Abate
- Lower Burrell Pennsylvania