How to remove BP Coating from Dirilyte
++
Q. How can I remove the Bonded Protectorant (BP) coating on Dirilyte (nickel-bronze) flatware?
Alfred M. Baggett
- Memphis, Tennessee, USA
----
Ed. note: Please see these related threads about Dirilyte:
- letter 7137 on Cleaning and Polishing
- letter 33184 on Restoring Dirilyte that was dishwashered
---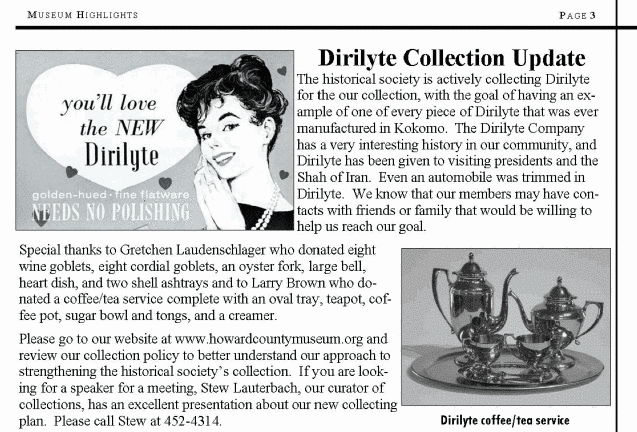 Reprinted with permission of Howard County Museum. They're still (Mar. 2011) collecting; help if you can.
---
March 28, 2011
Q. My name is Diane Plummer from Alton, IL, across the river from St.Louis, MO. My Aunt willed me her set of Dirilyte when she passed on in 1964. It is a large set in that I have many of the accent pieces as well as the flatware. It had a BP finish on it when I received it and after 10 years, it was beginning to show scratches as well as the hue was appearing much darke; not shinny gold like when I received it. I packed up the entire set, took it to the Dirilyte Factory in Kokomo, IN, had them strip off the old BP finish, polish the pieces, & apply a new BP coating. The set was beautiful. However, it is now some 35+ years later, and the pieces show wear & have turned a darker hue, once again. I would like to clean & polish it, but cannot with the BP finish. My question is- HOW DO I GET THE BP FINISH OFF? I assume the factory in Warsaw no longer offers this service. Too bad, there was probably a lot of money in it.
Thanks a Million'
Diane
Diane Plummer
Hobbyist - Home Owner -
Alton, Illinois
----
Ed. note: We inserted your question into an older thread that answers it, Diane, but feel free to follow up with further questions if necessary.
---
++

A. I've removed it with jeweler's rouge (while reconditioning) on a buffing wheel -- seems to work best after rubbing down with 0000 steel wool [linked by editor to product info at Rockler] -- a little labor intensive but it does a thorough job. A marine/epoxy stripper also seems to work but actually takes longer and is messier.

Mark Osterhus




- Seattle, Washington





---

++

A. I purchased 25 pieces from the 1960's that were in bad shape with peeling BP coating. I used white diamond polishing compound [white rouge ] and a bench grinder with a felt buffing wheel. They now are beautiful. Took about 4 hours total.

Julie S Freigang




- Kalamazoo, Michigan





---

++

A. Go to Sears and purchase their paint and varnish remover. Wear rubber protective gloves when handling this product. Take a cotton ball and apply some of the paint and varnish remover to the Dirilyte pieces. Let stand for about five minutes then rinse off with cold water. After removing the protectorant, polish with Happich SimiChrome Polish.

Mike Gardner




- Kokomo, Indiana