The finishing.com Hotline: Serious Education ... plus the most fun you can have in metal finishing. Ted Mooney, Webmaster





Fixing Brown Rusty Water (Excess Iron) in Swimming Pool Water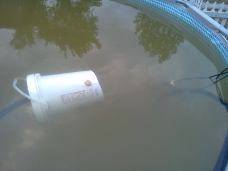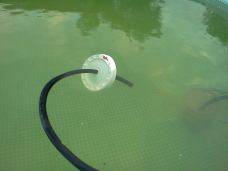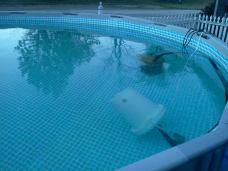 Start, 9 hours later, and 24 hours later -- courtesy of Jenna Bradford
An ongoing discussion from 2002 through 2016 . . .
++
Q. Help! We just put up and filled 15 x 15 x 3,5 pool and filled it with about 4,646 gallons of our terrible town water which is full of iron! We have tested it, shocked it, tried clarifier and still have the brown rust. Do I just keep shocking the thing until it disappears (if ever)?
Barb Hand
- Carpentersville, Illinois
---
Editor's summary: Readers are welcome to read this entire long thread if they have the time. But dozens of users found themselves able to easily get from brown rusty water to a sparkling clear pool with simple home built filters ranging from a couple of white socks to a pair of 5-gallon buckets with a small sump pump in one and the stuffing from a couple of old pillows in the other. Jump to first home-made filter posting.
---
What Color is Your Swimming Pool

++++
A. Stop adding chlorine! Until you remove the iron, the water will stay brown. You're wasting your time and money. Go to your local pool store and bring a water sample with you. They should be able to test it and tell you exactly what to add to your pool water. Most likely it will be with what the pool store calls "pool magnet". I just had the same problem and it took me about 3 days to turn 10k gallons of water from dark brown to a light green blue. My next step is to get the water clear. However, my pool store told me to wait at least a week before I add any more chlorine. Hope this helps. Have faith in the pool store. Yes, they are more expensive, but you get it done right the first time, which in turn saves you time and money.
Regards,
Joe Sorbellini
- Mt. Tremper, New York
---
+++++
A. Here in the Algarve we have the same problem with borehole water,but we do the following.Shock the pool to oxidise the iron out of solution and into floating sediment.Then add flocculant to cause all the particles to lump together and sink to the bottom.This we do with the pump off at night as the sun causes currents that disturb the settling process. This lasts 8 hours.Then we vacuum out the rust from the bottom of the pool. I hope this helps.
Philip Dalston
- Algarve, Portugal
---
(2006)
A. We just got a 18 foot blue Intex pool and have the same brown water after shocking it. After spending a ton of money trying to get the water clear, I finally found something that is working. I got a chemical called Super Quest. It eliminates and controls, iron, copper, manganese, staining and discoloration. I poured it all around the outside of the pool and then added a Natural Clarifier =>
right to my skimmer.
Every 1-2 hrs I took out the filter and cleaned it. After cleaning the filter I added more Clarifier to the skimmer. If you don't have a skimmer, add it right next to where the water goes to the filter. My water is looking a much better. I still have a little ways to go but it's getting there. I hope this helps!
Krystal Palmer
- Lindstrom, Minnesota
---
---
(2006)
Q. Hello I have terrible well water, lots and lots of rust. We were told that our salt levels were way too high and need to drain our blue pool more than 1/2 and add new water. Our problem is that our water is so bad! I added it and the pump has been going like crazy. It has been two days and the water is still very brown so much you can hardly see the bottom. We have Jandy salt generator. Should I shock it even know it is salt water? Also we have had two different pool companies taking care of the pool for us, neither of them knew how to take care of a salt water pool, I would see them ad a chlorine tablet. Should they have used chlorine in this type of pool. I want to start taking care of it myself but am unsure on how to tell when salt is needed, or any other chemicals if that. Thanks for any info.
Lara Juillet
- Fort Pierce, Florida
---
(2007)
A. Ok here is some help: there is a product called "Iron Out [linked by editor to product info at Amazon]" -- you need to use the large bottle. It will clean the pool. Hope this helps. Thanks.
Hope Stockton
- Hot Springs, Arizona
---
(2007)
Q. I read that you could add "IronOut" to pool water, is it safe to swim in.
Gina Green
RN - Sturbridge, Massachusetts
---
(2007)
Q. Today, my pool water turned brown when I added my Muriatic Acid & Chlorine, After researching the problem, I am sure it's due to too much Iron in my water. Are you sure "IronOut" is safe for the pool? How soon did you wait before swimming? It sounds too easy and inexpensive to solve the problem, I'm all for that :) Last year when I filled my pool, I attached a filter to the hose so I didn't get the iron, this year I had a brain malfunction & forgot all about it. now I'm kicking myself.
Sherry Feld
in-ground pool owner - Battle Creek, Michigan
---
(2007)
! Asking about safety on the internet is like asking a stranger to watch your purse, Gina & Sherry. It'll probably be okay. But you never know for sure, so try to get a copy of the MSDS for "IronOut" from the manufacturer. Good luck!
Ted Mooney, P.E. RET
finishing.com
Pine Beach, New Jersey
---
(2007)
If you check the website for "Iron Out", a.k.a. "Super Iron Out", you will see that it is not recommended for pools in use. It is used to clean the pool before/after use. Check their website FAQ's at www.ironout.com/questions/default.aspx
Tom Williams
chemist - Waterford, Michigan
---
---
(2007)
A. The clouds parted and the heavens sang!

We own the Intex Easy Set Up Pool. 12' x 30"
I just put about 3/4 of a pound of OxiClean [linked by editor to product info at Amazon] in the pool with the filter on as a last ditch effort before I hung myself! The water got very cloudy white and 10 minutes later, it's crystal clear....and I mean CRYSTAL! Give it a try....I think you can pick it up for about four bucks.

Woot Woot!
Eric Wells
- Ida Grove, Iowa
---
(2007)
! We have well water with iron in it, when added chlorine it turned brown. Came to this web sight read about the OxiClean someone wrote on here--IT DOES NOT WORK JUST MAKES THE WATER CLOUDY NOT TO MENTION PROBABLY NOT GOOD TO SWIM NOW INSTEAD OF BROWN CLEAR WATER I HAVE WHITE CLOUDY THICK WATER. I GUESS THAT IS WHAT I GET FOR TAKING A STRANGERS ADVICE.
SUSAN B
[last name deleted for privacy by Editor]
- HARRISBURG, OREGON
---
(2007)
A. I called Oxi Clean to see what they said and they laughed at me and said DO NOT place it into the pool. Not good to swim in........


Follow-up on the Iron Out. I called the company and they said that it would more than likely take the iron out of the water but then you would have to balance out your pH because it will totally mess it up however they do NOT recommend children to swim in the pool after iron out has been placed in the water. Iron out has filters for in-ground pools but nothing for above pools. I am looking for anything to help as well... I think I am going to go with the vacuum approach that was mentioned earlier. Lot of work but cheap and I might get closer to clear water my kids can swim in.
Rebecca Bates
- Moville, Iowa
---
May 19, 2008
A. I went out and bought 2 lbs of Oxiclean and added it to my pool water (18x48 Intex) like a lot of people I had very brown water and was going through filters like crazy. I am happy to say that my pool water is clean clear and pH level is right were it should be. It has been a week since I have done this and still looks great. Last year I spent hundreds of dollars on chemicals and water trying to get clear and this year I spent $8.00.
Robert Taylor
- Rolfe, Iowa
---
June 2, 2008
! I can't imagine iron out would be harmful to kids (except for the pH balance being way out of whack until it can be adjusted). One of its recommended uses is to dump it in your water softener to remove rust build up, I put it in my water softener all the time. I know it works fantastic on all my other iron problems - I'll give it a try in my Intex pool.
Rob VanDenBerg
- Otsego, Minnesota
---