White spots in black anodizing
+
Q. Can someone explain the complete process with respect to Black Anodizing alum. castings (Alloy 771.2)
The problem we are having is white spots (after plating) on the milled surfaces but not on the raw casting surfaces. Could this have something to do with inner cavities trapping the chemicals used during plating? I heard from my co-workers that if the part is not baked properly or long enough after the cleaning that chemicals would leach out and cause the white spots. (Looks like exposed alum. surfaces not plated.)
If this is inherent with alum. castings, can someone suggest a different alloy that's less prone to having porosity present.
Bill Velazquez
- Hauppauge, New York
---
+

A. I have been anodizing for a little while and do not claim to know a lot but I have read and also experienced that cast alum. cannot be anodized, only forged alum. can be anodized.

Mike Lowery




- Huntsville, Alabama





---

+

A. Bill, yes, due to the porosity of castings, producing a uniformly colored anodize is difficult but usually the opposite of what you describe would hold true.That is the milled surfaces would look even and the natural cast surface would appear spotty.The spots on the milled surfaces may indicate contamination from chemistry of blind holes or poor rinsing before dye.

Most wrought materials will be significantly less porous than any casting.

Bill Grayson




- Santa Cruz, California, USA





Surface Treatment & Finishing of Aluminium and Its Alloys

---
+
A. This is the same thing that I am experiencing, the lab states it it is si/Segregation, is the material high in SI?
Maybe together we can help each other.
Regards
Wendell Goodson
- Garland, Texas
---
+
A. Good Afternoon Weldon,
I am glad I am not the only one experiencing this problem. The alloy currently being used is 771.2 and it has a concentration of .1 of Silicon.
By the way our foundry has recommended we try 356 T6. I personally do not believe it's the alloy but more the lack of internal controls at the foundry which leads to impurities and pin holes developing in the castings. But in any event we will give 356-T6 a try to see if we have positive results. The only other option is to machine from solid material. Come to think of it , 356 T6 has a much higher concentration of Silicon 6.5 to 7.5, so maybe high concentration of silicon may not be the cause. Where's all the platers out there, come on guys, you must have a solution to this problem or how about all you foundries, help us out here, please.
Bill Velazquez
- Hauppauge, New York
---
+
A. This is a common issue when dealing with porosity such as anodizing castings or jig plate, plating zinc die castings, etc. Certainly, castings can be anodized they just are not going to look as pretty as a nicely machined extrusion will. There are a number of techniques that can be used to mitigate the effects of porosity and how well they work depends upon the finisher's expertise and the nature of the porosity encountered.
One of the issues may not be the cleaning chemicals leaching out but sulfuric acid leaching out following the dying/sealing process as sulfuric is viscous, etc., and it will dissolve away the coating and remove the dye as it bleeds out. That is particularly common with what you have described.
One method is to rinse in a rinse containing ~5% nitric following the anodize bath prior to the dye bath. That replaces the sulfuric acid contained in the pores with nitric which is much easier to rinse out (less viscous) as well as giving one a better coating for dying with slightly softened, wider pores.
Another technique used is to "pump" the pores following each bath with alternating hot water rinses and cold water rinses. Sometimes a neutralization bath with 10% bicarb can be used following the anodize bath.
Another technique is to use a spray rinse above each rinse tank. The one that has worked best for me in the past is the nitric pre-dye rinse. The amount of material being etched during the cleaning process also impacts the porosity problem, it is best to only bubble etch if etching at all, etching off the "skin" usually increases the porosity problem. Sometimes it may be best to just use a brief triacid etch and avoid any alkaline cleaning and employ a nitric predye rinse.
There are finishing houses that have the expertise to deal with the problem you have encountered and rather than just trying wholesale what I have mentioned above I would suggest you try having your parts processed at a finish house that specializes in decorative color-match anodizing, or find someone who is used to black anodizing jig or tool plate. Some castings are not going to anodize as well as others not only due to the alloying constituents but because the casting process can lead to varying amounts of porosity within the same alloy being cast.
Ward Barcafer, CEF
aerospace - Wichita, Kansas
---
---
Q. Hi,
I am having these tiny white spots on Black Anodized parts. They are not too many but many enough to get rejected in the quality check. Any creative thoughts as how to avoid this problem?
Thanks,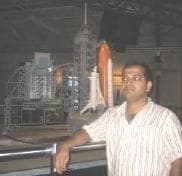 Hemant Kumar
- Florida, USA
---
First of two simultaneous responses --
A. Is your part a machined casting? Machining on castings invariably open up pores in the casting which entrap a small amount of sulfuric acid during anodizing and then bleach out the dye after dyeing and sealing. If this is the case, you might allow the parts to soak in a warm rinse for a while to help the acid leach out before dyeing. Don't make it too hot or you will seal the anodize. Even this might not work because you never know how much acid has soak into the pores. Sometimes the spots don't appear for a long time.
Good luck.
Guy Lester
- Ontario, California, USA
---
Second of two simultaneous responses --
A. This is the most common tech service complaint. If you are using 7075 alloy, note that all salts of zinc are white.
Calcium buildup (evap., add, evap., add, etc.) in the dye or seal will leave behind white spots.
Chlorides anywhere will sometimes show a white spot.
Too high dissolved aluminum in the anodizing, like above 12 gm/L, will cause white spots.
Dirty rinse water can cause white spots.
Sulfate drag into the dye, especially with 7075, will cause white spots.
Plain nitric deoxidize on high alloy does not get rid of the non-aluminum alloying ingredients - use a proprietary iron based deoxidizer.
First thing to try: 5% Nitric ACid Dip between the anodizing and the dye.
Start looking for pits and white spots after the anodizing, then look at the dye, then look at the seal,
Take two aspirin and call me in the morning.
---
A. Another possibility would be that you are getting galvanic corrosion during the dyeing process.. make sure your work is completely insulated from the tank during dyeing.
Marc Green




anodizer - Boise, Idaho



---
A. You did not mention if you use DI water or tap water. If you use tap water for your operation. Chloride ions may be the reason to cause the pitting you have.
S. Y. Yuen
- Hong Kong, China
---
---
+++++++
Q. We are having an ongoing issue with white spots on some pieces we black anodize. Parts are 6061 machined plates - not cast or jig plate. They come to us very clean. We have tried all different cleaning - soap only, no etch - heavy etch - etc.
The weird thing is that this is almost entirely confined to one account. We do black on 6061 all day long for others and do not see this issue. The customer tells me they use a water based machining oil and I spoke to the mfgr. of that oil and we see no problem.
We go through extensive rinsing & cleaning and still can't get rid of the issue. We have used both titanium & aluminum racks & it does not seem to make a difference - We have masked all holes, even when not needed & still no difference.
I have attached a pic - any input would be appreciated.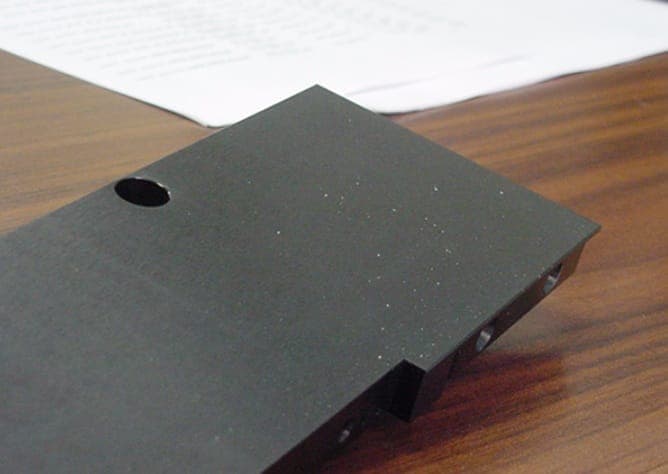 David A. Kraft
plating shop employee - Long Island City, NY USA
---
+++++++
A. Probably:
1. dissolved aluminium content high;
2. current density high;
3. bath temperature low;
4. it's not 6061.
John Hu
- Singapore
---
+++++++
A. David

It could be overaged aluminum, particularly if the spotting occurs only on non-machined surfaces. Try an acid (HF) etch before anodize.
Willie Alexander
- Colorado Springs Colorado
---
+++++++
A. I'm sure you've considered this, but any chance that your customer's finishing operation could be embedding particles not compatible with anodizing in the part?
Marc Green




anodizer - Boise, Idaho




----
Ed. note: If you would like more input on this subject, please see letter 43777, also on "WHITE SPOTTING ON BLACK ANODISING".