White spots in black anodizing
Hi,
I am having these tiny white spots on Black Anodized parts. They are not too many but many enough to get rejected in the quality check. Any creative thoughts as how to avoid this problem?
Thanks,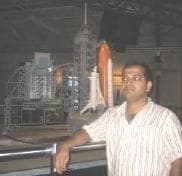 Hemant Kumar
- Florida, USA
---
First of two simultaneous responses --
Is your part a machined casting? Machining on castings invariably open up pores in the casting which entrap a samll amount of sulfuric acid during anodizing and then bleach out the dye after dyeing and sealing. If this is the case, you might allowthe parts to soak in a warm rinse for a while to help the acid leach out before dyeing. Don't make it too hot or you will seal the anodize. Even this might not work because you never know how much acid has soak into the pores. Sometimes the spots don't appear for a long time.
Good luck.
Guy Lester
- Ontario, California, USA
---
Second of two simultaneous responses --
This is the most common tech service complaint. If you are using 7075 alloy, note that all salts of zinc are white.
Calcium buildup (evap-add-evap-add etc) in the dye or seal will leave behind white spots.
Chlorides anywhere will sometimes show a white spot.
Too high dissolved aluminum in the anodizing, like above 12 gm/L, will cause white spots.
Dirty rinse water can cause white spots.
Sulfate drag into the dye, especially with 7075, will cause white spots.
Plain nitric deox on high alloy does not get rid of the non-aluminum alloying ingredients - use a proprietary iron based deox.
First thing to try: 5% Nitric ACid Dip between the anodizing and the dye.
Start looking for pits and white spots after the anodizing, then look at the dye, then look at the seal,
Take two aspirin and call me in the morning.
---
Another possibility would be that you are getting galvanic corrosion during the dyeing process.. make sure your work is completely insulated from the tank during dyeing.
Marc Green




anodizer - Boise, Idaho



---
You did not mention if you use DI water or tap water. If you use tap water for your operation. Chloride ions may be the reason to cause the pittings you have.
S. Y. Yuen
- Hong Kong, China