Painting a plastic (polyethylene) motorcycle gas tank?
Q. I have a plastic (polyethylene, I believe) gas tank from a motorcycle I would like to paint or at least find a way to have it colored "red" instead of the faded orange type color it is now.
Is there any good places that can do so or is there a way for me to prepare and paint myself? Please let me know what materials should be used to get adhesion to this material and also a resistance to the gas fumes which breathe thru the gas tank itself. I have it painted now but two weeks and it bubbles from the fumes I believe.

Thank you in advance.

Clint G




- Saginaw, Michigan






David W's dirt bike plastics
---
A. Hi Clint !
Please see the archives --
# 10814, "How can I paint polyethylene?",
#10626, "Bondite or flexible primer for polyethylene" and
#6528, "Coating for Polyethylene Material".
In short, you cannot successfully 'paint' Polyethylene.
I would be much more concerned about the gas fumes that, you say, permeate through the tank's walls. Are you SURE? Was this always like this? (which I doubt). PE is pretty good in permeability but PE will eventually break down due to U.V. attack ... which is why it, like many plastics, is coloured (normally black); but red colours, ask any motorist, DO fade.

Sorry. Can't help you. Go & ask the dealer. But please get back and let me know what make of motor bike this is, a cross country special, perhaps? Thanks.

Freeman Newton




- White Rock, British Columbia, Canada




Suzuki gas tank

---
A. Hello,
I can confirm this having a problem of painting a gas tank myself. I contacted Acerbis a major manufacturer of motorcycle gas tank and they told me that their tanks for off road (dirt) bikes are Reticulated Polyethylene (PE-X). According to them they are not repairable nor paintable. Painting could be performed if the tank is fluorinated (not very practical for me). The ones for street bikes are Polyamide (nylon).
Best regards,
Roberto C
- Torino, Italy
---
A. This is a common thing now; with the new Honda CBR only the outer shell is plastic the inner tank part is still metal.

You can paint the plastic, it is made out of the same plastic as the fairings and such. It is like painting plastic ground effect kits for cars, same thing. You should have no trouble painting it. Good luck. post a pic when it's done.

jose l




- Chicago Illinois





---

A. I had the same problem. 1986 Yamaha TT350 with white PE (plastic) fairings, fenders, and yes, gas tank. All remain white over the years, but the gas tank is yellowed. I tried painting with an epoxy primer and paint. Same thing - just weeks later, I got bubbling, and eventually scraped it all off. POSSIBLE SOLUTION: I'm taking it to a local spray-on truck bed liner company. All colors available. They say it should be great adhesion. The finish will be textured, but still shiny - and TOUGH. If it works well, I may paint the other pieces to match. Check with me in a couple weeks and I'll tell you how it turned out.

Brett W




- Spokane, Washington





---

Q. I'm trying to find out if Brett W had any luck with the bed liner spray sticking to the plastic gas tank. I too have tried painting the Plastic gas tank on my MZ several times with no success. Thanks

Ian G

technology - Port of Spain, Trinidad

---

Q. As with many of the questions posted, I am trying to restore a faded dirt bike gas tank to white. I was wondering if it could be lightly sanded or if the stain goes much deeper than that. Also, if the guy that used bed liner to cover would report his results I would appreciate it as that sounds like a reasonable idea.

Scott M

Hobbyist - Sheldon, Missouri

---

A. There are two issues involved in painting polyethylene. One is to "activate" or "modify" the surface chemically to allow wet out and adhesion. In industry there are numerous methods used to treat the surface of polyethylene before bonding or painting. The best are too hazardous for a small shop or garage since the chemicals involved are actually dangerous. Reasonable bond strength - enough for paint - can be achieved with very light surface roughening using detergent water and fine wet-or-dry sandpaper. This must be followed by careful flame treatment. An oxygen rich flame is best and the flame must not be allowed to melt or glaze the surface. Instead, the farthest tip of the flame only should contact the surface and then only for a brief fraction of a microsecond. The flame must be kept quickly moving at all times. Every square inch of the surface must be touched ever so briefly by the farthest tip of the flame in this way. After some cooling, the surface can be retreated if in doubt - but I would suggest running the flame in a cross direction to the initial hit.

Clear Adhesion Promoter




Krylon Fusion

The surface can be tested with super clean distilled water. Apply a single drop with a very clean eye dropper. On an untreated tank, the drop will bead up like on a well waxed car. No adhesion. If properly surface modified, the drop will actual cling to the surface and spread out to be at least twice as wide as it is high. This gives adequate adhesion for most applications.
The second issue is to use a paint compatible with the flexibility of polyethylene. I suggest using a flexibilized paint or adding a flexibilizer as is customary for flexible bumpers. All the major paint suppliers offer this. Of course, a flexibilized clear coat can be put on top.
As to priming - I feel it just interferes with flexible performance and adds extra work. If the tank needs scratches or dings filled in this may be possible if you can find a sufficiently flexible filler. In any case if you were to sand the primer or the filler down and even lightly hit or scuff into the polyethylene, that area has to be re-flame treated. If you hit it hard enough to bubble the primer or filler, you are way overdoing it! Several light quick sweeps with the flame will do the job - a near-scorching will ruin it!
If you need optimum adhesion or structural bonding for repairs or modification that can be done too but the chemistry has to be kicked up a lot.
Jack W
- Austin, Texas
---
Q. I have the same problem. I have a 1983 XR200. The used XR200 plastics are the same faded color as mine. The previous owner tried the spray paint with the same bubble results. It's an old bike but a very good runner, riding it you would think it's right from the Honda showroom floor. Too bad the plastics make it look like it ready for the junk yard. If you all find a good way to restore then please let me know.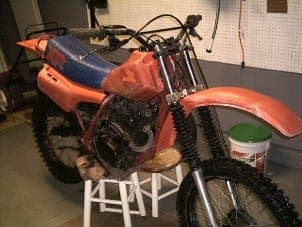 David W
- Slidell, Louisiana
---
Dear David W
I have a 1995 XR250R that I have rebuilt and also restoring to reliable operating condition and clean it up. I want to paint the white gas tank, because over the years they tend to yellow. New tanks are pricey so I was trying to find out how to paint it. I cleaned it well, scuffed the surface lightly with sandpaper [linked by editor to product info at Rockler], for adhesion, and applied a satin white plastic bonding paint, but it just peeled days later. I was on this site looking for tips when I saw your memo. You can buy new stock plastic for your 1983 XR200.
Ben T
- Arley, Alabama
---
Q. I have a dirt bike and I am trying to paint all the fenders and all the side panels a high gloss paint and I would like to now how or what kind of paint to use and how to paint it? I need a good paint that will hold up on a dirt bike.
Joshua T
Painter - Georgetown, Ohio
---
Q. I am searching for a cost effective paint or texturing process that will adhere to low density rotomolded polyethylene. I would like to create a surface texture and color similar to stucco, rock, concrete, etc.
Les C
Plastic rotomolding company - Meridian , Idaho
---
A. I have had great luck with a paint product called Krylon Fusion
. It's a plastic coat in various colors and it has worked very well on side panels fenders, etc. I have not tried it on gas tanks.
Vance S
- Michigan
---
Q. Hi all,
Can anyone please help me on the subject of painting my kayaks name on it. It is an A K A brand new, my new toy for light tackle fishing and is made from Polyethylene. Can anyone advise me please?
Darren O
kayak fishing - Perth, West Australia, Australia
---
A. I have never used this product but may be you could try Ixell-adhera which Aids adherence of 2 component paint on internal or external plastic material Polypropylene (PP), Polypropylene / Polyethylene (P/E) and all modified Polypropylene (PP/EPDM) materials.
Jody
- Jakarta, Indonesia
---
Q. Hey my name is Paul,
I have a CBR 250 rr tri colour and hate the colours so I want to paint the fairings and gas tank. The fairings are pretty much perfect condition and have peeled the stickers off. Can I just paint straight over the old paint on the fairings. and on the gas tanks there are stickers but covered in a clear coat so I can't peel them, should I sand the whole tank back or just where stickers are and then bog or prime where the stickers existed. Also I have a dent in the fuel tank but pretty minor should I bog it or get it sucked out.
Paul Y
hobby - Perth, WA, Australia
---
A. Found this article very good.Haven't tried myself yet
www.4strokes.com/tech/plastic_restore/
Larry S
- Lethbridge, Alberta, Canada
---
Q. I'm going to try using the Krylon Fusion
on a toy ride for my daughter. It is made of polyethylene. Manufacturer says it can't be painted, but they've got an interest in obsolescence. I'm going to work on the tires first and if it holds, I'll try the top, and then the body in that order.

If Krylon Fusion works as advertised, I plan to find salvageable similar toys to refurbish and donate to children's outreach and advocacy groups.

I'll keep you posted if the Fusion works.
Tim S
- Decatur, Alabama
---
A. I think I might have a good answer to all of you guys. I have quite a lot of experience in DIY painting and I have tried a variety of products, so here we go: POR-15


These are the best DIY paints I could find, a bit more expensive than others though. They are unbelievably tough and they stick on anything.
George V
- Manchester, UK
---
1 2