The finishing.com Hotline: Serious Education ... plus the most fun you can have in metal finishing. Ted Mooney, Webmaster
How to Blacken Cast Iron? Finishing of Cast Iron Farm Bell
An ongoing discussion from 1999 through 2015 . . .
(1999)
Q. I purchased a new cast iron farm bell that will be mounted outdoors. Is there a low maintenance finish that could be applied to minimize rusting? Would black oxide be durable?
Thanks.
Rich Lee
- Mansfield, Pennsylvania
---
(1999)
A. Rich - Black oxide is a possible coating for your bell, but more important is the after-finish that will be applied. A quality RP or an acrylic finish will give long lasting protection without much maintenance.
Dan Brewer
chemical process supplier - Gurnee, Illinois
---
(1999)
A. A good can of spray paint, black, two coats of paste floor wax and it will be shiny and withstand the weather for years. The price is the absolute best that you will find. If you are really fussy, re-wax it every year, or two, or three.
James Watts
- Navarre, Florida
---
(2000)
Q. Thanks for responding, Dan & Jim! A question for Dan - What do you mean by RP? Rust Preventative?
Thanks again.
Rich Lee
- Mansfield, Pennsylvania
---
A. Hi Rich. Yes, that's what he meant. Black oxide without a top coat and without a wax or oil offers zero rust protection.
Regards,
Ted Mooney, P.E. RET
finishing.com
Pine Beach, New Jersey
---
---
Finishing of Antique Cast Iron Book Press
(2002)
Q. I am an antique collector and I recently acquired a 19th century cast iron book press for my wife who is an artist and art book maker. I have cleaned the dirt and surface rust off the device and want to apply a finish that stabilizes the surface but still leaves a patina. I don't want to apply any paint or lacquer. I have heard that rubbing bees wax onto the surface will work. Can anyone confirm that or are there any other suggestions? Any help would be greatly appreciated.
Andy J
[last name deleted for privacy by Editor]
- Chicago, Illinois
---
(2004)

A. I just finished "restoring" a similar press - combination of steel plate and turned steel (circa 1910?). It too was rusty and dirty. I cleaned the entire press, ground off some horrible welds (an unsympathetic modification) and then attempted to repair the finish. I left the painted surfaces "as is". Some of the bare areas I left if the rust was solid and not loose. The bare areas where there are moving parts or the rust was loose I cleaned it up with 240 grit and scotchbrite. Then I cleaned the areas with a degreaser and applied tool black. You need to flood and brush the surface until you achieve a good level of blackening. Use rubber protective gloves, goggles and good ventilation. Rinse with fresh water, dry and then seal with wax. Any wax will do. There are furniture waxes which are a combination of beeswax and turpentine. These are easy to apply but pure beeswax or even paraffin will do. Just rub it on and then work into the surface with a soft cloth. It will seal the black-oxide and provide some protection. It also give a nice, appropriate lustre.

Tim H

[last name deleted for privacy by Editor]




- Vancouver, B.C., Canada





Beeswax

---
March 12, 2008
Q. I am looking to buy an antique hand book press 19th century. What should I expect to pay. Anybody know places to get one?

John
NC
john kline
- chapel hill, North Carolina
---
March 12, 2008
A. Hi, John. Apologies, but this site is about metal finishing, which includes the finishing of book presses -- but, sorry, we don't get involved with valuations, hallmarking, or buying and selling presses or components. E-bay is, of course, a good place to look. Good luck.
Ted Mooney, P.E. RET
finishing.com
Pine Beach, New Jersey
---
---
How to make cast iron black?
(2004)
Q. I would like to know, how to plating or anodizing to make cast iron BLACK?
Ronar Loo
Production - Jakarta, Indonesia
---
(2004)
A. Hi Ronar. The question of how most practically to apply a black layer of electroplating to cast iron in a manufacturing production situation is the kind of question you probably need to hire a consultant to advise you about...
There's electroplating of black zinc, or preferably black zinc-iron, or black nickel plating, or black chromium; if the parts are small jewelry components then black rhodium or ruthenium and perhaps other plated finishes; there's black oxide too; there's even electrophoretic lacquer, or powder coating, and the list goes on. Tell us what you want a black finish on, for what reason, in what environment, and how cost sensitive it is, and we can probably significantly narrow the list of possibilities. Good luck.
Ted Mooney, P.E. RET
finishing.com
Pine Beach, New Jersey
---
(2004)
A. Hi RONAR you can make the cast iron in black finish by many methods but the best method by painting it with wet enamel or powder.
Aly Gomaa
- Cairo, Egypt
---
---
Refinishing Antique Cast Iron Pedal Scroll Saw
(2006)
Q. I have recently come into possession of an old cast iron scroll saw that operates like a bicycle. The piece is probably from the 1920's and is constructed of Cast Iron and Walnut Wood. The cast iron is coated with rust to varying degrees. I would like to refinish the piece, as it is very interesting, and am not sure the best way to go about this, as I am not experienced with refinishing metal. My first instinct is to get the cast iron frame clean, and I do not think I could do an adequate job with a wire wheel on my drill, so I was thinking some type of blast cleaning, but not sure what the best aggregate would be, or the level of cleaning, i.e. SSPC-SP10, etc. A friend had suggested taking the piece somewhere for an acid dip, but I do not have a good feel for how well that process works.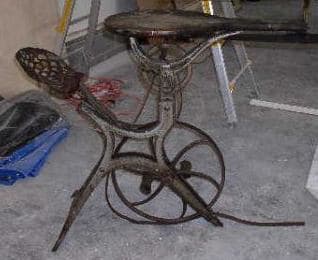 My questions are ultimately:
1) what type of cleaning would be recommended for a cast iron piece that fits in an envelope of roughly 60" L x 24" W x 48" H while assembled?
2) Is it recommended to disassemble before cleaning, as some of the original hardware is rusted/seized, but is otherwise suitable? 3) What types of finish other than painting would be recommended, I was initially thinking a black oxide and clear lacquer? 3) How is it recommended to locate and qualify a job shop that can provide both the cleaning and metal finishing for a part like this?
Jeremy Schweitzer
Consumer / Hobbyist - Bethlehem, Pennsylvania, USA
---
(2006)
A. You could sandblast it and have it black oxided, and then keep it waxed or oiled like a firearm. Or you could wire brush it, then use Rust Converter [linked by editor to product info at Amazon], then paint it black. Either is fine, but the former might look more like wrought iron while the latter would stay rust free longer and with far less maintenance. As for disassembly, personally I'd take it apart as far as it will go without damaging it; if bolts are so frozen that they would have to be burned, I'd leave them.
Ted Mooney, P.E. RET
finishing.com
Pine Beach, New Jersey
---
(2006)
Q. I think the black oxide might be the approach I will pursue. When is a sandblast preferred and/or required over other preparatory options? It was mentioned to me that the parts could probably be prepared by placing the parts in, say a 20%-25%, caustic solution of approximately 300°-400° and then pickled in a weak acid, but I do not have experience to say if this would be sufficient. To what level of rust or surface defect would the aforementioned method be appropriate to prep the cast iron for black oxide? Also, what type of wax, or oil would you recommend?
Jeremy Schweitzer
[returning]
- Bethlehem, Pennsylvania, USA
---
A. If you have decided to go with the black oxide, you'll probably want any old paint removed with sand blasting. The blasting will also give you a good idea of the condition of what you've got. Then you're probably done because the shop that does the black oxide will do the required caustic cleaning and acid dip before black oxiding.
Black oxide will rust unless waxed or oiled. You'll probably want to avoid any oil that will stain, so I'd say a good coating with carnuba wax, repeated frequently.
Ted Mooney, P.E. RET
finishing.com
Pine Beach, New Jersey
---
April 25, 2010
A. Try ground up walnut shells to remove the rust
Very eco-friendly!
Jamie Parkhurst
- Poway, California, USA
---
(2007)
-- this entry appended to this thread by editor in lieu of spawning a duplicative thread
Q. In my Mother's estate there is a cast iron pedal scroll saw that was my Grandfathers. I am looking for a place to buy blades. Would like to restore it to original condition. Any help would be greatly appreciated.
Gayle Webb
- Cortland, Ohio, United States
---
---
March 1, 2012
-- this entry appended to this thread by editor in lieu of spawning a duplicative thread
Q. I'd like to know what chemical solution I should use to antique new cast iron casters?
Denise Loewe
designer -
Harrisburg, Pennsylvania, USA
---
A. Hi Denise. The black oxide process will blacken cast iron, but I'm not sure if that's what you mean by "antique".
Regards,
Ted Mooney, P.E. RET
finishing.com
Pine Beach, New Jersey