What are pennies made of?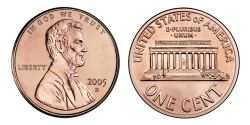 U.S. Mint Image
+
Q. What is a penny made of? How do they make pennies now days?
JIMIE P
- Chamblee, Georgia
---
+
A. Hi, Jimie. Pennies today are made of zinc blanks (circles of zinc are punched out of sheets of zinc, like cookies are cut out of a sheet of dough with a cookie cutter). The zinc blanks are then electroplated with copper in plating barrels (we have an article with pictures on line about barrel plating), so the core of the penny is zinc but the skin is copper.
After the copper plating, they are stamped with the familiar head of Lincoln and the date, etc. Coins such as pennies have a raised rim (the lip around the penny is thicker than the body of the penny); this is created by rolling the coin through a passage that is slightly smaller than the original size of the blank so the extra material must mush up as this fatter edge.
Good luck with your project.



Ted Mooney, P.E. RET




finishing.com




Brick, New Jersey
---
++++
Q. Hi guys I really need to know how are pennies are made because I'm looking up how are coins made and if you can tell me what all the coins made that will be AWESOME!
Shalonda S
- Ferndal, Michigan
---
++++
A. C'mon, Shalonda, we just finished telling you how pennies are made :-)
But besides the info already given, you can find more about coins at the US Mint site, www.usmint.gov. Also, the History Channel has a nice several minute film clip on how coins are made, although we don't know how long it will remain on line. Good luck!



Ted Mooney, P.E. RET




finishing.com




Brick, New Jersey
---
+++++++
Q. When did pennies go from solid copper to zinc clad?
Herb S
- Munroe Falls, Ohio
---
+++++++

A. Hello, Herb; it was 1982. Some 1982 pennies are zinc cores plated with copper, some are solid copper. You can weigh a 1982 penny to see which kind it is. You can search the site for many other factoids about pennies. Good luck.




Ted Mooney, P.E. RET




finishing.com




Brick, New Jersey

Pennies

---
+++++++
Q. I was told (an old wives tale, perhaps) that if a person is stung by a bee, the copper in a penny will help calm the sting. Given this is true, would the pennies made after 1982 still be able to accomplish this home remedy?
Megan Bachara
- Houston, Texas
---
+++++++
A. Hello, Megan. The answer is probably "yes", based on the supposition that the copper on the surface somehow reacts with the fluids in the sting area to soothe it. If that be the case, the fact that the core of the penny is zinc might be irrelevant.
But you raise an interesting point for the students who are here for science projects. If we concede your "given" -- in other words, if we accept that putting a penny on a bee sting soothes it, without any proof or evidence, then we would also be conceding that we don't "why" (if there is no proof that something is true, there is certainly no proof why it is true).
And if we don't know why something works, then we can't make any projections at all! It might work for any chunk of metal, or it could work because the diameter of a penny is just right while a dime is too small and a nickel too big, or it could be that the stinging sensation comes from alien radiation and can only be deflected by the image of Lincoln :-)
Good question.



Ted Mooney, P.E. RET




finishing.com




Brick, New Jersey
---
+++++++
Q. Homework: what metal were the pennies made from in the past?
kareli
student - elgin, Illinois
---
+++++++
A. Don't just post your homework question, Kareli -- teachers tell us to just tell the students to "Do your own homework." But if tell us what you are having difficulty with, we might be able to help you over the rough spots. Before 1982 pennies were made of solid copper, all except in 1943 when pennies were made of steel plated with zinc because copper was in short supply due to WWII.



Ted Mooney, P.E. RET




finishing.com




Brick, New Jersey
---
July 6, 2008
A. The U.S. penny since 1982 is made of 99.2 zinc and 0.8 copper, with the outside plated with copper.
;-)
Ann-Marie Clements
- Saint John, NB, Canada
---
September 25, 2008
Q. hello my name is Annika I am researching the past of US Mint and I am interested in pennies, my question is why does Abe Lincoln face right when all the other portraits face left?
Annika S
student - Numine, Pennsylvania
---
October 12, 2008
A. Hi, Annika. There is no particular reason, conspiracy theories aside :-)
It just happens that the portrait and bust of Lincoln that were used as the model face that way. Also some Jefferson nickels face left and some face right.
Regards,



Ted Mooney, P.E. RET




finishing.com




Brick, New Jersey
---
December 27, 2009
Q. My name is Mason and I'm in the 6th grade, why do they use zinc and copper, why not just one?
Mason R
student - Oklahoma
---
January 5, 2010
A. The reason pennies use zinc now and not just copper is that it's cheaper. Copper has become expensive. Because zinc is cheaper, most of the penny is zinc, but the outside is copper so it looks the same (I guess). It still costs more than one cent to make a penny though. :)
Jordan Christiansen
- Rosemount Minnesota
---
August 2, 2010
Q. Since the cost of copper has increased so much recently, I'd like to know what is the value of a full copper penny?
Drexel J
student - Jacksonville
---
August 3, 2010
A. Hi, Drexel.
As a student, one of your most important jobs is learning how to "put 2 and 2 together" to solve problems like this, rather than asking someone else to do so and just give you the answer :-)

To solve this problem you have to find out how much a penny weighs, and then multiply that by the current value of copper per unit weight. If you don't have a scale, you can search this site for "How much does a penny weigh?", you'll see the answer is about 3.1 grams. Then you can google "copper london metal exchange" for the current price of copper to get your answer. Good luck.

Regards,



Ted Mooney, P.E. RET




finishing.com




Brick, New Jersey
---
September 22, 2010
Q. Is it true that if you put a penny in Coke it will clean it?
Amber S
student -
Fort Mill, South Carolina
---
September 23, 2010
A. Hi, Amber

Please put a penny in Coke and see what happens; first-hand knowledge beats relying on urban legend, and this one is so easy to prove or disprove to yourself that it's not worth wasting time on the internet inquiring about it :-)

Regards,



Ted Mooney, P.E. RET




finishing.com




Brick, New Jersey
---
September 21, 2011

I am sorry to ask this question out of the blue but I want to cite this page. When was this page electronically published?

paul n

-

bradenton Florida USA

---

September 22, 2011

Hi, Paul.

Mark Twain once said that New York will be a beautiful city if they ever finish it. Forum pages are "works in progress" like NYC, so the idea of "publication date" doesn't really apply. The first entry on this page was from 2001, and the most recent entry before yours was Sept. 23, 2010. So the usual way to cite a forum on the web is to include the URL (web address) and say "retrieved Sept. 22, 2011". Then you print out the page or save it in a ".pdf" or other format whereby you have a copy of how it looked the day you cited it. Good luck.

Regards,




Ted Mooney, P.E. RET




finishing.com




Brick, New Jersey
---
October 3, 2011
Q. I am a middle school student wondering how exactly you make pennies? How much do pennies weigh? Are they still made of copper?, and how much? What are all the ingredients in a penny?
Cheyenne F
Student -
Newville, Pennsylannia USA
---
October 3, 2011
A. Hi, Cheyenne.
School and study are not about simply asking someone else to do your homework or science project for you :-)
I believe that every one of your questions is already answered without even leaving this single page. If you have questions that are not answered on this page, please try to phrase them in terms of the answers already given, like: "I see that pennies are made by punching blanks out of a sheet of zinc, like using a cookie cutter on dough, then copper plating them, then stamping the images onto them, then rolling the edge, but what I don't understand is . . ." Good luck.
Regards,



Ted Mooney, P.E. RET




finishing.com




Brick, New Jersey
---
October 6, 2011
Are you the author of this page? Is finishing.com the company?
Cheyenne F
Student -
Newville, Pennsylvania USA
---
October 6, 2011
A. Hi, again, Cheyenne.
I didn't author the words you just wrote, so it would probably be better to call me the editor of the page than it's author. But I am the author of whatever I've personally written here. Yes, Finishing.com would be the publisher.
If you wanted to put in your report that "Pennies are made of round blanks of zinc that are then copper electroplated", and you wanted to cite this page as the source, you could say: 'Mooney, Ted, "What are pennies made of?", Finishing.com Inc., Brick, NJ, USA, retrieved 10/6/2011 from www.finishing.com/111/59.shtml'. You can google "How to cite a website" for various standardized citation formats. Good luck.
Regards,



Ted Mooney, P.E. RET




finishing.com




Brick, New Jersey
---
October 30, 2011
Q. Is abelsonite in pennies? :)
Secelia P
student -
Toledo Ohio USA
---
October 31, 2011
A. Uh, no, Secelia.
Of the 80-tillion things that are not in pennies, Abelsonite is one of them :-)
Which begs the question, why do you ask this particular question?
Regards,



Ted Mooney, P.E. RET




finishing.com




Brick, New Jersey
---
December 5, 2011
! I really like this website. For my experiment for my Science Methods I decided to do pennies and lemon juice to see if the copper would come off and make the pennies shiny. It has so far worked which is really cool! Thanks for posting about the pennies from 1982 and before. Some of the pennies from the upper 1980's still work with this experiment. I didn't even have to ask a question it was already answered; so thank you. Cindy
Cindy U
-
Lamoni, Iowa, United States
---
March 15, 2012
Q. I am wondering why copper became expensive after 1982? Why is zinc cheaper?
Kyra M
curiosity -
Wild Rose, Wisconsin, U.S.A.
---
March 16, 2012
A. Hi, Kyra. Copper didn't suddenly get more expensive in 1982. Rather, the government causes inflation, whereby the relative value of money gradually but continually declines, so most materials get gradually more expensive over time, and 1982 was just the point at which the US government decided something had to be done about the fact that the cost of the amount of copper needed for a penny exceeded one cent. This would be a problem because people (and foreign governments) could buy up pennies and then melt them down and sell the copper.
Zinc is cheaper than copper because because there is more of it, or it is less in demand, or it is easier to produce (a subject for another project).
Regards,



Ted Mooney, P.E. RET




finishing.com




Brick, New Jersey
---
May 7, 2012
Q. Should America get rid of the penny?
Peter Tilly
-
Roswell, Georgia, USA
---
May 8, 2012
Hi, Peter. It's too late. If we get rid of pennies, the states will round up sales tax to the nearest nickel, as well as escheating every extra cent. And they'll tell us they are doing us a favor :-)
Regards,



Ted Mooney, P.E. RET




finishing.com




Brick, New Jersey
---
May 9, 2012
Q. Hello,
I am writing a speech on the coin value. Especially since the word out is that the penny and nickel cost more to make than the value of the coins itself. I'm trying to compare how copper, zinc, and nickel are valuable so I can fit it into my speech. I have been looking for websites and I even checked the Mint website, but nothing seems to be the right answer I'm looking for. Will you be able to help me out with this one? Can you tell me how valuable copper is? Also how valuable or less valuable zinc and nickel are? Thank you so much for your time!
Volena T
-
Stockton, California, United States
---
May , 2012
A. Hi Volena.
Google the metal in question combined with "London Metal Exchange". Good luck.
Regards,



Ted Mooney, P.E. RET




finishing.com




Brick, New Jersey
---
April 4, 2013
Q. Why are pennies from one year MAGNETIC?
Alyssa

[last name deleted for privacy by Editor]
- Massapeaqua Park, New York, USA
---
April 5, 2013
A. Hi Alyssa. Because they were made of steel, and steel is magnetic.
Regards,



Ted Mooney, P.E. RET




finishing.com




Brick, New Jersey